Amazing List Of The Best Swimming Pools On Our Planet
There is nothing more exciting then jumping into the swimming pool to celebrate when summer is right around the corner. Enjoying a dip in the pool is a priority depending on where you live on this earth. Here is a list of some of the most incredible pools on earth where you would love to swim in and enjoy.
1. San Alfonso del mar Seawater Pool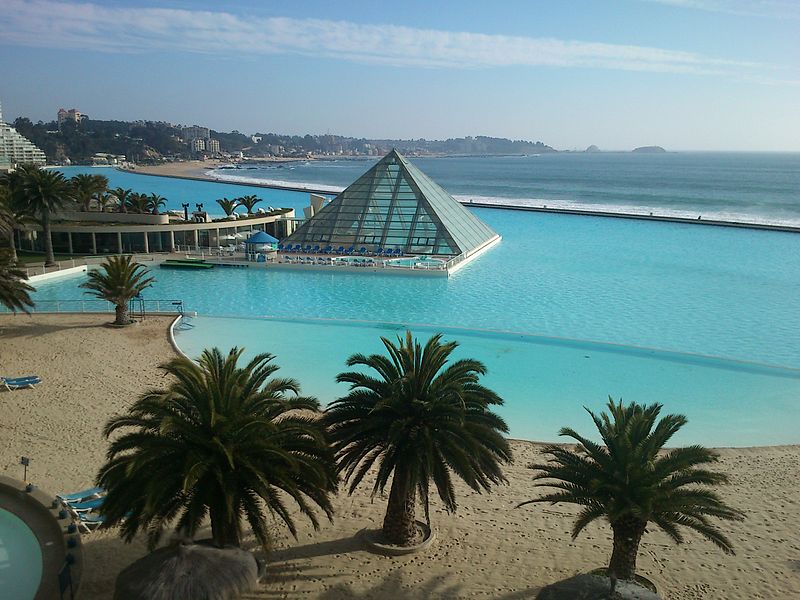 The world's largest pool, San Alfonso del mar Seawater pool is located in Algarrobo, Chile. Constructed in 2006 this pool covers 20 acres of land and is 3,323 feet long. You might have wondered how much water this pool holds? Well, it holds about 66 million gallons of water which is actually pumped directed from the Pacific Ocean.
2. Gold Energy Pool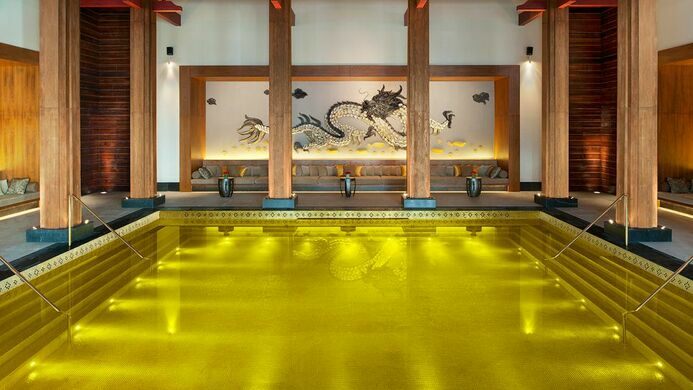 Located in St. Regis in Lhasas, Tibet, Gold Energy Pool is a breathtaking pool on earth. As you look at this pool you would like to dive right into it. This pool look so spectacular as the bottom of the pool is lined with gold leaf tile and water in there is heated and salt water. This place also offers you poolside services such as massage, delicious food and drink.
3. Belmod Hotel Caruso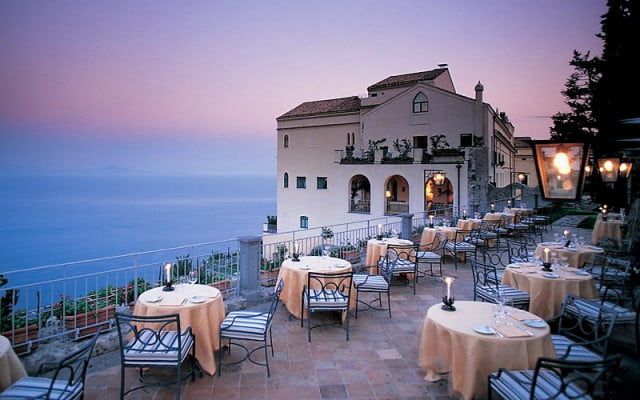 This luxurious hotel pool was built somewhere in a 11th century palace that is now turned into the Belmond Hotel Caruso. Located in Amalfi coast, Italy, it has a magnificent pool above the charming little town of Ravello which gives this pool a stunning view of the picturesque coastline. This pool has heated water and they offer you food and drink at your order when you are in it and also an iPod that has your music preloaded into it.
4. Marina Bay Sands Resorts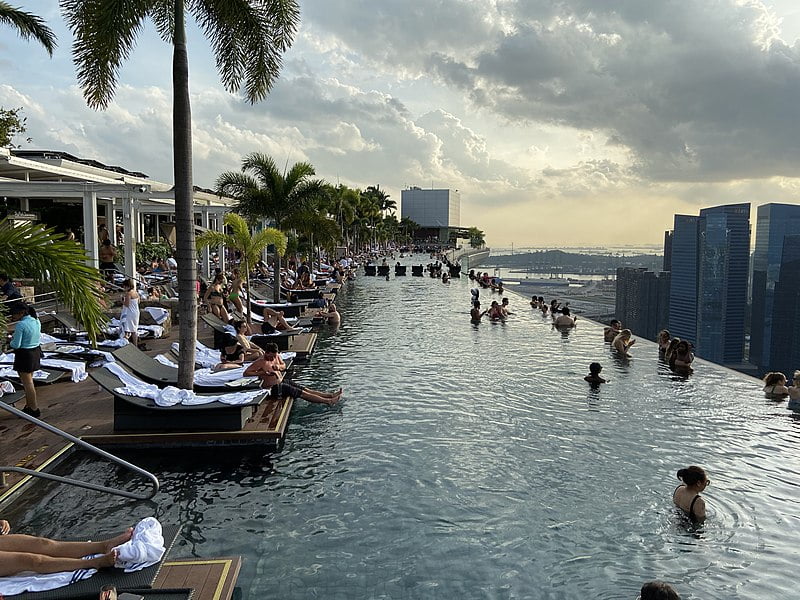 Marina Bay sands Resorts is considered to be the most spectacular hotel in Singapore. It is totally an infinity pool as its 57 stories above the ground and only hotel guests are allowed to enjoy this pool with a great view. This resort also provides fine dining and they have their own shopping centre and a museum.
5. Hanging Gardens Ubud Hotel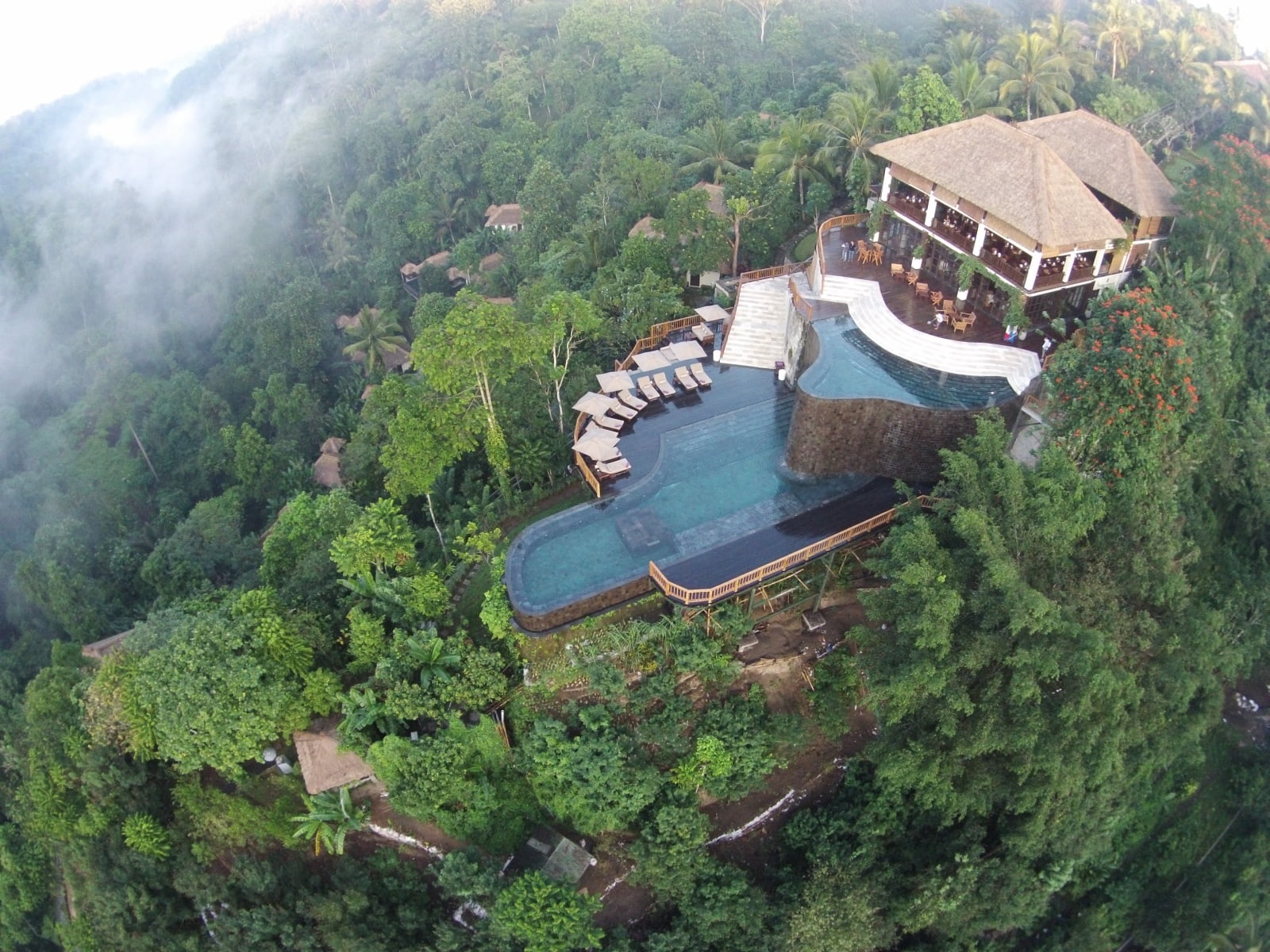 The prime destination for many honeymooners is Hanging Gardens Ubud Hotel in Bali, Indonesia. This is one among the top pool in this list and it is one of the most photographed pools in the world. This amazing pool is suspended above the treetops of the surrounding forest and taking a dip here is an experience to be treasured.
6. Chongwe River House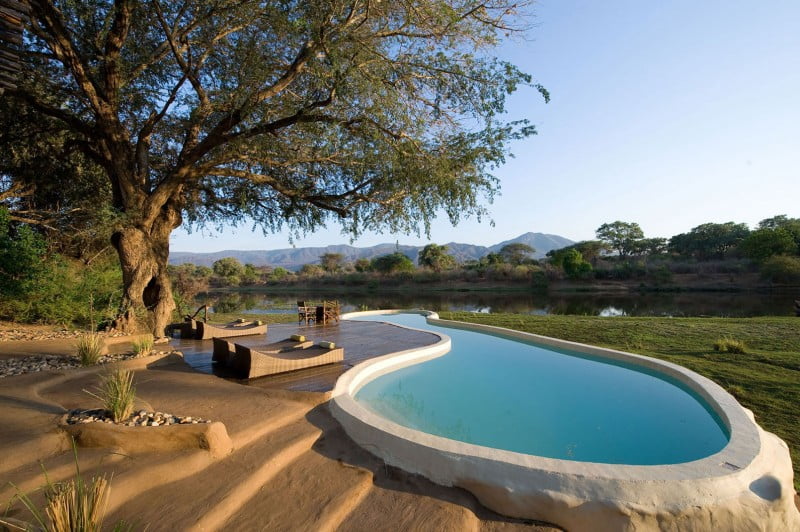 Located in the banks of River Chongwe, Zambia in Africa, this Chogwe River House is an absolutely thrilling pool as you can find elephants drinking water from the nearby watering hole. This River House accommodation also includes private safaris.
7. Golden Nugget Pool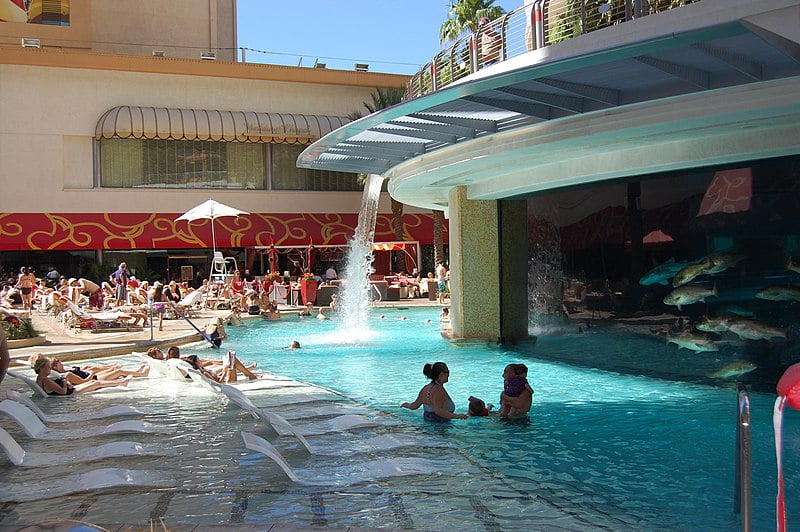 Golden Nugget Pool is a breathtaking pool in Las Vegas, Nevada. This pool has a three-storied water slide and a shark tank in the centre and 15 private cabanas. This Fabulous pool has something unique, which is known as "The Hideout", a secluded area of the pool that has 8 cabanas and its own infinity pool which has an access to the HBO bar.
8. Jumerla Dhevanfeshi Resort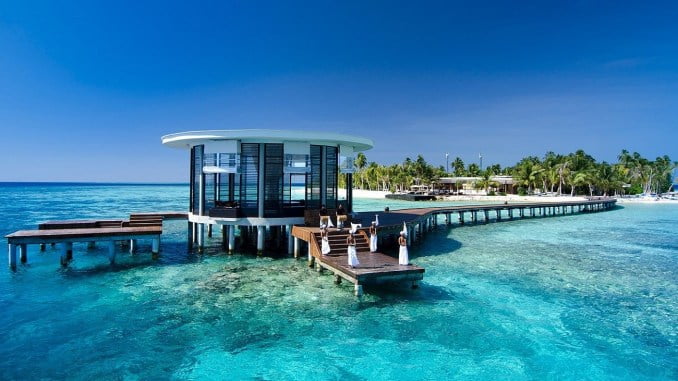 Jumerla Dhevanfeshi Resort in The Maldives has a simple and brilliantly designed pool. This pool is named as the Starry Night Pool because the pool is lit up at night which gives swimmers the feel of swimming among the stars in the beautiful night sky. This special pool is a perfect honeymoon destination for romantic couples.
9. The Oberoi Udaivilas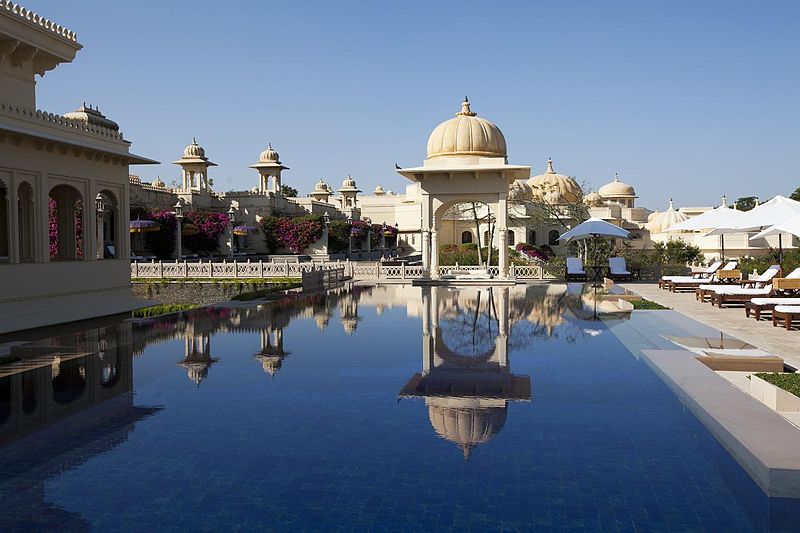 Located in Udaipur, India, The Oberoi Udaivilas is a homage given to the royal history and beauty of India. This magnificent place will give a feel of royal stay in a palace. They have a beautiful swimming pool that overlooks the lake and also private swimming pools within the guest rooms. This special feature you will not find anywhere else.
10. Katikies Hotel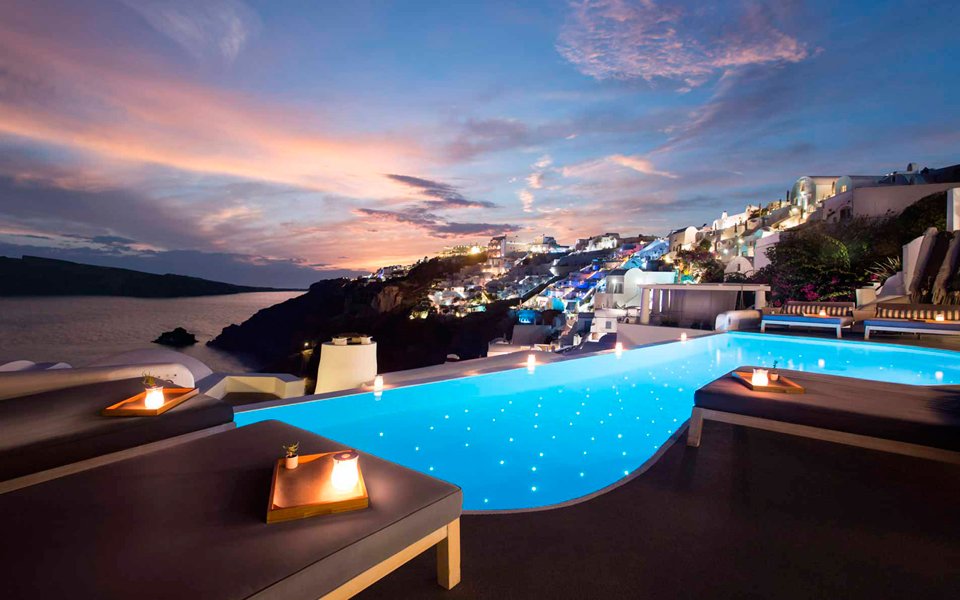 If you want to have an experience of swimming in a cave, then you must visit Katikies Hotel in Santorini, Greece. It has a pool that is nestled in a cave among the islands cliffs. While swimming in this pool you can look out into the caldera. Such amazing pool is not found anywhere else in the world.
11. Boucan hotel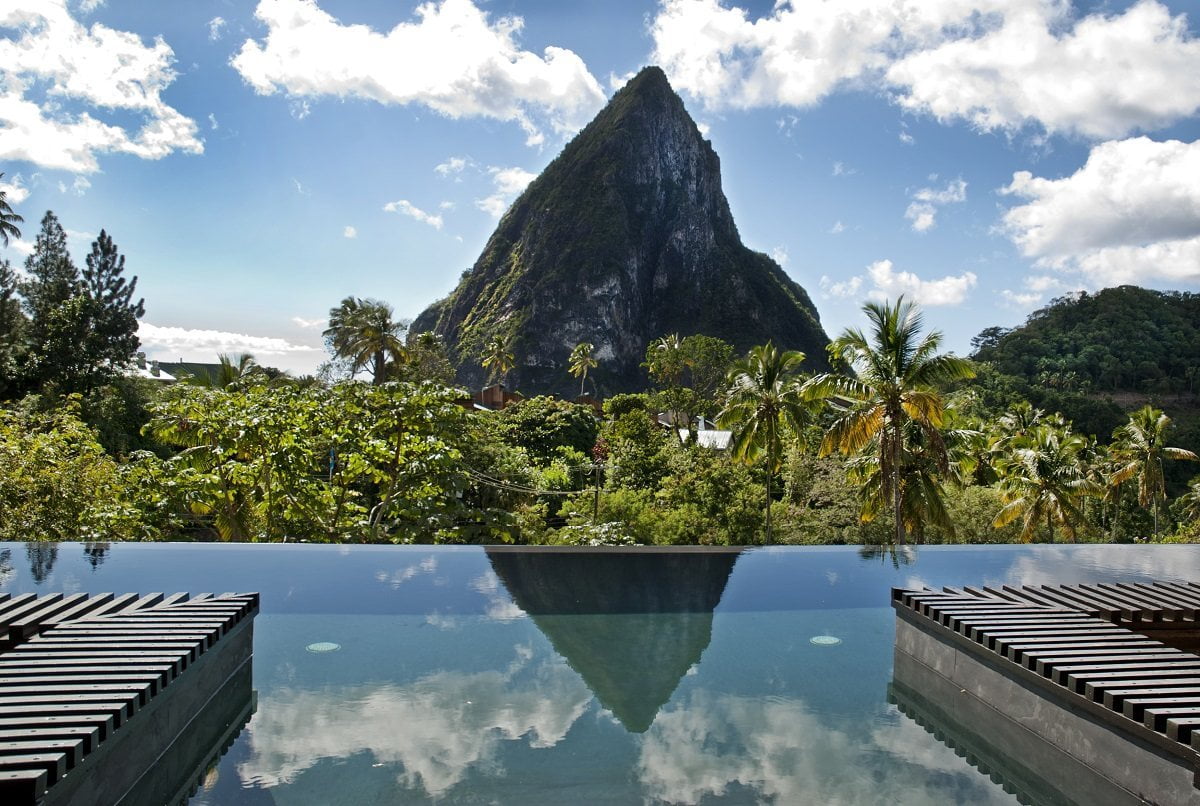 Boucan Hotel in St. Lucia has a 50 foot infinity pool that will give a panoramic view of the beautiful Piton Mountains surrounded with lush green jungle. Foods and drinks are also available while enjoying the view.
12. Alia Villas Uluwatu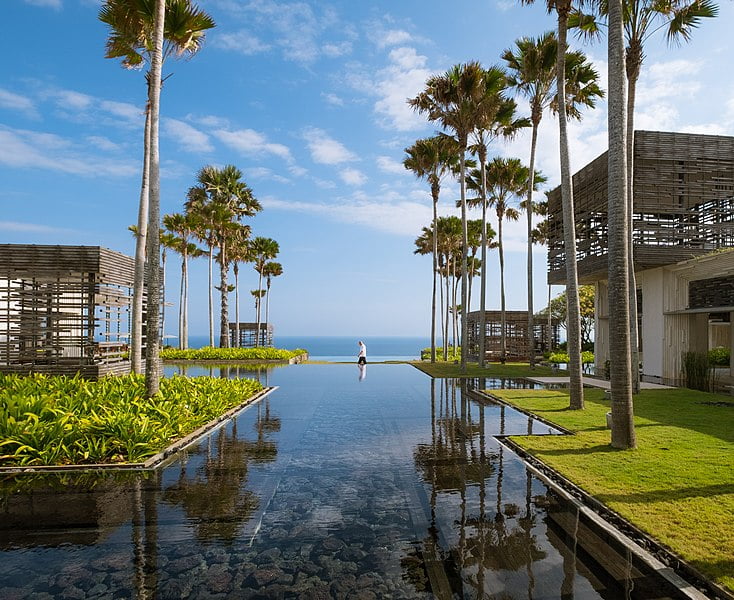 If you want to relax surrounded with pure bliss and be transported to the absolute edge of the earth then the pool in Alia villas Uluwatu in Bali, Indonesia has it all. This infinity pool has an amazing view of the ocean and the surrounding cliffs.
13. Velassaru Resort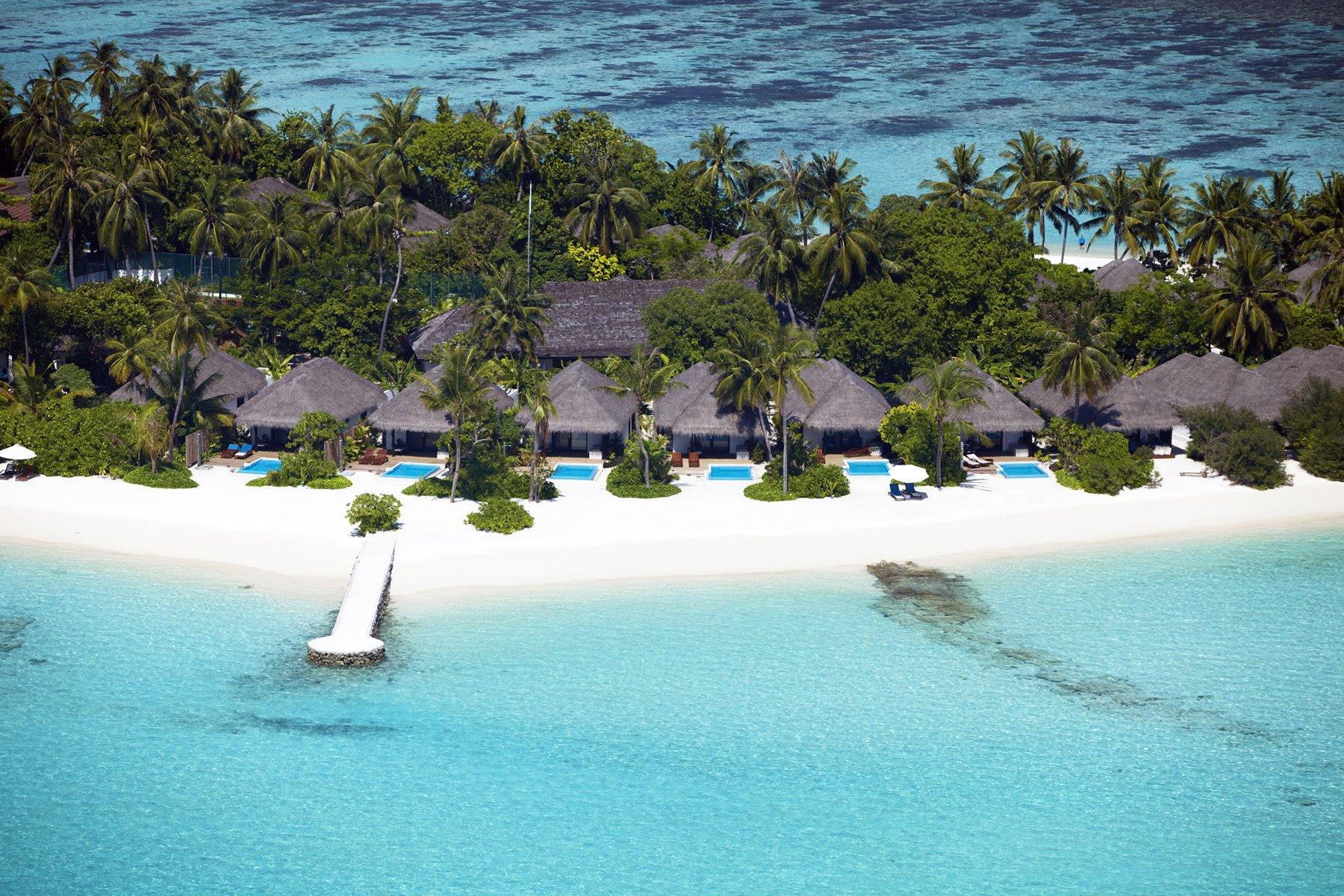 Velassaru Resort in the Maldives has an incredible infinity pools that just reaches out to the ocean and give feel of safe submerge in it. This luxury resort also offers you magnificent bungalows and villas for you to enjoy at the pool.