60 Best Honeymoon Destinations Around The World
Excited to go on a romantic getaway? Let's help you discover the 60 best destinations around the world for your best honeymoon ever!
Making a commitment to care for someone is a life-changing decision. And marrying that someone is an altogether different story. Decision-making takes time. Because you want everything planned, down to the littlest detail. So when you finally decide to take that leap, be sure you're prepared in all aspects of your life. There's always a special place that you, as a couple, where you'd like to spend your honeymoon.
This list of the 60 best honeymoon destinations around the world aims to give you a lot of options to choose from. Categorized from the best, the most popular, tropical, winter, and Caribbean honeymoon destinations. For you to easily navigate the list. Read on and let's see where this will take you!
Best Honeymoon Destinations for Young Couples
Here's a compilation of the 10 best honeymoon destinations painstakingly picked from around the world.
Dubai, UAE
Dubai is home to around 2200 modern mosques, museums, Palm Jumeirah, Burj Khalifa, and Dubai Creek. There's only one "real" beach in Dubai. The rest are man-made for comfort and tourism purposes. Man-made or natural, Dubai's modernist architecture has managed to transform itself into the impressive and glitzy tourist destination that it is today.
Dubai is also known for its souks (bazaars), and unique outdoor activities like dune bashing, glamping, camel riding, parasailing, and kitesurfing. And, refreshing water recreation activities like kayaking, jet-skiing, deep-sea fishing, and snorkeling.
From affordable dining and accommodation options to breathtaking sunsets and romantic dinner cruises, Dubai isn't that expensive for an exciting honeymoon destination.
Lake Como, Italy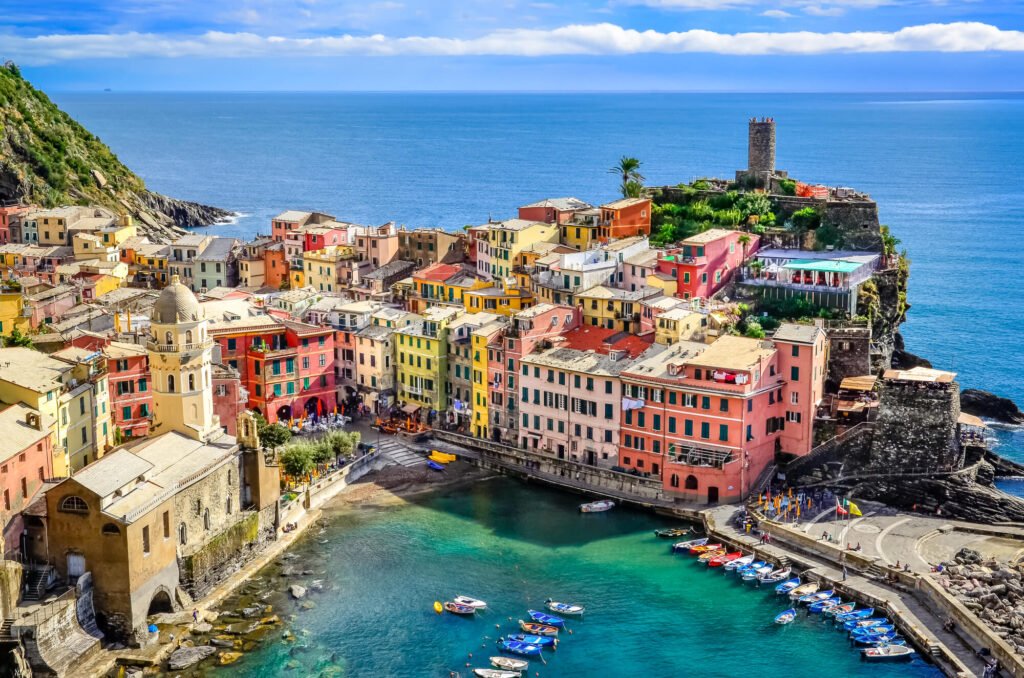 Lake Como is a great romantic honeymoon destination because it's laid-back and quiet. Its natural beauty is dotted with picturesque mountains and charming towns. And is home to some historical landmarks: Villa del Balbianello a Lenno, the Bellagio, and Villa Carlotta.
Lake Como offers luxurious hotels. And outdoor activities including kitesurfing, windsurfing, and fishing. Take a romantic boat ride, swim, or visit stately villas and palaces. Best time to visit? Between April to October, when the weather is mild and warm.
Kyoto, Japan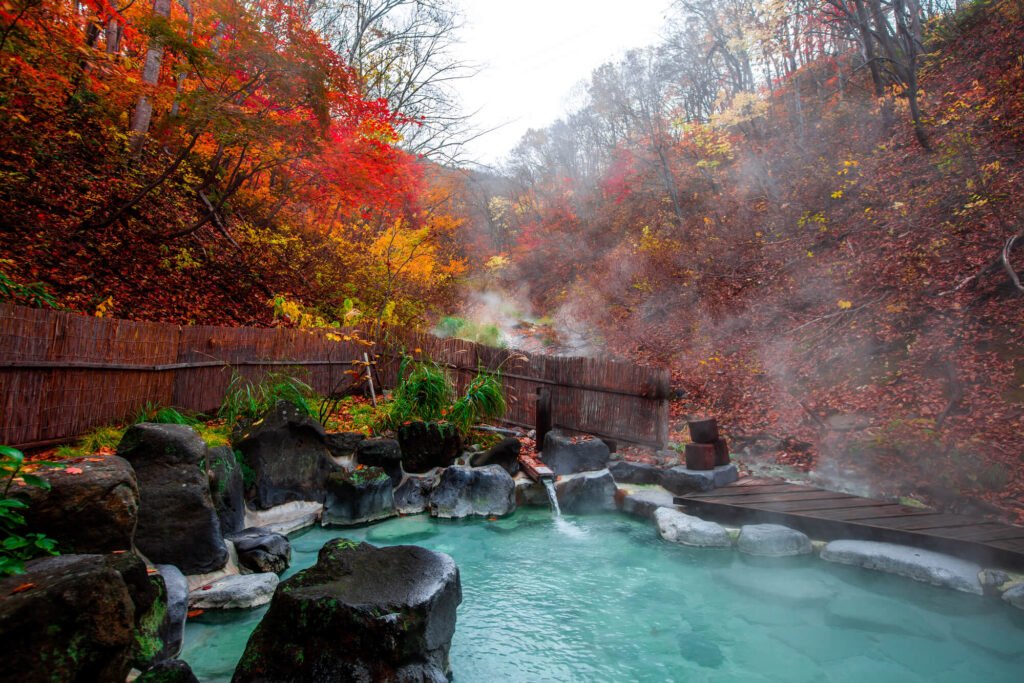 Kyoto is the former imperial capital of Japan. It's home to the Kyoto Imperial Palace, 400 Shinto shrines, over 1600 Buddhist temples, and 17 of Japan's 20 Unesco World Heritage cultural sites. It's also known for its machiya houses, 15th-century zen gardens, kaiseki dining, cherry blossom parks, and the Nijo-jo Castle. It's undoubtedly the "most beautiful city" in Japan.
Kyoto has retained the traditional refined charm of Japanese culture and fine dining. The cultural experiences it offers make Kyoto a perfect honeymoon destination. Sightseeing tours, bar-hopping at night, tours to Sake breweries, strolling, or e-biking. There's so much to see and do in Kyoto.
Napa Valley, California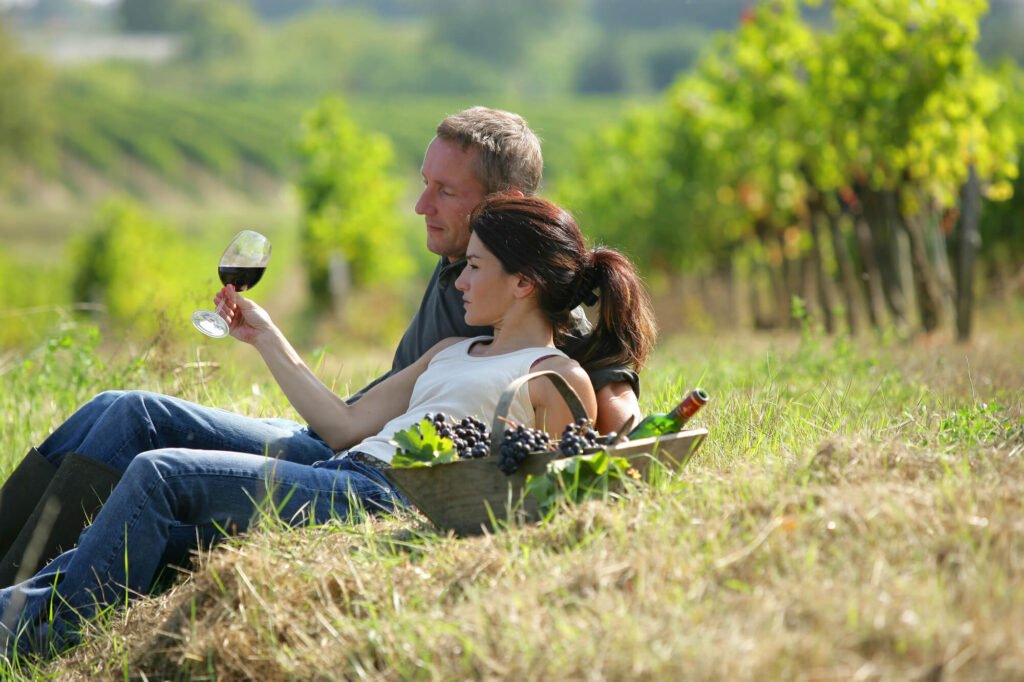 Napa Valley (aka the wine country) is the ideal honeymoon destination for newlyweds who appreciate the charming views of rolling hills, vineyards, and over 400 wineries. Napa remains the world's 3rd largest producer of Cabernet Sauvignon.
Wine tasting can be enjoyed in any of its 90 wine-tasting rooms. Napa has luxury hotels that offer spa treatments. Also, outdoor recreation like vineyard tours, cycling, horseback riding, hiking, and hot air balloon rides.
Best time to visit? During the off-season (October to May) where most accommodations, especially boutique hotels, drop their rates.
The Azores, Portugal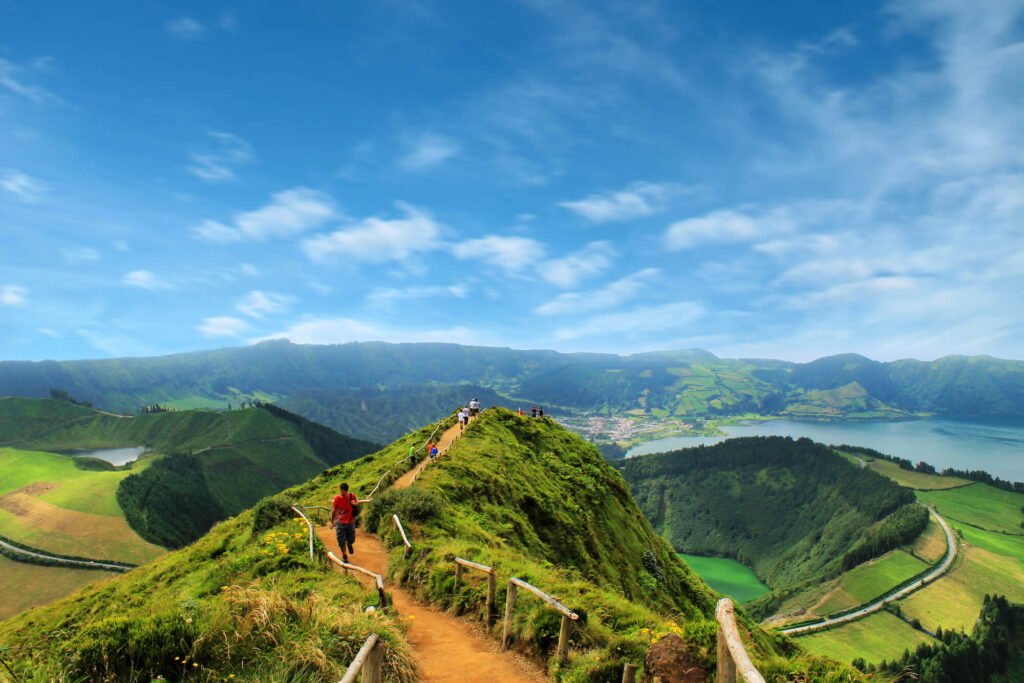 The Azores is an autonomous Portuguese archipelago in the North Atlantic Ocean. It's renowned for its stunning landscape, rich wildlife, fascinating culture, rugged shorelines, volcanic craters (caldera), and geysers.
A honeymoon in the Azores means a glimpse of all the beauty the islands offer. Dolphins and whale-watching, food sampling, museum tours, island hopping, surfing, boat tours, private island picnics, and enjoying the sun. You and your partner can have relaxing nights in your chosen accommodation. An apartment or an all-inclusive hotel accommodation that provides access to an infinity pool, delicious food, and other amenities.
Niagara Falls
The 12,000-year-old Niagara Falls lie between the borders of the US and Canada. This breathtaking natural wonder is known as the "honeymoon capital of the world". Its grandeur is visible from miles away. The volume of flowing water creates a thunderous roar and mist that's both spectacular and breathtaking.
The area is home to Niagara Gorge Trailhead Center, Bird Kingdom, Skylon Tower, Journey Behind the Falls, Niagara SkyWheel, pubs and restaurants, cafes, specialty shops, and wineries.
It's the perfect stopover for honeymooners on a road trip. You can hike the trails, take boat tours, or helicopter rides. Great accommodations nearby offer all-inclusive package tours for a spontaneous "minimoon."
The French Riviera, France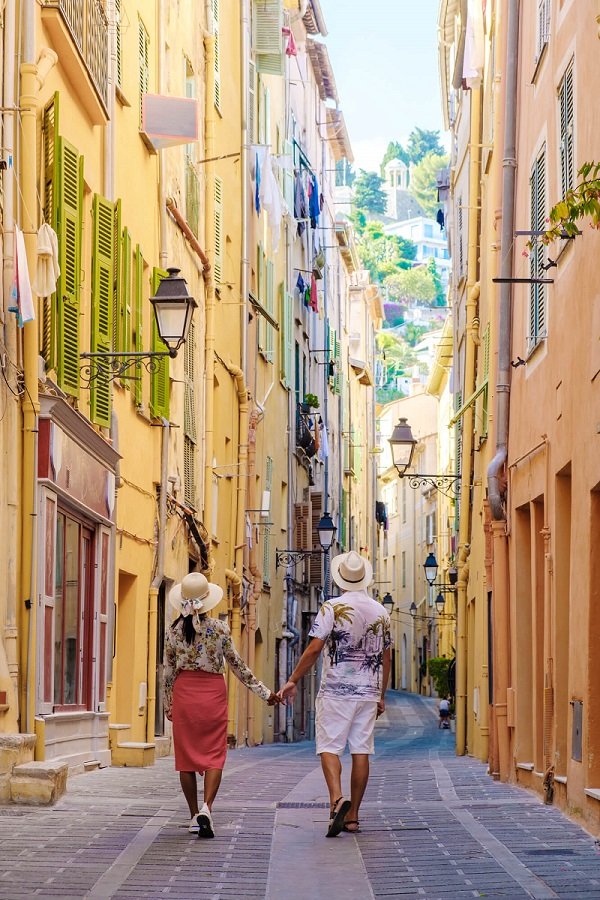 Five towns and 4 cities including the microstate of Monaco. Collectively they're the French Riviera, located in the southeastern part of France. The French Riviera is home to the Monte-Carlo Casino in Monaco, the Cannes Film Festival, and the Promenade des Anglais in Nice.
It's known for the glamorous nightlife of St.Tropez, the picturesque hillside town of Eze, flower farms and vineyards, hilltop villages, sandy beaches, turquoise waters, art museums, and luxury accommodations.
The best time to go for a sightseeing tour or a private boat ride for your romantic French Riviera honeymoon is between May to October.
Taormina, Sicily
Taormina is a Sicilian town on a hill overlooking the Ionian Sea. Its natural beauty – the stunning views of the sea and Mount Etna, makes it a popular honeymoon destination.
Its restaurants serve authentic Sicilian cuisine. The ancient ruins, cobblestone streets, lush gardens, beautiful beaches, and good weather makes Taormina a nice place to visit any time of the year. Taormina has some of the best hiking trails in Sicily. You can walk around town, and join food and wine tours. Or ride a romantic yacht or boat trip on Taormina's enchanting bays.
Seychelles
Seychelles is an archipelago of 115 islands spread over the Indian Ocean. It's known for its beautiful beaches, turquoise waters, verdant forests, and diverse wildlife. Plus its art and culture that has over the years, become uniquely Seychellois.
Seychelles offers thrilling watersports like deep-sea diving, drift diving, wreck exploration, and underwater treasure hunting. Scuba diving in this archipelago can be therapeutic in a way. From coral reefs to wall dives, granite formations, and submerged hills, you'd be in awe of Seychelles' marine life.
Cape Cod, Massachusetts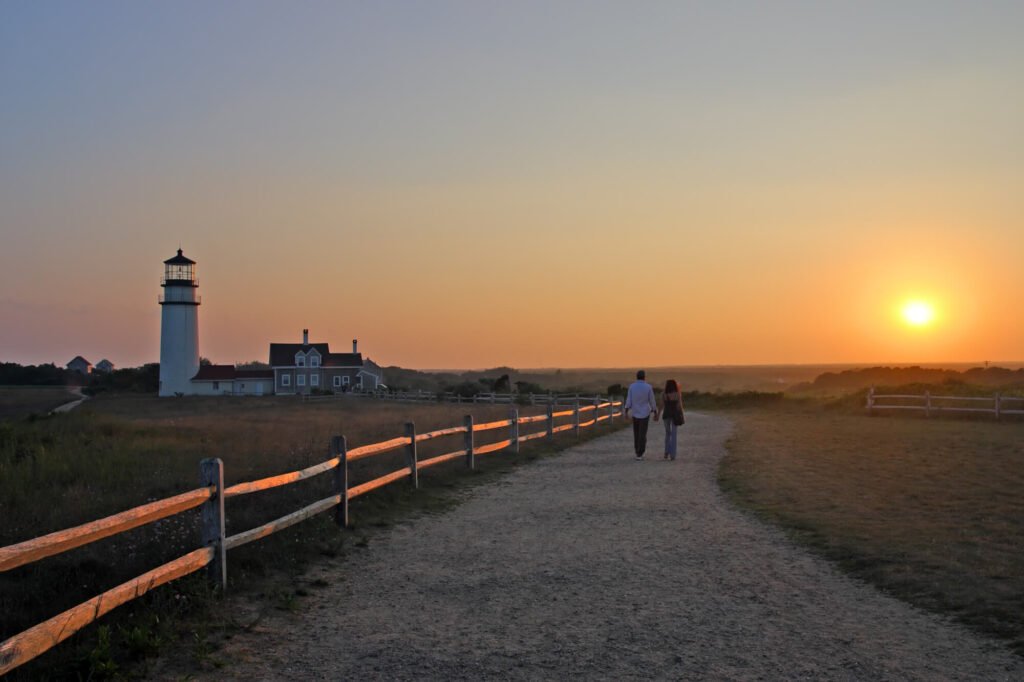 Martha's Vineyard, Hyannis Port, Brookline, Kennedy Legacy Trail, the Whaling Museum. They're some of what draw tourists to Cape Cod. The hook-shaped peninsula has over 900 km. of a seemingly endless stretch of pristine coastline. Cape Cod is known for its beautiful beaches, humpback whales, quaint towns, seafood, and rich history.
It's home to numerous historic and cultural sites, jeweler shops, and restaurants. And luxurious and affordable (boutique hotels, B&Bs, hostels) accommodations that cater to all kinds of travelers. Visit during the shoulder months. May or June. When the weather is pleasant enough for outdoor pursuits like island tours, golf, biking, ferrying, etc.
Most Popular Honeymoon Destinations
Now the most searched, the 10 most popular honeymoon destinations in the world today.
Bora Bora, French Polynesia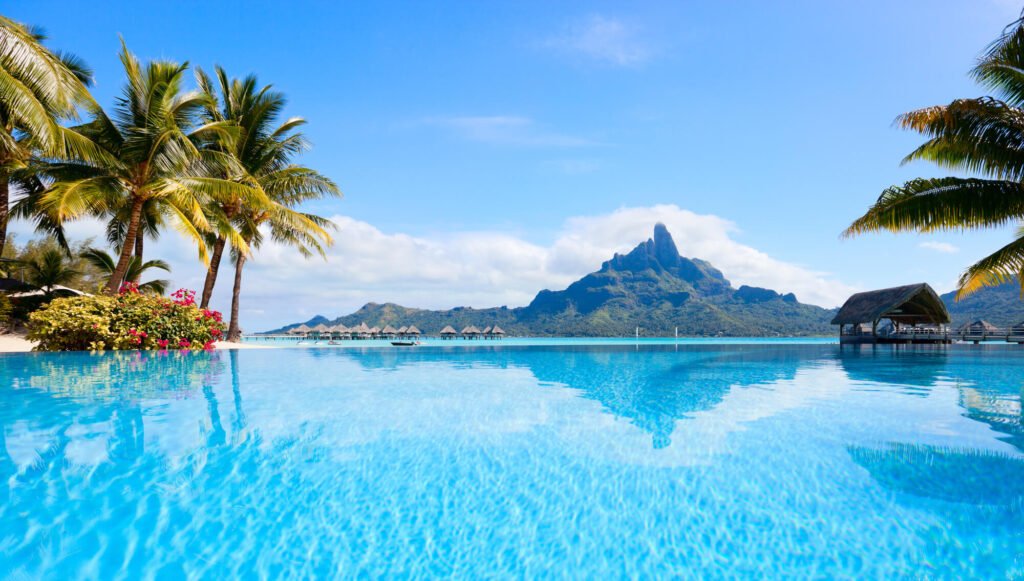 Bora Bora is a South Pacific island surrounded by coral reefs. These reefs create a lagoon that's perfect for swimming, snorkeling, and diving. You can also try underwater adventures under the turquoise lagoon for a more personalized diving experience. Other water sports like jet-skiing and parasailing are also available.
Bora is home to beautiful beaches, turquoise waters, picturesque sunsets, luxurious overwater bungalows, and Mount Otemanu. The exotic Tahitian black pearls can also be found in Bora Bora. Visit Bora during summer (May to October). It's less humid and easier to book transport.
Santorini, Greece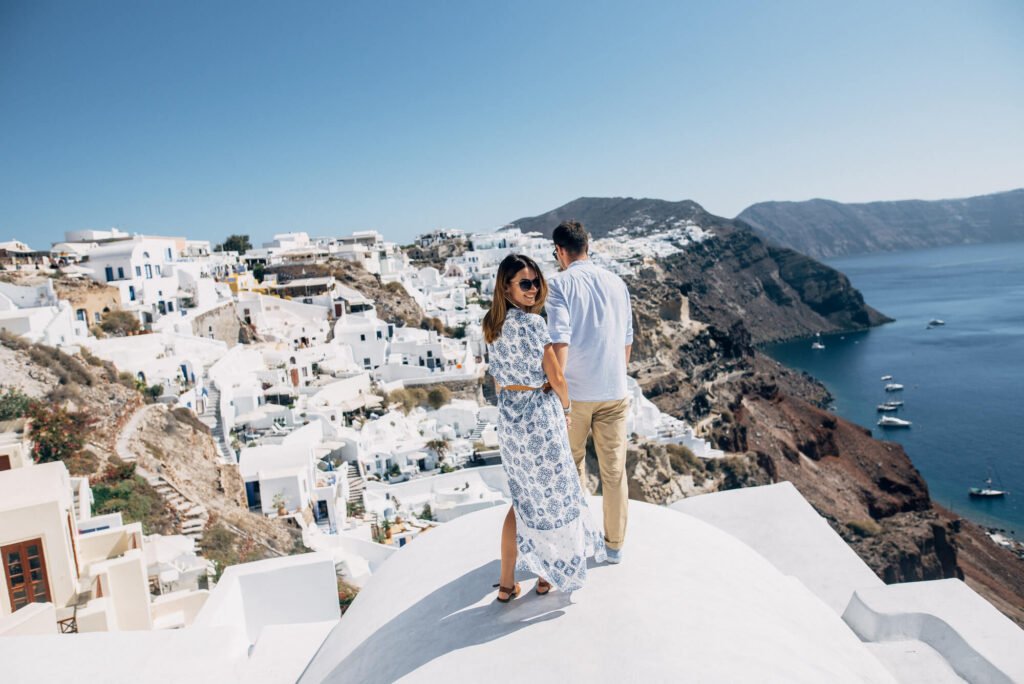 Santorini's charm lies in its idyllic scenery. Romantic sunsets, rugged cliffs, and scenic views of the Aegean Sea. Visit Santorini between June and September for the best booking deals. It's home to the Akrotiri Lighthouse, Oia Village, the famous Caldera, amazing archaeological sites, ancient ruins, and yposkafa (dome-shaped cave houses or residences carved in rocks).
Most luxury sunset cruises offer drinks and dinner. These sailing trips give visitors unforgettable memories of a Greek honeymoon. And a glimpse of the island's majestic volcanic scenery.
Maldives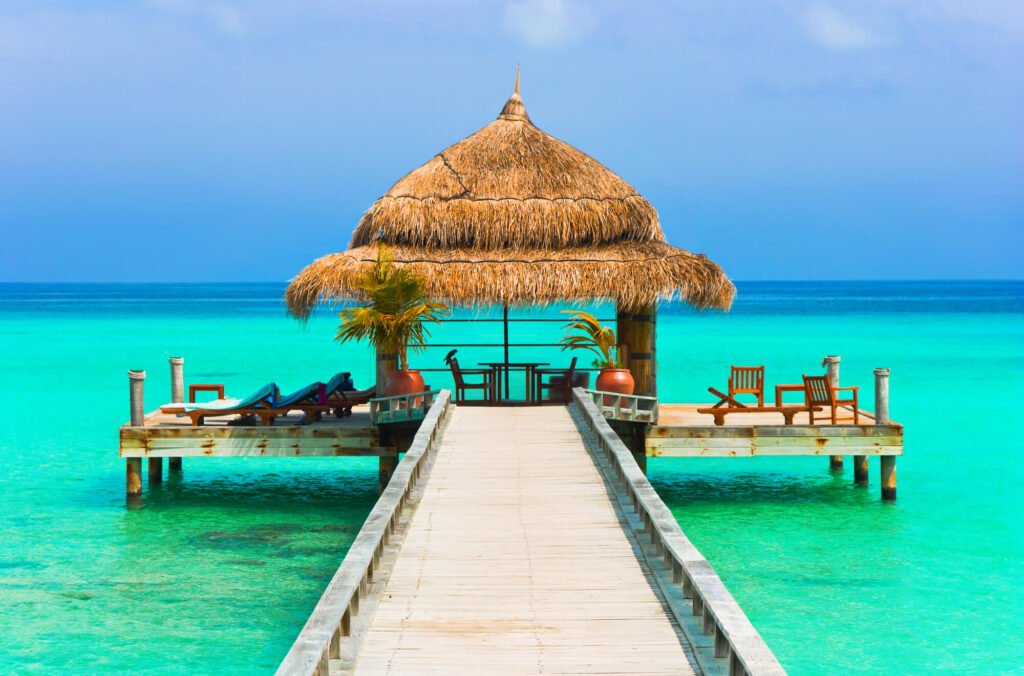 Like any island country in the Indian Ocean, Maldives has stunning beaches and everything that goes with that. Vibrant corals, crystal-clear waters, delicious local cuisine, and over a hundred luxury resorts. This makes Maldives a favorite tourist hideaway, and an expensive honeymoon destination. Snorkeling, scuba diving, and surfing are common water recreation activities here.
Because Maldives is predominantly Muslim, wearing swimwear on public beaches isn't allowed. Only in designated areas for tourists can you wear a bikini. Also, PDA (public display of affection) such as kissing or holding hands in non-resort areas can be punishable.
Oblu is a luxury private island with modern amenities. It offers services like spa treatments and fine dining options for honeymooners. And yes, kissing is allowed!
Mauritius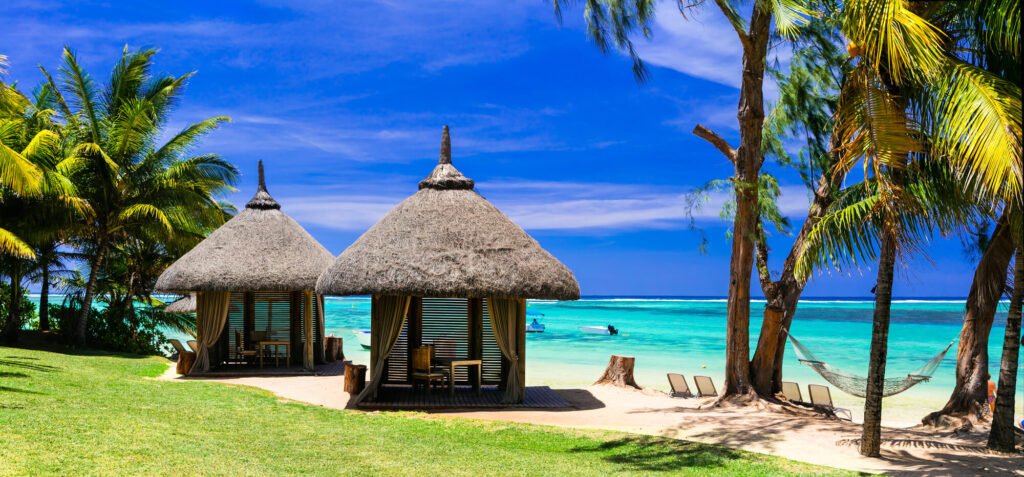 Mauritius is an East African country in the Indian Ocean. This volcanic island paradise is home to the Eureka Plantation House, Grand Baie, Balaclava Ruins, beaches, reefs, rainforests, and waterfalls. It offers exciting outdoor activities like parasailing, seaplane flying, beach buggy, stand-up paddleboarding, snorkeling, scuba diving, swimming, and dolphin-watching.
Mauritius is also known for its delicious food, open-air markets, colonial buildings, museums, temples, waterfronts, and diverse wildlife. The west coast of Mauritius offers candle-lit dinners, food tastings, and shopping trips. The island easily qualifies as one of the most popular honeymoon destinations.
Fiji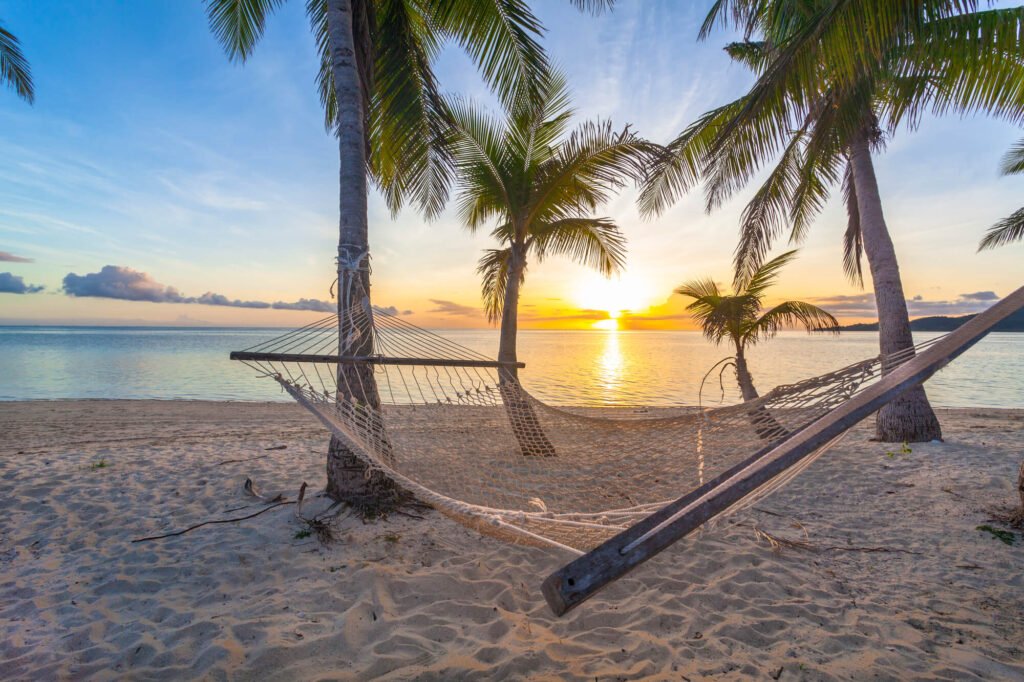 Fiji is another island country in the south Pacific Ocean. Its tropical climate and natural beauty make parasailing, golfing, hiking, and trekking activities possible. Couples can also engage in surfing, snorkeling, scuba diving, and other water sports year-round.
Fiji has over 330 islands, only 110 are inhabited, and some are private islands. The rest consists of jungles, volcanic mountains, waterfalls, white sand beaches, and reefs.
Laucala Island is home to several luxurious resorts and 25 villas. Kokomo Island is where most private island resorts and palatial residences are. It's an unforgettable honeymoon destination that offers secluded romantic getaways for newlyweds.
Amalfi Coast, Italy
Amalfi's breezy coastline, amazing landscape, hidden coves, vineyards, and beautiful beaches contribute to making Amalfi Coast one of the best honeymoon destinations in the world. Its charming seaside towns have that hypnotic charm of the Old World and the comfort of modern amenities – exactly what makes it a unique honeymoon destination.
Activities on the Coast include hiking or riding along the coastal trails. Exploring the picturesque towns and villages. Swimming or sailing in the clear waters of the Mediterranean. Or food sampling. Amalfi is known for its fresh seafood, delicious pasta dishes, and flavorful wines.
Paris, France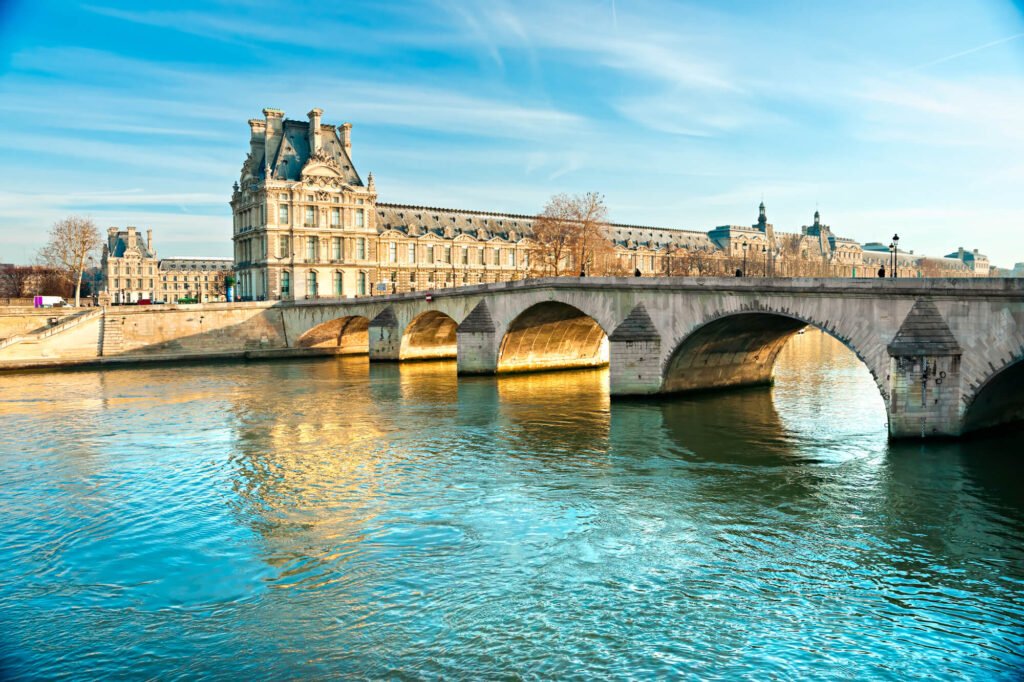 What reminds you of Paris? Well, the Eiffel Tower, the Louvre, Moulin Rouge, Palace of Versailles, the Seine River, its idyllic parks, lively nightlife, delicious French cuisine, and shopping districts. If all these don't offer endless opportunities for you to have fun and romance as a honeymooning couple, then where else would you rather be?
Montmartre is a hill in Paris known for its village atmosphere. Cafes, cobblestone streets, and the majestic Basilica of the Sacré-Cœur perched on its summit. Montmartre is the ultimate lovers' lane.
Sip espresso at a sidewalk cafe. Go on a sightseeing tour. Take a stroll in the park. Watch the sunset, and take selfies. Paris's hidden gardens and bright-colored alleys make it one of the most romantic honeymoon destinations in the world.
Kauai, Hawaii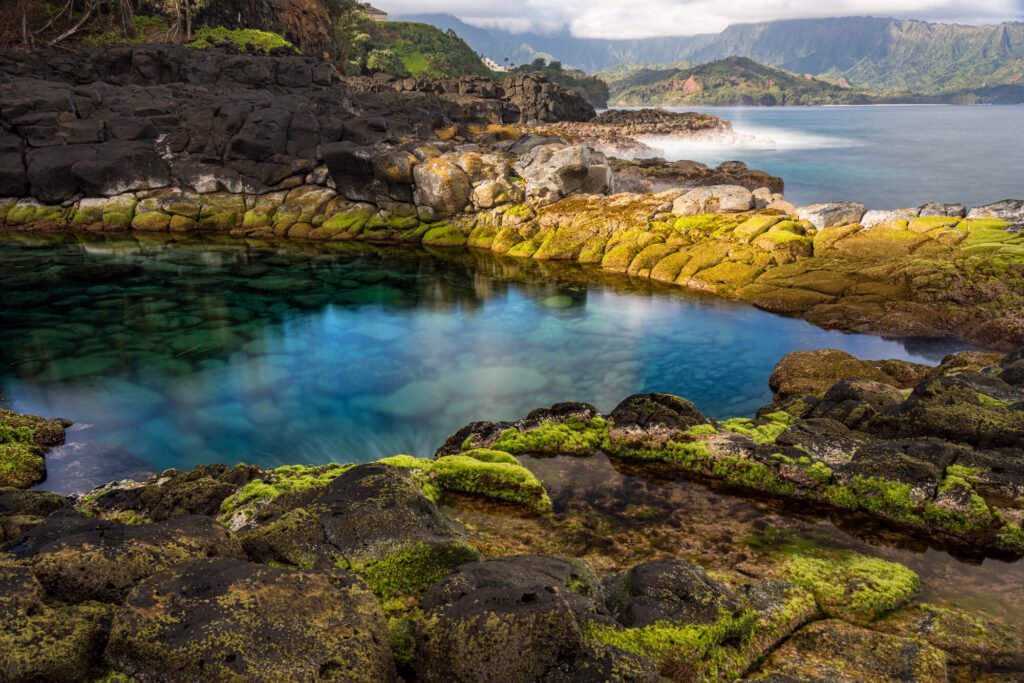 Kauai is one of the major islands of the Hawaiian archipelago. Named the "green isle" because of its lush mountains and hiking trails, sugarcane fields, cliffs, stunning beaches, and waterfalls.
Outdoor activities like snorkeling, surfing, and kayaking are available. And sightseeing tours to museums and other cultural sites. Unlike Maui and other more crowded Hawaiian islands, Kauaʻi's relaxed vibe offers privacy and secluded retreats. So you get to spend more quality time with your loved one.
Visit Kauai during the off seasons (from April to June). And enjoy discounts on flights and accommodations.
St. Lucia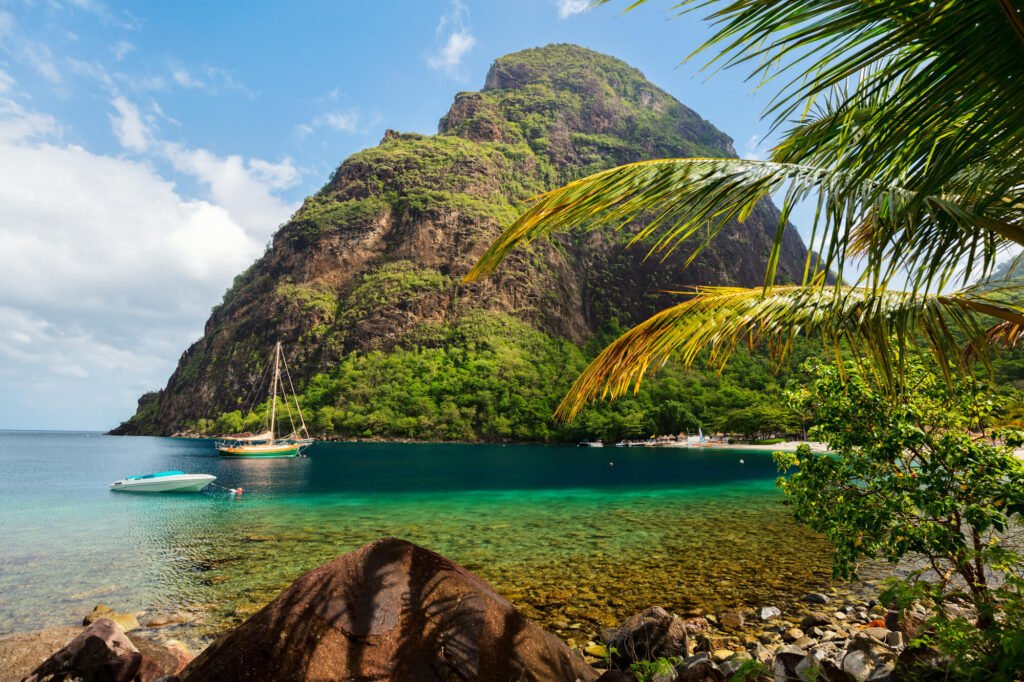 St. Lucia is one of the 13 island nations in the Caribbean. Its pristine beaches, lush rainforests, wonderful reef-diving sites, charming villages, waterfalls, and majestic mountains make it a popular honeymoon destination. Its nature reserves and parks present hiking, bird-watching, and island exploration experiences to visitors.
This paradise island is famous for its iconic landmarks. Petit Piton and Gros Piton. They're St. Lucia's two towering volcanic peaks that rise dramatically out of the sea. These twin lava domes are a designated Unesco World Heritage site.
Morocco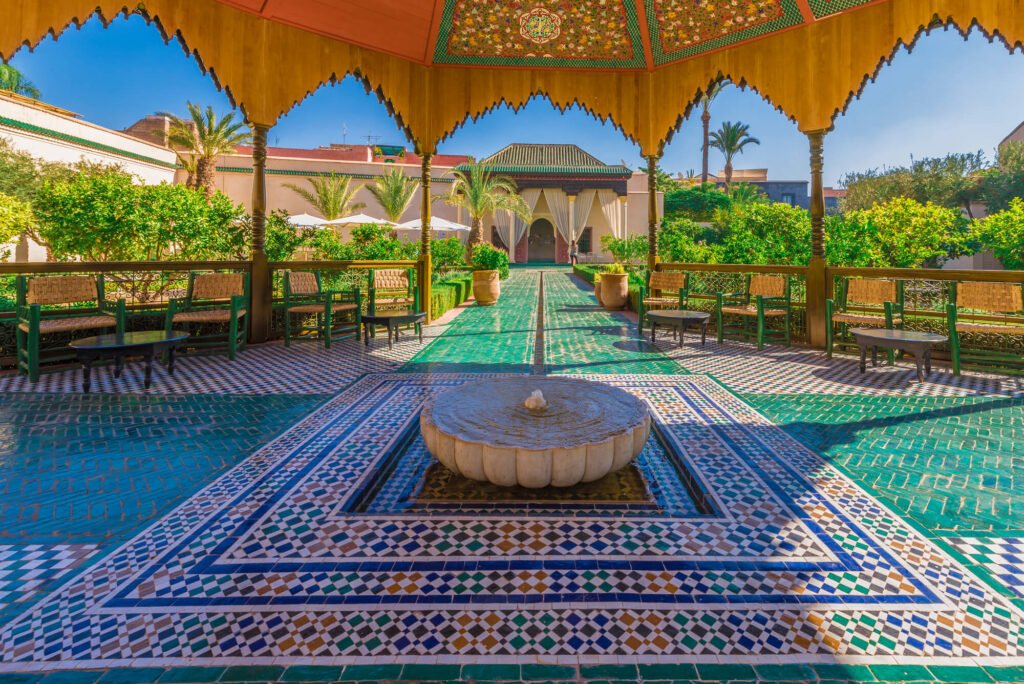 Morocco is home to 9 Unesco World Heritage sites, including the 4 imperial cities: Meknes, Fez, Marrakesh, Rabat, and other attractions. A bucket load of adventure and unforgettable memories of a Moroccan honeymoon destination awaits you.
It's also home to amazing natural wonders like the Sahara Desert and the Atlas Mountains. Morocco's natural landscapes provide a scenic backdrop for trekking, hiking, quad biking, windsurfing, and kitesurfing activities.
It's known for its traditional markets, intricate architecture, handicrafts (leather, woven baskets, traditional carpets), bustling street life, beautiful beaches, spicy cuisine, welcoming people, great weather, and history so diverse it reflects a mix of multi-racial influences.
Best Adventurous Honeymoon Destinations
Let's get to the 10 best adventurous honeymoon destinations. This is for couples who love nature and the adventures that can be experienced in the great outdoors.
Queenstown, New Zealand
Dubbed "the adventure capital of the world", Queenstown is a mountainous resort town in the Otago region. It's home to 4 world-class ski resorts, Mt Nicholas Station, vineyards, and some of New Zealand's most remarkable peaks including The Remarkables, Ben Lomond, and Walter Peak.
Lake Wakatipu provides a sweeping view of the surrounding mountains. It's a popular destination for water activities like jet skiing, kayaking, and paddleboarding. Queenstown is also known for its thrilling adventure sports like white water rafting, skydiving, and bungee jumping. Skiing and snowboarding on mountain slopes during winter.
Sun Valley, Idaho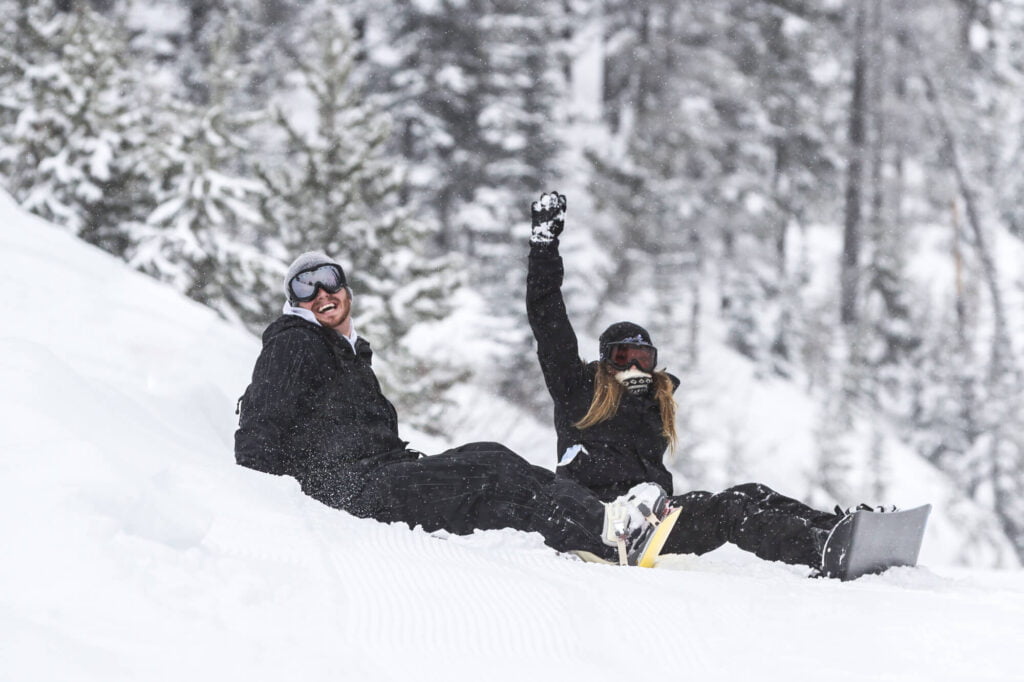 Sun Valley is home to the world's largest snow-making system – making it one of the snowiest destinations for exciting winter activities. It's the best honeymoon destination for adventurous young couples. Also, the first ever chairlift was installed in Proctor Mountain in 1936. Hiking, mountain biking, and fishing opportunities are available during summer.
Sun Valley is also home to the famous Sun Valley Resort. It has 480 rooms and miles of skiable terrain. It offers 121 trails, 65 runs, and 13 chairlifts to skiers from all over. Its gentle slopes and wide trails are perfect for skiing and snowboarding in winter. And indoor skating, tennis, and golf in summer.
Alberni-Clayoquot Regional District, Canada
Alberni-Clayoquot is a region in west central Vancouver known for its rugged coastal terrain, vast forests, freshwater lakes, and abundant wildlife. The region is known for its stunning beaches and provincial parks, including the Pacific Rim National Park Reserve. It's home to 124 named mountains, Tofino, Alberni Harbor Quay, several small communities, and Port Alberni.
It's also known for its numerous outdoor activities like sport-fishing, surfing, scuba diving, water skiing, wakeboarding, kayaking, and windsurfing. It also offers hiking, golfing, mountain biking, wildlife viewing, and camping opportunities.
Patagonia, South America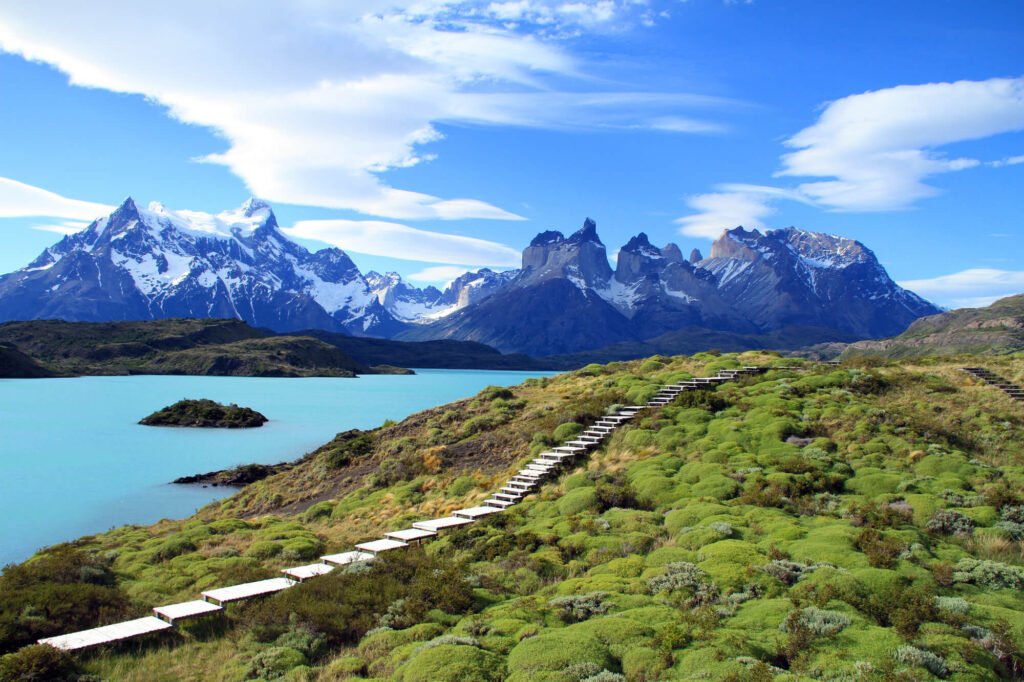 Patagonia is home to 9 national parks including the Torres del Paine National Park. Its untamed landscape is perfect for outdoor activities like hiking, camping, skiing, and kayaking.
Patagonia is half Chilean and half Argentine. The Chilean side (Western Patagonia) has glacial fjords, rivers, lakes, and temperate rainforests. The Argentine side (Eastern Patagonia) has deserts, plants, and animals that need very little water to survive. Tierra del Fuego National Park is considered the most beautiful in the region.
Patagonia is a wonderful honeymoon destination for couples who love nature and adventure. It's also has luxury lodges and spas that are surrounded by stunning views of the region.
Cape Town, South Africa
Cape Town is known for its rich cultural heritage, vibrant cosmopolitan atmosphere, 307 km long coastline, and pristine beaches. It offers fishing, paddle boarding, whale watching, and sightseeing opportunities. It's home to 10 Blue Flag beaches. And 3 Unesco World Heritage sites – including the flat-topped Table Mountain National Park, which towers over the city and offers breathtaking views from its summit.
Robben Island is also a Unesco World Heritage site. It was once a prison where Nelson Mandela and more than 3,000 political prisoners were imprisoned for fighting racism in South Africa. The city has all-inclusive resorts that offer access to an adults-only infinity pool and other hotel amenities including dining options, and sightseeing tours.
Queensland, Australia
Queensland offers numerous attractions and activities for newlyweds, which makes it one of the best honeymoon destinations in Australia. The state is home to 237 national parks. Five of Australia's 20 Unesco World Natural Heritage sites, and 1,711 beautiful beaches!
The Great Barrier Reef is on the northeast coast of Australia. It stretches 2,300km along the shorelines of Queensland. One of the world's natural wonders, the Great Barrier Reef hosts a highly diversified marine life. Hike through scenic trails of a tropical rainforest. Kayak or scuba dive. Or do paddle boarding. Or snorkel on a white sand beach with sea turtles. You'll never get bored.
Punta Mita, Mexico
Punta Mita ("gateway to paradise") is a luxurious resort town in Mexico. It's known for its diverse wildlife, lush greenery, and beautiful sandy beaches. Punta Mita is home to a busy harbour, and 10 stunning beaches. Surfing, scuba diving, snorkelling, and paddleboarding are just some of the water activities that you can engage in here.
Punta Mita is the ultimate honeymoon destination for couples who need quiet time to relax after an adventure-filled day. It has 3 world-class golf courses and restaurants. As well as luxurious resorts and hotels that offer privacy and exclusivity.
Las Vegas, Nevada
Las Vegas needs no introduction when it comes to casinos, entertainment, and nightlife. It's also not a secret that making Vegas your ideal honeymoon destination will eat up a chunk of your travel allocations.
So don't visit (if you can) during the peak season. Airfare's cheaper from September to November. Vegas isn't all about fine dining and luxury shopping. There's the Death Valley National Park, Red Rock Canyon, Lake Mead, and the Mojave Desert to keep your honeymoon more exciting than it already is. These natural attractions make Vegas a paradise for outdoor enthusiasts.
Tired of partying on the Strip? Take a relaxing private gondola ride instead. Or a romantic dinner cruise. Or ride a hot air balloon for a change.
Montana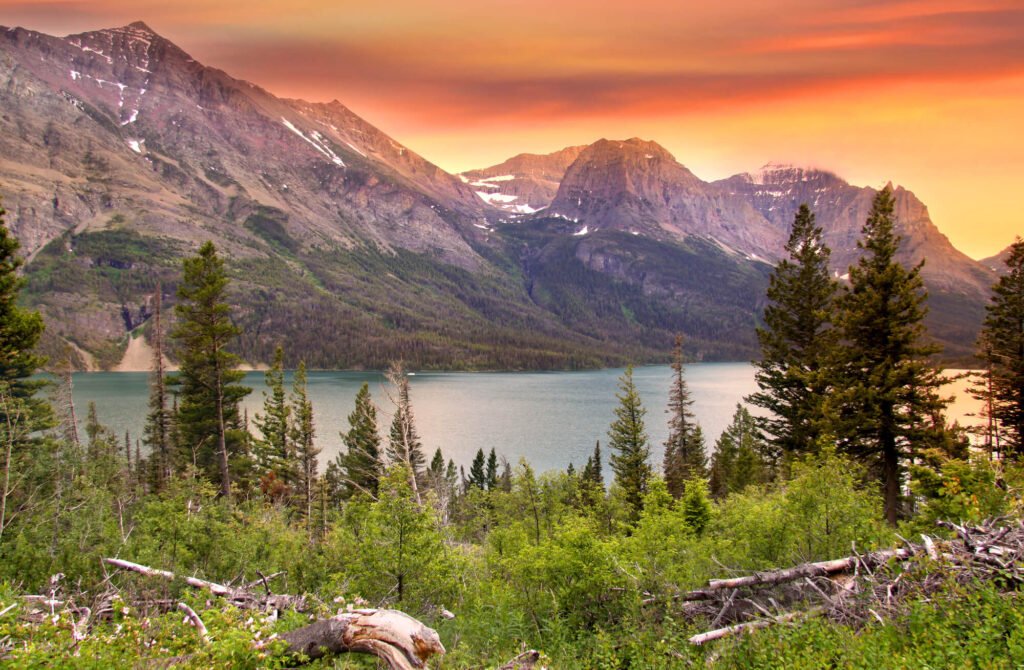 Montana is one of the six "portions" that make up the Mountain States of the US. It's a landlocked state that offers skiing, hunting, fishing, camping, boating, and hiking opportunities. If you're into winter and outdoor sports, Montana is the best place for an adventurous honeymoon.
It's home to 8 national parks including the Glacier National Park, and the Yellowstone National Park, which is also a Unesco World Heritage Site and Biosphere Reserve. Montana is also home to 55 state parks including the largest, Makoshika State Park. It's also known for its wheat fields, and cattle ranches (28,000 farms and ranches). The antelope, elk, and deer populations in Montana outnumber its human residents.
It also produces sapphires and other precious gems. The yogo sapphire from Montana is the only gem included in the Crown Jewels of England.
Ngorongoro Crater, Tanzania
The Ngorongoro Conservation Area (NCA) hosts over 300 animal species, including Africa's "big 5" – cape buffalo, elephant, leopards, rhinoceros, and lions. The crater is a result of a volcanic eruption 2.5 million years ago. The huge volcano crashed and created the world's largest intact caldera. It's a UNESCO World Heritage site and one of the 7 Natural Wonders of Africa.
The NCA offers hiking, wildlife viewing, and game-driving activities. Nearby lodges offer accommodations, allowing honeymooners to relax after an exhilarating Tanzania safari tour.
Be here from April to May. Fewer crowds, better chances of enjoying the breathtaking scenery of the caldera.
Best Tropical Honeymoon Destinations
Check these out. The 10 best tropical honeymoon destinations. And don't forget to include sunglasses, sunblock lotion, and swimwear in your travel bag!
Miami Beach, Florida
What comes to mind when you, as a millennial, hear Miami Beach? Well… the sun, sandy beaches. And women in bikinis and sunglasses, taking a sip of Miami Vice, or a pina colada.
Believe it or not, it's still basically the same up to this day. Except that, it's real now, and you're not anymore, watching it on TV. Miami Beach is still a young woman's dream honeymoon destination. One of the best places in the US to spend a couple's adventure travel. And why not?
Miami's art deco architecture started around the same time Singapore started its own. The result? High-rise shopping malls, world-famous art galleries, luxurious hotels, and an awesome skyline. Not to mention a nightlife that never gets tired.
Miami is a great escape from the winter cold. Its serene waters and warm weather are a nice attraction for newlyweds who want to have fun together and unwind. While sipping a pina colada.
Curacao
Curacao is one of the six Dutch islands in the Caribbean Sea. Its "Genuine Curaçao Liqueur" is made from Laraha orange peels. Curacao's capital city Willemstad is a UNESCO World Heritage site. It is recognized worldwide for its well-preserved colonial architecture.
Curacao is a popular scuba diving and snorkeling destination. Its 38 stunning beaches and dive sites are teeming with corals and other marine life. It offers luxury private accommodations for those who are celebrating their wedding anniversaries. And honeymoon packages that come with a welcome letter, complimentary fresh fruit, and a bottle of wine.
Palawan, Philippines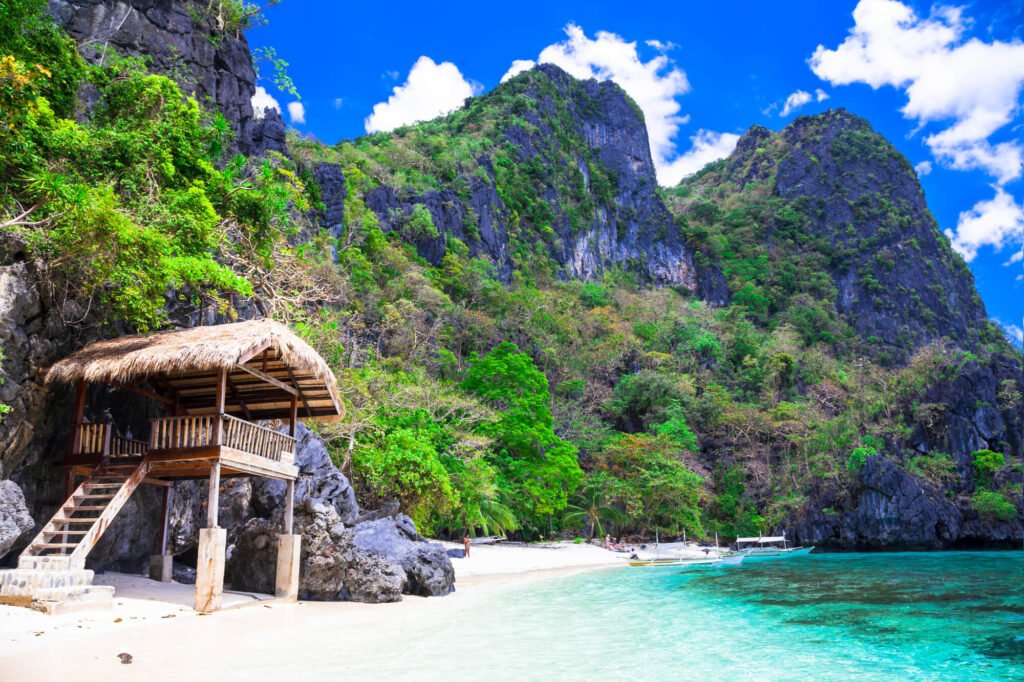 Palawan is known for the Tubbataha Reefs – the first of 2 Unesco World Heritage sites in the province. It consists of 1,780 islands and islets, including El Nido, Coron, and Puerto Princesa.
El Nido has limestone cliffs, lagoons, and white sandy beaches. Coron is known for Kayangan Lake, and its world-class dive sites (Japanese aircraft and shipwrecks from WWII). Swimming, deep diving, and cave explorations are available for visitors.
Puerto Princesa (the capital city) is home to the Puerto Princesa Subterranean River National Park (PPSR NP). It's a Unesco World Heritage site. And one of the "New Seven Wonders of Nature." Some of the best beach destinations are in Palawan. Its marine and bird sanctuaries serve as hosts to many threatened species of birds and mammals that are endemic to this area.
Sri Lanka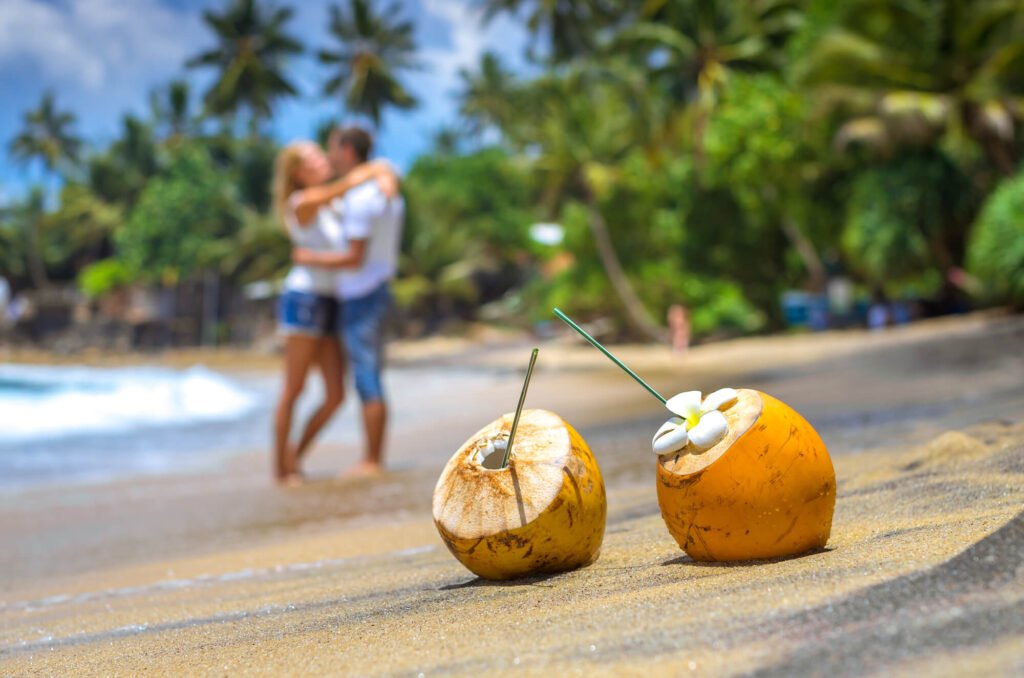 Sri Lanka is a South Asian island country in the Indian Ocean. It's known for its natural beauty – sandy beaches, lush green hills, palm-dotted coastline, and diverse wildlife. It's home to ancient temples, historic forts, and traditional art and music.
Sri Lanka is a famous producer of black and green tea, and spices. It's also a leading manufacturer of baguette diamonds, blue and pink sapphire, and other notable precious gems.
Sri Lanka is one of the affordable honeymoon destinations, compared to other European or American destinations in the world. 13% of Sri Lanka are protected national parks and reserves. So many things to do, and so little time to surf and whale-watch. Or would you rather go on a jungle safari for a great nature escape?
Havr, Croatia
Hvar Island and its yacht-filled harbor during summer are beautiful. It's a beach lovers' paradise and one of the sunniest destinations in Croatia. Its stunning beaches are perfect for sunbathing and swimming, for an exciting speed boat tour, or a romantic sunset cruise.
Havr has a lively nightlife and is a known party island. But it isn't all cocktail bars, glitzy clubs, and partying till morning. It's also a "wine country", just like Napa Valley. It produces globally acclaimed wine and is home to pine forests, hidden bays, rocky coves, and some of the oldest towns in Europe.
Who knows? Havr may just be the adventurous honeymoon destination you're dreaming of. It's naturally beautiful. Its fascinating wine-making history and culture date back to the ancient Romans and Greeks. The historical landmarks around the place can attest to that.
Turks & Caicos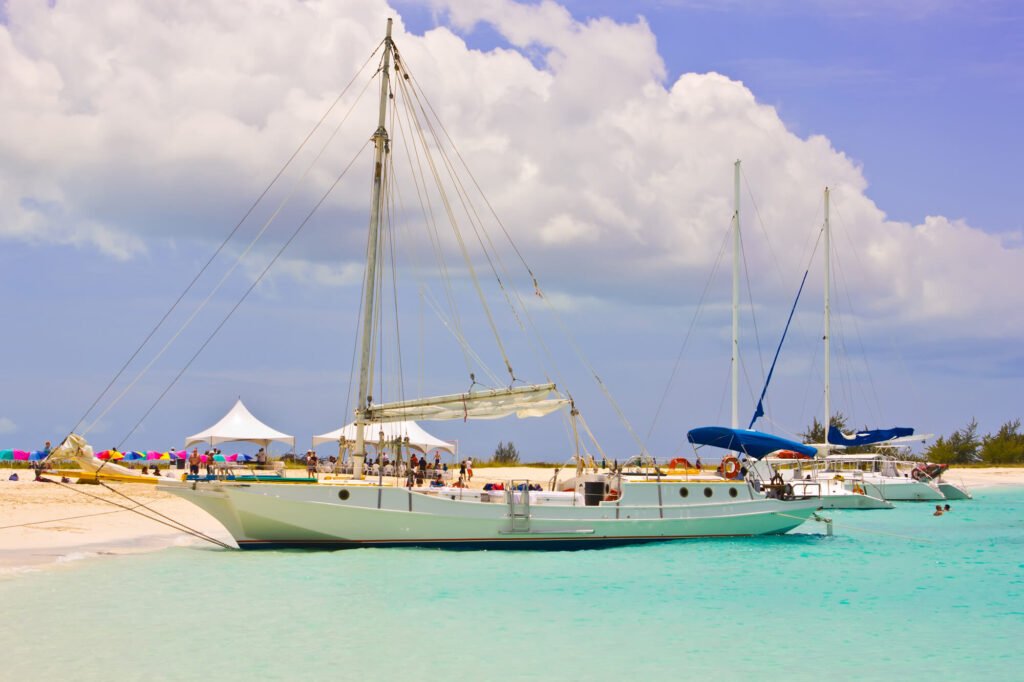 Turks and Caicos is one of the 14 British Overseas Territories. It's located in the southeast of the Bahamas. The islands are known for their stunning beaches, turquoise waters, and amazing coral reefs. Turks and Caicos is an epic honeymoon destination for couples who want to relax and unwind in the tropics.
Turks and Caicos is also known for its luxury resorts, spas, and restaurants. The islands offer water recreation activities such as snorkeling, diving, fishing, and kayaking. Or you can do wildlife viewing by visiting the nature reserves. The islands also offer accommodations – from budget-friendly hotels to high-end villas. There are also shopping areas where you can buy locally made crafts and souvenirs.
Parrot Cay is a private island that's popular with celebrities. The privacy and seclusion it offers attract the likes of Christie Brinkley and Donna Karan, who own properties in the archipelago.
St. Barts, France
St.Barts (Saint Barthélemy) is a French island in the Caribbean. The white sand beaches and calm waters attract the rich. Jeff Bezos, Dua Lipa, the Kardashians, and others go here to unwind and sail a yacht.
Wedding planning can sometimes be exhausting. So if you can afford it, why not spend a relaxing honeymoon in St.Barts? It offers private accommodations and honeymoon packages to its clientele.
And because it's French, authentic French cuisine is a popular choice in most of its sophisticated restaurants. You can opt to stay in a luxury villa or a luxurious hotel that offers stunning views of the island's natural scenery.
How do you get to St. Barts? Through a chartered flight from any of the nearby islands.
Phuket, Thailand
Situated along the west coast of Thailand, Phuket is a tropical paradise known for many things. Beautiful beaches, fresh seafood, night markets, the famous Wat Chalong, and other historical Buddhist shrines. Phuket offers basket weaving and batik printing lessons, island hopping tours, trips to elephant sanctuaries, and zip-lining adventures.
Living up to its reputation as the premier beach resort in the region, Phuket has an international airport. Visit Phuket from November to February. It's that time of the year when the weather is cooler.
Mallorca, Spain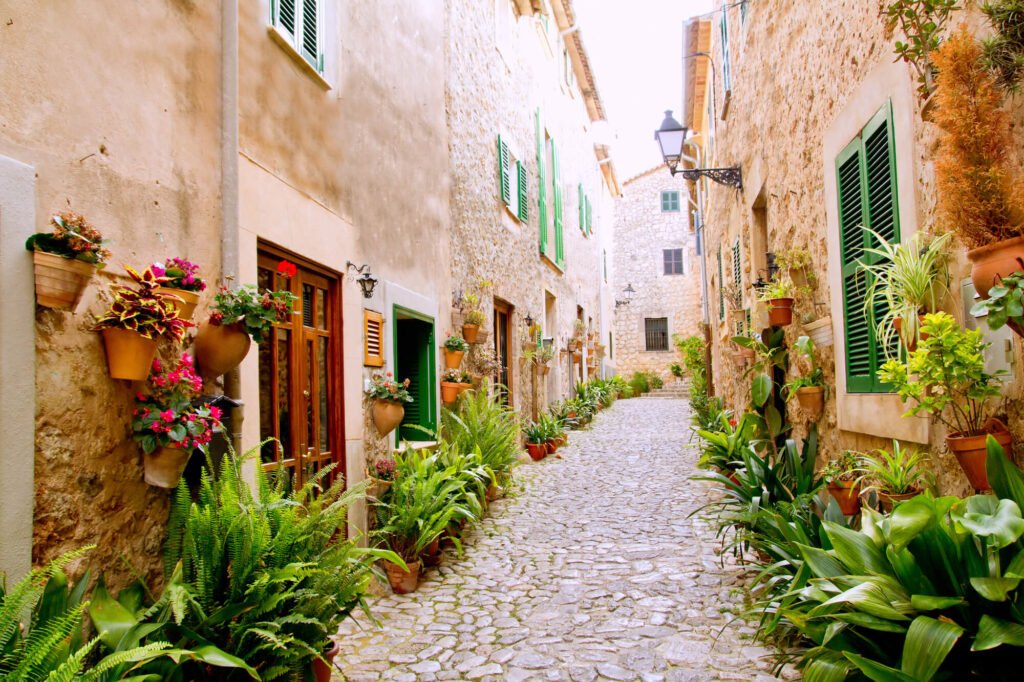 Mallorca is a beautiful Mediterranean island in the east of Ibiza. It's known for its limestone cliffs, stunning beaches, turquoise seas, sheltered coves, vibrant nightlife, museums and galleries, picturesque stone houses, charming towns and villages, food, and rich cultural heritage.
You and your partner can stay in any of Mallorca's luxury hotels, villas, and hostels. It has good public transport services that connect it to the capital city and other tourist destinations. April to September are the best times to play golf, do mountain climbing, kitesurfing, or cycling. So if you decide to have a Mediterranean honeymoon destination, Mallorca is the place to be.
Costa Rica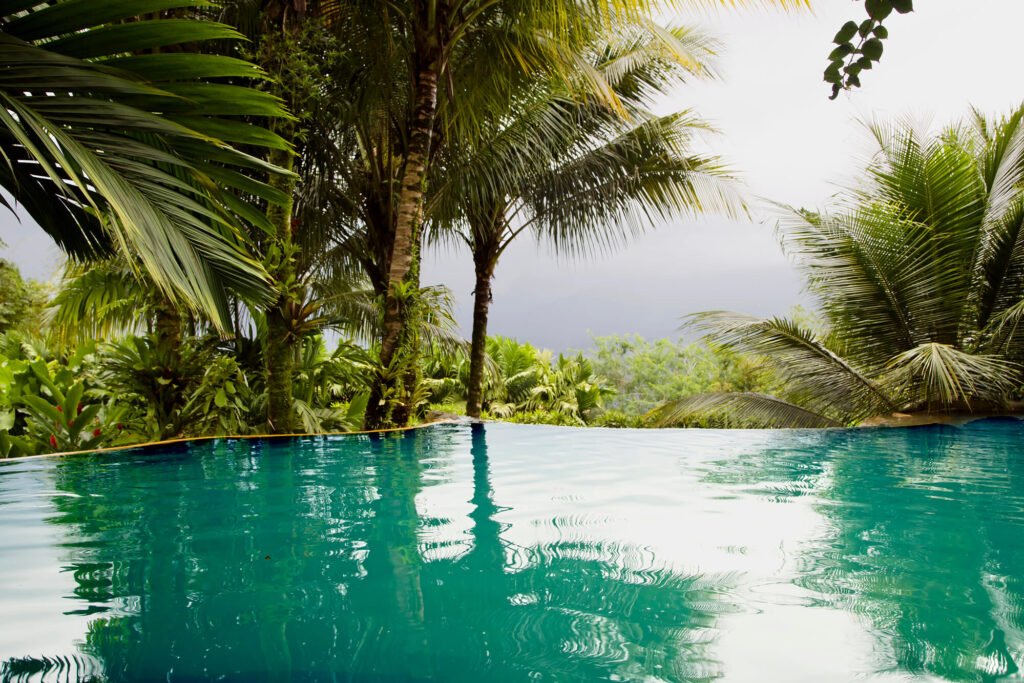 Costa Rica is a Central American country located near the Caribbean and the Pacific. It's known for its protected jungles and lush rainforests, pristine beaches, and volcanoes. It's a beautiful and naturally diverse country. It's also known for its coffee, and delicious local cuisine. Tourists flock to the country to try zip-lining through the rainforest, frolic on a waterfall, bathe on a white sand beach, and surf along the coast.
Given its natural beauty, Costa Rica has become one of the most expensive honeymoon destinations. But it's worth it. It has a set of established safety precautions for tourists. Its supportive locals and friendly ex-pat community work hand in hand to make all outdoor activities exciting and safe for everyone.
Winter Honeymoon Destinations
Still unsure where to go? How about a winter honeymoon destination? Prepare your winter apparel. Don't forget to bring coats and parkas!
Lapland, Finland
Lapland is one of the 4 regions in the northernmost part of Finland. Best known for the dancing Northern Lights, the Midnight Sun, snow-covered mountains, fjords, rich wildlife, and vast forests. It's the homeland of the Sami people and the real-life Santa Claus. It's also home to the frozen waterfalls of the Korouoma Canyon, Santa Claus Village, ski resorts, and outdoor adventure parks.
Lapland's exciting winter activities like ice fishing, reindeer sleigh rides, dog-sledding, and snowmobiling draw winter sports enthusiasts to this place. Make your once-in-a-lifetime travel adventure in Wonderland worth every penny you've saved. Spend your dream honeymoon here!
Telluride, Colorado
Telluride is part of the Gunnison National Forests and the Grand Mesa Uncompahgre. It's a small town on the western side of the famous San Juan Mountains in Colorado. It's home to the Bridal Veil Falls, Sheridan Opera House, and reputable music and film festivals. Telluride's relaxed vibe is perfect for couples looking for either a romantic getaway in winter or a secluded summer vacation.
Its ski resorts draw skiers and snowboarders from all over. Other activities include hiking, golfing, mountain biking, and fishing during summer. Be here during these seasons for your best-ever alpine honeymoon experience.
Zermatt, Switzerland
Zermatt is a picturesque town at the foot of the Matterhorn in Switzerland. It's a playground for the rich. Affordable accommodations and activities are also available for budget travelers, though. Zermatt is a car-free town. You need to park outside of it and walk. Or use e-taxis, or horse-drawn carriages to get around. This makes Zermatt a relaxing and pollution-free destination.
Zermatt is known for having luxurious hotels, restaurants, and exclusive boutiques. Its winter activities like skiing, ice skating, snowboarding, snowshoeing, and sledding are popular among tourists. The ski slopes at Matterhorn Glacier Paradise are operational throughout the year. Hiking, climbing, and mountain biking are available in summer.
Iceland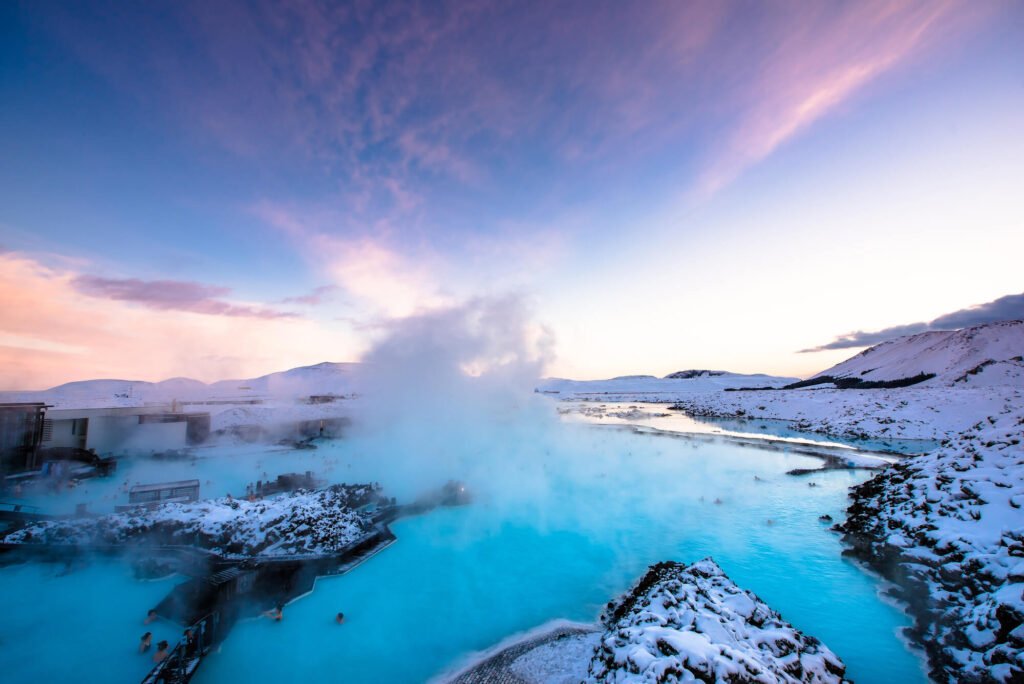 Iceland sits right in the middle of the North Atlantic Ocean and the Greenland Sea. It's a perfect honeymoon destination for adventurous couples who prefer black sand beaches, lagoons, and thundering waterfalls.
It's home to no less than 30 active volcanoes, glaciers, around 10,000 waterfalls, fjords, lava fields, picturesque beaches, the Blue Lagoon, the Midnight Sun, and the Northern Lights. The east coast of Iceland has remote fishing villages, dense forests, and its eastern fjords.
Be here during the summer months (June to August), when hiking trails are in their best shape. Detoxify yourself in a geyser. See the Northern Lights. Or go for a scenic drive.
St. Moritz, Switzerland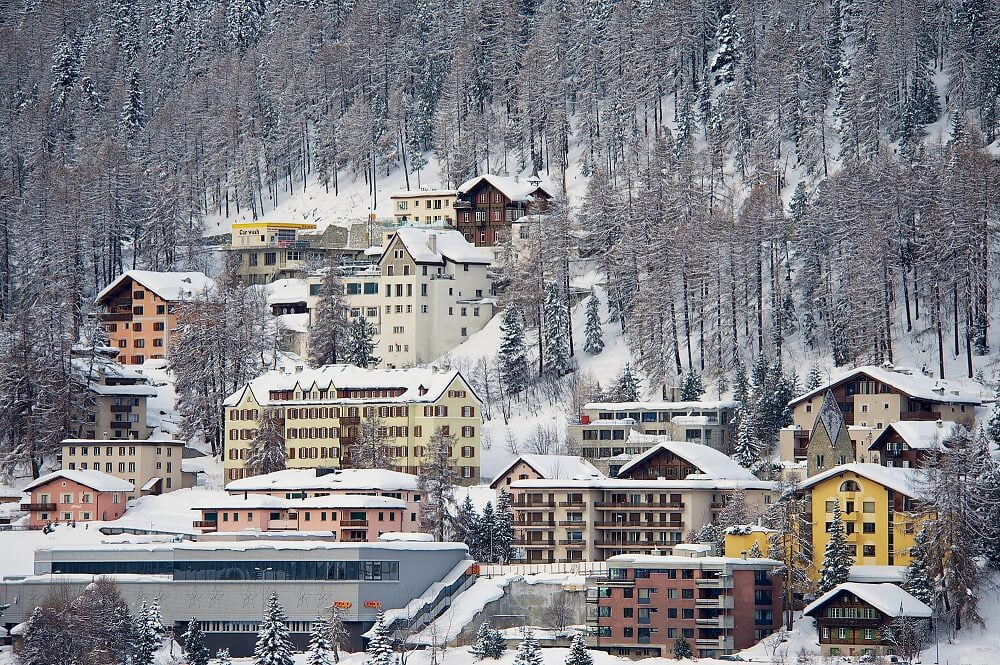 This small resort town in Switzerland hosted the 1928 and 1948 Winter Olympics. The fact that it was chosen twice to host a prestigious sporting event says a lot about it. That and its year-round outdoor activities make Moritz the best honeymoon destination in Europe. It's a glamorous and expensive holiday resort that offers luxury accommodations.
St. Moritz is a popular destination for the wealthy and adventurous travelers. There's skiing, snowboarding, cricket, polo, and horse racing on ice during winter. Hiking and mountain biking in summer. You can get here by train, or by private jet. Any time of the year.
Fairbanks, Alaska
Fairbanks is known as the "land of the midnight sun." It's when the sun never seems to set – from April to August. You can ride a bike, or tend to your garden at midnight because the sun still shines brightly. The days are short in winter though. Sunsets happen before 3:00 pm.
Despite its remote location, Fairbanks is a bustling city. It's home to numerous landmarks including the University of Alaska Fairbanks, Pioneer Park, and the Chena River State Recreation Area. It's for newlyweds who want a secluded winter honeymoon. Hiking, dog sledding, private boat rides, and ATV tours are available for couples to see the midnight sun or the Northern Lights.
Banff National Park, Canada
Banff National Park in Alberta is the country's oldest national park. Banff is one of four parks that forms part of the Canadian Rockies. The Canadian Rockies is a Unesco World Heritage site. That said, no introduction is enough to describe how beautiful Banff is.
Banff National Park has over 1,600 km of well-maintained hiking trails, and over 1,000 glaciers and icefields, including the Columbia Icefield. It's a popular destination for winter honeymooners and outdoor enthusiasts. It offers numerous activities including skiing, snowboarding, camping, trekking, and fishing.
Accommodations range from budget options to luxury stays. Visit Banff in June and September. Fewer crowds, cheaper accommodation rates.
Aspen, Colorado
Aspen is a famous mountain resort town in Colorado. Its breathtaking scenery is a favourite venue for world-class winter sports such as skiing, dog sledding, snowboarding, and snowmobiling.
Aspen has 86 scenic trails where visitors can do horseback riding, hike, ride a bike, or just simply explore the stunning natural beauty of its surroundings during summer. It provides easy access to Glenwood Springs, which is known for its hot springs.
Aspen also features luxurious resorts, high-end shopping, fine dining, and cultural presentations. Red Mountain (aka Billionaire Mountain) in Aspen is home to billionaires and rich celebrities in the country. Its year-round outdoor activities make Aspen one of the best honeymoon destinations.
Prague, Czech Republic
Prague is one of the most beautiful cities in Europe. The Hradcany Castle, Charles Bridge, St Vitus Cathedral, and 14th-century palaces and churches make up the Historic Centre of Prague, which was listed as a Unesco World Heritage site in 1992.
It's home to the Vltava River, Prague Castle, Prague Astronomical Clock, Wenceslas Square, Josefov, Old Town Hall Tower, and 4 distinctive Gothic-style cathedrals, among others. Known as the "city of music", Prague's beautiful gardens, cobblestone streets, and charming cafes evoke a romantic vibe. Join a sightseeing bus tour, play ice hockey, take a romantic stroll, attend a live street concert, etc.
Hallstatt, Austria
Hallstatt is a sparsely populated town in Austria. It's known for the oldest salt mines in the world, spectacular Alpine scenery, and rich cultural heritage. The stunning views of the caves and peaks around Hallstatt Lake are a Unesco World Heritage site.
Hallstatt is home to Echern Valley, Waldbachstrub Waterfall, the Market Square, Hallstatt Museum, colourful 16th-century Alpine homes, cafes, restaurants, and shops – where visitors can dine and shop. It also offers outdoor activities like hiking, skiing, and boating. Hallstatt looks magnificent in winter. The snow-capped mountains are breathtaking, which provides a setting for a memorable honeymoon destination.
Best Caribbean Honeymoon Destinations
The weather in this region is generally fair all year round. So no heavy clothing here. Bring your swimsuit. Sarong or tunics for the ladies. Light cotton shirts and shorts for men. Sneakers or flip-flops will do for both.
Punta Cana, Dominican Republic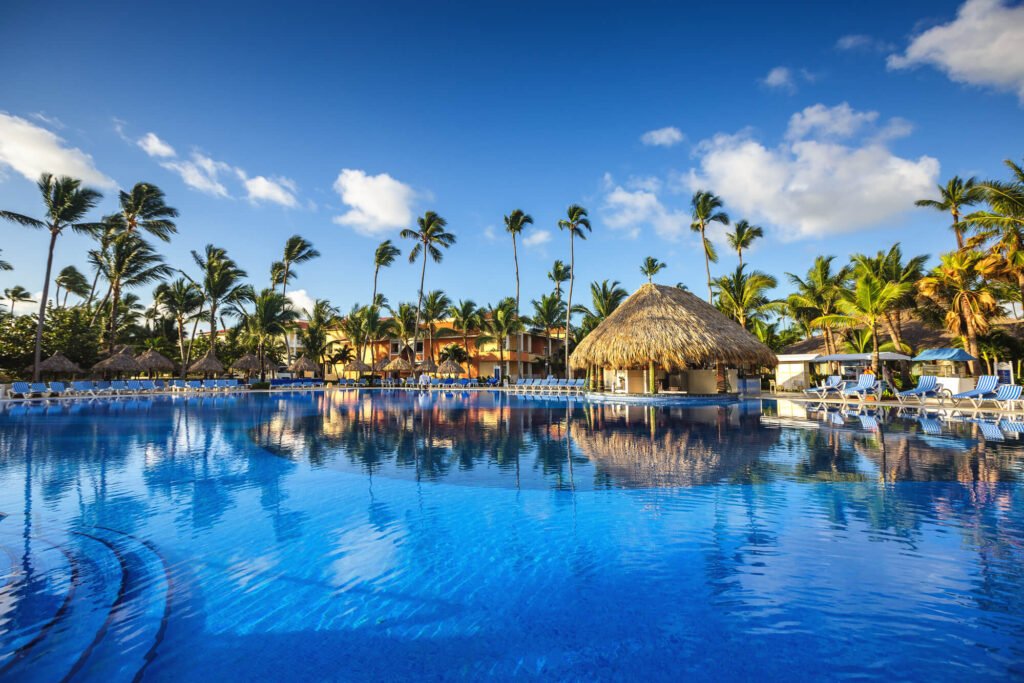 Punta Cana is a resort town in the easternmost part of the country. Known for its tropical climate, and over 19 miles of stunning beaches and turquoise waters. It's home to the Indigenous Eyes Ecological Reserve, Bavaro Beach, and several luxury resorts that offer snorkelling, parasailing, zip lining, golfing, hiking, and horseback riding opportunities.
Coconut Coast is a luxurious, all-inclusive resort known for its sailing, kayaking, windsurfing, and zip-lining activities. Be here in December or April. Good weather, so you can enjoy your Caribbean honeymoon.
Aruba
Aruba is a small Caribbean nation off the coast of Venezuela. It's one of the constituent countries of the Kingdom of Netherlands. It's home to Arikok National Park, which measures 34 sq. km. Or about 20% of Aruba. Philip's Animal Garden, Aruba Aloe Factory Museum and Store, and the Butterfly Farm.
Aruba is known for its long stretch of powdery-white sand beaches, natural pools, crystal-clear waters, and rocky bays. It's also known for delicious local cuisine, charming culture, and vibrant nightlife. Hiking, spelunking, and sightseeing tours are available. Its friendly locals, scenic ocean views, and laid-back vibe make Aruba one of the best honeymoon destinations.
Varadero, Cuba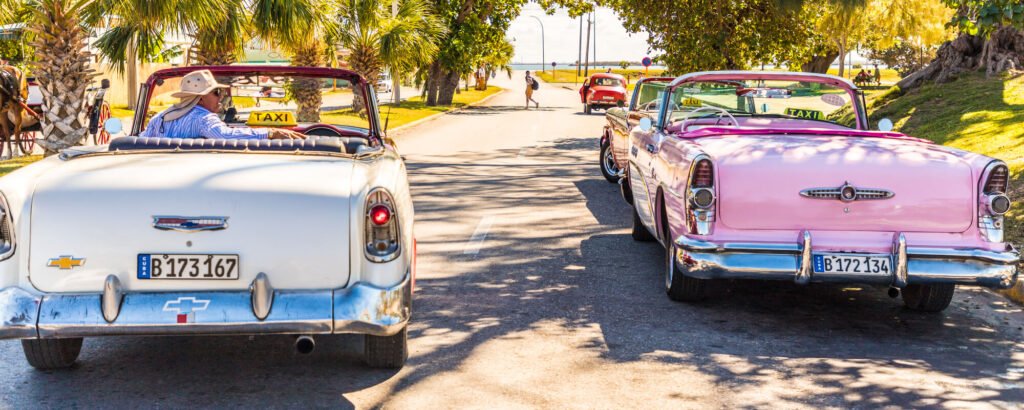 Varadero is a small Cuban town in Hicacos Peninsula. Its coastline looks lively with a golf course, spas, and a string of accommodations – for both budget-friendly and big-time spenders. Varadero is home to Snack Bar Calle 62, Iglesia Santa Elvira, Varahicacos Ecological Reserve, and Parque Josone. It's not a big town with a noisy nightlife.
But if you're into watersports and love to sunbathe on beautiful beaches with fine sand and clear waters, then Varadero is at your service. Play golf, go on a sightseeing tour. Or just lounge in a pool after a day at the beach, with a refreshing drink. The perfect idyllic, quiet, but best honeymoon vacation.
Jamaica
Jamaica is a Caribbean island country 90 miles away from the south of Cuba. Known for its rich cultural heritage: music (reggae), the tambu dance, and cuisine. Bob Marley, Naomi Campbell, and Colin Powell were born here, to name a few.
The Bob Marley Museum, the Blue Mountains, the historical Dunn's River Falls and Park, beautiful beaches, rolling hills, lush rainforests, Jamaican rum, Red Stripe beer, and a dynamic nightlife.
Most of Jamaica's all-inclusive resorts are in Montego Bay, which is one of the country's beach destinations. It offers diving and golfing opportunities. It's the best honeymoon destination for young couples who want to enjoy their honeymoon days without breaking the bank.
Antigua and Barbuda
Antigua is one of the 8 independent island countries in the Lesser Antilles. It's known for sunset parties, boat tours, forest exploration, and duty-free shopping. Antigua is home to, believe it or not, 365 exquisite beaches! Several exclusive resorts, and historic sites including Fort James, Shirley Heights Lookout, Nelson's Dockyard, Devil's Bridge National Park, etc.
Barbuda's Frigate Bird Sanctuary is a rookery of frigate birds. It hosts more than 170 species of birds and 200 thousand frigate birds. Snorkeling, sailing, food sampling, and hiking are popular among tourists. Antigua is one of the most scenic honeymoon destinations in the Caribbean.
La Romana, Dominican Republic
La Romana is home to Casa de Campo, Altos de Chavón, WAO Art Gallery and Cultural Center, Cave of Wonders, Cotubanamá National Park, the Tabacalera de García Cigar Factory, sugarcane plantations, 3 world-class golf courses, and white sand beaches.
La Romana offers a unique blend of Caribbean culture and numerous activities like golfing, tennis, horseback riding, swimming, and snorkelling. It's home to Central Romana, the most prominent sugarcane mill in the Americas. It was turned into what's now known as the Casa de Campo – a favorite hideaway of celebrities, golfers, honeymooners, and even families.
Saint Vincent and the Grenadines
St. Vincent and the Grenadines is one of the 13 sovereign nations in the Caribbean. It's home to Petit Saint Vincent, Fort Charlotte, Dark View Falls, Tobago Cays National Marine Park, Botanical Gardens, an active volcano (La Soufrière), museums, historical sites, and 9 yacht-filled seaports.
The country has 32 smaller islands (9 are habitable) and cays. It's known for its sandy beaches, lush rainforests, crystal clear waters, banana production, hike trails, waterfalls, diving sites, and rich marine life. St. Vincent offers exciting rainforest eco-tours, yachting, sailing, and luxurious accommodations.
Anguilla
Anguilla is one of the British Overseas Territories (BOTs) in the eastern Caribbean. Anguilla has other smaller islands and cays. Despite its small size (35 square miles), it's home to 7 protected areas: Sombrero Island, Shoal Bay-Island Harbour, Sandy Island, Little Bay, Prickly Pear, and Dog Island. And other notable attractions like white sand beaches and caves.
Anguilla offers sailing, fishing, and snorkeling opportunities. Casinos, however, or any form of gambling spots aren't allowed. Its amazing landscape, upscale accommodations, vibrant music scene, and natural charm of Anguilla make it one of the best honeymoon destinations in the Caribbean.
Dominica
Dominica is an independent island country that lies between the North Atlantic Ocean and the Caribbean Sea. It's a nice Caribbean honeymoon destination because of its tropical climate. It's home to mountainous rainforests, beautiful white sand beaches, and the second-largest hot springs in the world, the Boiling Lake. Rosalie Bay is known for its black sand beaches. While Wotten Waven takes pride in its hot sulfur baths and mud pools.
Its secluded beaches and untouched natural beauty provide an ideal romantic getaway for honeymooning couples. This island paradise is a top destination for whale watching, snorkeling, and other water recreation activities.
The Bahamas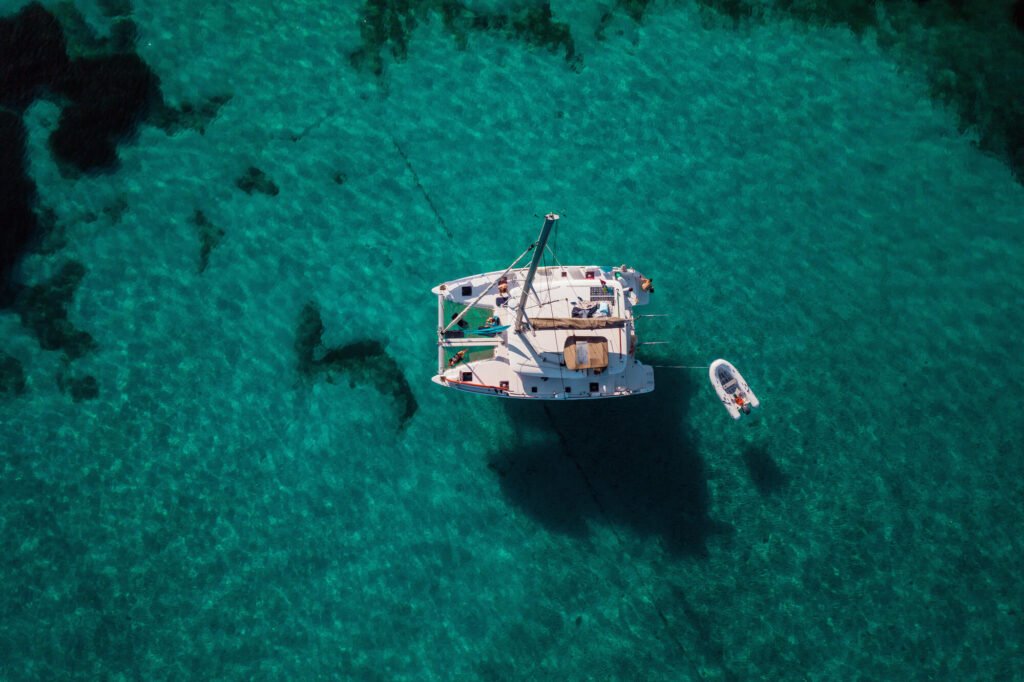 The Bahamas is one of 13 island nations in the Caribbean. It's known for its white sandy beaches, turquoise waters, limestone caves, gorgeous sunsets, delicious seafood, and tropical climate. It's on the list of tropical paradises and one of the best honeymoon destinations in the world. 
The Bahamas is also home to some iconic landmarks, including the Queen's Staircase and Fort Charlotte. It has many resorts and restaurants. Its outdoor activities include kayaking, and snorkeling. Or swimming with the feral pigs on Rose Island! Be here in late April or November for this unique experience.
Conclusion:
The overview provides a bird's eye view of what to expect about each of the featured places, more or less. The important details are for you to fill in. Know the place – its people, culture, laws, and even the weather. Because each contributes to whether it's going to be a happy honeymoon destination or not.
There are Muslim countries that don't allow PDAs or the wearing of swimwear on public beaches. And that should be respected. Or you end up caressing a jail cell, instead of the hand of your loved one. Seriously!
If you're not into blending in with a crowd, choose a place where there's privacy and exclusivity. Honeymoons are meant to be enjoyed by two people who have sworn to spend a life together. Wherever that may be. But, there's no one-size-fits-all plan that magically settles your traveling concerns. It all depends on where you're bound to, and when. That said, we hope by this time you've decided already.
Time to take action. Now.