Adventurous Young Couples' Guide to Great Getaways
Find out your next adrenaline-pumping tour in this article. Adventurous young couples, here's your guide to great getaways!
People say "You're only young once." So when life presents you with an opportunity to travel the world, go for it. This chance of a lifetime doesn't get handed to you on a silver platter. Unless you're born rich, you'd have to work and save up for it.
This adventurous young couples' guide to great getaways is for anyone looking to dive into the depths of the ocean or soar high above the clouds, literally. Because, admit it or not, exploring the unknown is fun, especially for young, romantic, and adventurous couples who love outdoor adventures. So get ready to work on your bucket list and embark on this journey, we got you!
Top Travel Adventure Solutions for Young Couples in 2023
The fun in adventure begins when you learn to be brave enough to ditch your comfort zone. Here are your top travel solutions.
Rock climbing in Yosemite National Park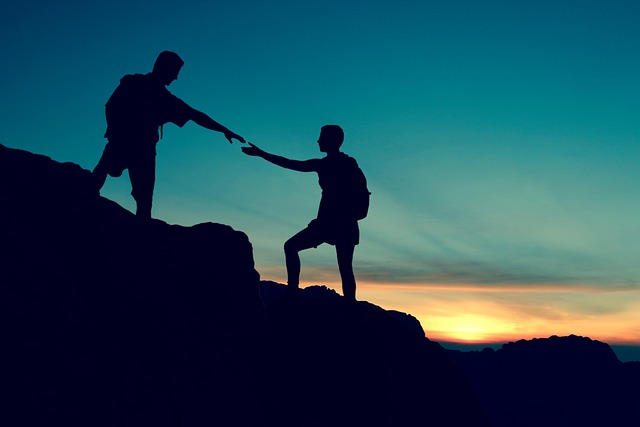 Yosemite has 3,130 climbing routes, which makes it a dream destination for all climbers around the globe. Its towering granite formations and big walls are hard to ignore.
El Capitan is a granite monolith that stands at 2,308 m. Or more than twice as tall as the Empire State Building. Or thrice the height of the Eiffel Tower.
Half Dome is a great challenge even to the most experienced climbers. It's a well-known rock (a combination of quartz and igneous rock) formation that rises 4,737 ft above Yosemite.
Yosemite's climbing culture is rooted in history. Warren Harding's small group of rock climbing legends was among the first to climb El Capitan in 1958. Royal Robbins also pioneered many first ascents.
The climbing season runs from late spring through early fall. Although some areas may be accessible year-round.
Snorkeling in Barbados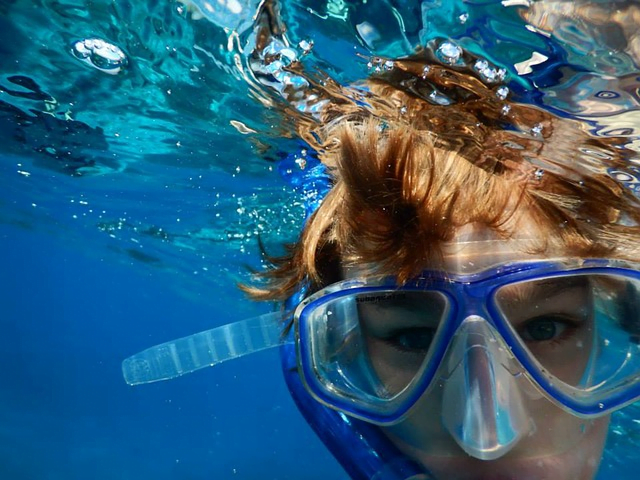 Barbados is a small, coral island country in the Caribbean. It's one of the best places in the world to visit or spend a vacation.
The Platinum Coast, which is located on the west coast of Barbados, draws rich visitors. It's known for its luxurious resorts and powdery white sandy beaches. All beaches (over 80 of them) are open to the public. This gives visitors chances to socialize with other adventurous couples and celebrities.
Barbados is a tropical island. You can play golf on any of its 6 impressive golf courses. Or sunbathe, dive, and snorkel in its sparkling oceans. Snorkeling allows you to explore shipwrecks. Swim with the turtles, or soak in the crystal clear water.
Mountain biking in Hakone, Japan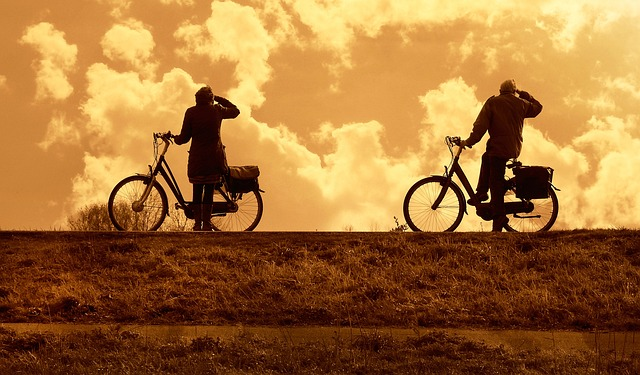 Hakone is a 90-minute ride from Tokyo. It's a mountainous town known for its beauty and hot springs. Mount Fuji's view across Lake Ashinoko is breathtaking. As well as the hot sulphuric fumes in Owakudani Valley.
What to do in Hakone? Ride a boat, or a rickshaw. Play golf. Visit art museums, historical sites, and pirate ships. Go on gourmet and sightseeing tours. Bathe in an onsen (hot springs). Or join guided expeditions.
Guided bike tour packages include helmets, bikes, and insurance. Mountain biking offers an exciting way to discover the beauty of Hakone. It takes you down the slopes and forests to parks and historic sites around Hakone.
Cave tubing in Belize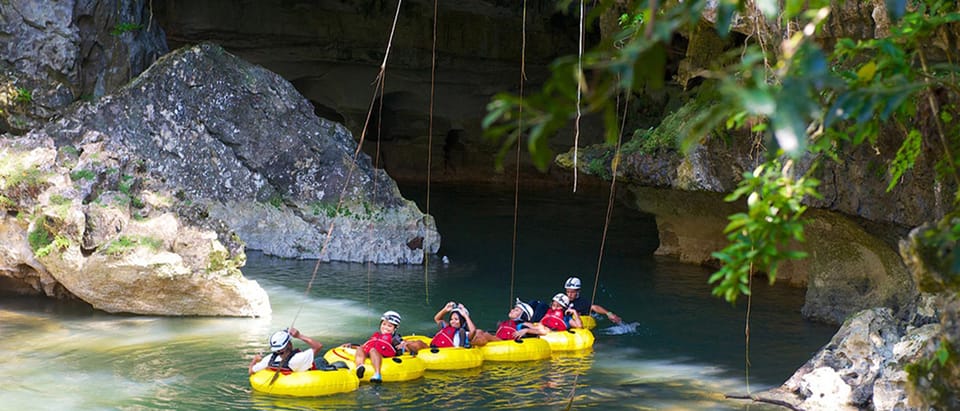 Belize (formerly British Honduras) is a Central American country. Its dense jungles are home to over 900 Mayan ruins. Other natural wonders include the Belize Barrier Reef Reserve System, the Great Blue Hole (a huge marine sinkhole), and enchanting underground limestone caves.
Cave tubing is an extraordinary water sport held in subterranean caves in Belize. The surreal experience can both be calming and riveting for some. It pulls you out of your comfort zone and takes you back in time as you pass through the dark caves and tunnels while floating on an inflatable tube.
Cave tubing is supervised by seasoned local tour guides, and deserves to be on your adventure bucket list.
Dog sledding in Denali National Park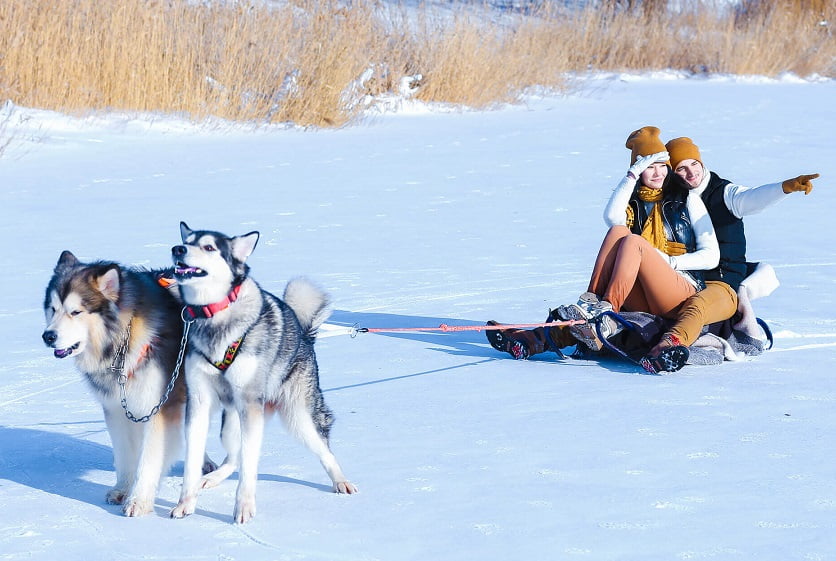 Indigenous peoples developed this mode of winter travel in 1922. It includes the training of dogs, and how to handle the sled. Sled dogs and forest rangers help protect Denali's wilderness.
Sled dogs wear webcams, protective boots, and insulated jackets when racing to protect them from abrasion. And to keep snowballs and ice shards from getting between their paws.
Sledding in Denali is an activity where you are pulled by a team (2 to 12 dogs) of canine rangers through the beautiful wilderness of Denali. Dog sledding, hiking, and skiing are the only activities allowed to preserve the area.
The snow-covered mountains on the horizon and the forests around you as the sled glides across the snow is an unforgettable experience that'll leave you breathless.
Jungle Safari and other amazing adventures in Botswana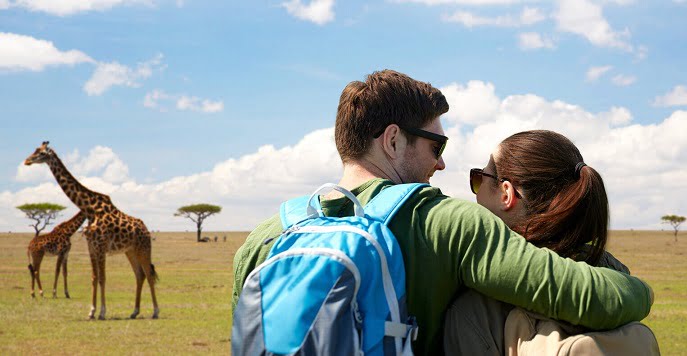 Kalahari Desert covers 70% of Botswana's land mass. While Okavango Delta, which is mostly flooded grassland, occupies the northwestern part. A jungle safari will take you to the lush greenery of Linyanti. The Makgadikgadi dry pans in the north, and Chobe National Park where the savanna elephants (over 50,000 of them) are endemic, are also worth visiting.
Botswana's biodiversity provides an excellent backdrop for an exciting adventure trip and game-viewing. A two-camp, 6-night safari may typically cost between $4000 and $4,500 per head. And about $2,500 per person for those who'd opt for a 6-night mobile camping safari.
May to early September is the best time to go to Botswana. An adventurous couple on a romantic getaway can explore the place for birdwatching and other activities. When it's cooler and the skies are clear.
Paragliding in Norway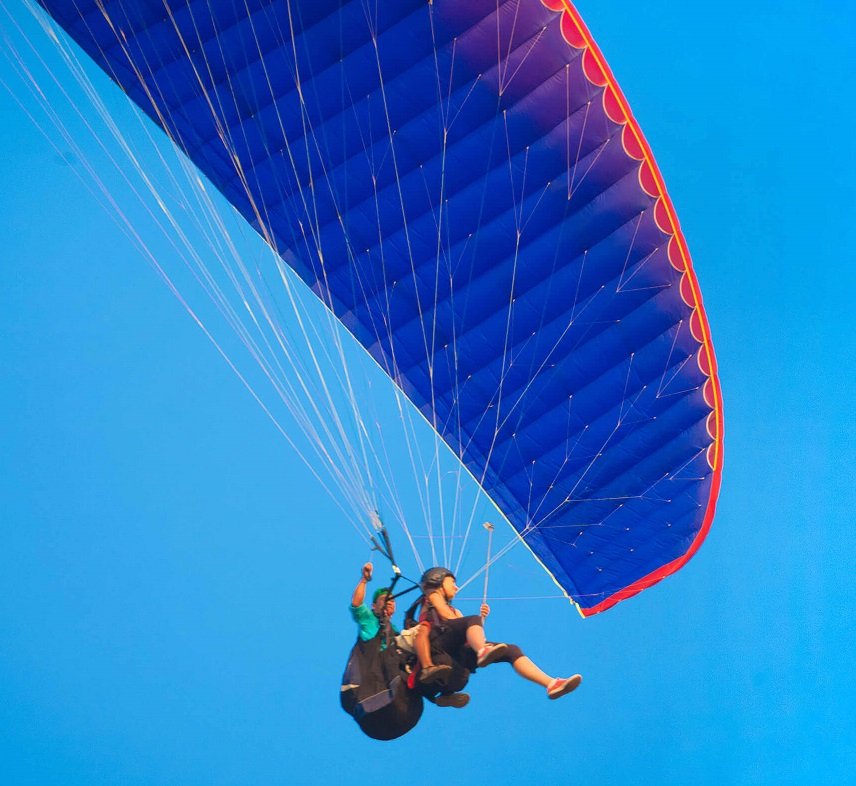 Norway is a beautiful country. It's home to nine of the 20 highest and most beautiful waterfalls in the world. Nature lovers and young adventurous couples looking for exciting activities love the snow-covered slopes and the long, rugged shorelines.
Its amazing landscapes offer unlimited opportunities for active pursuits such as deep-sea diving, whale-watching, hiking, paragliding, and other activities.
It also offers numerous options for glamping into the great outdoors. Its hotel igloos, glass igloos, hanging cocoons, and arctic domes make camping trips for adventurous couples possible throughout the year.
The best time for the Northern Lights to appear in Norway is on a clear, cold night – which happens from mid-September through early April.
Scuba diving in Bali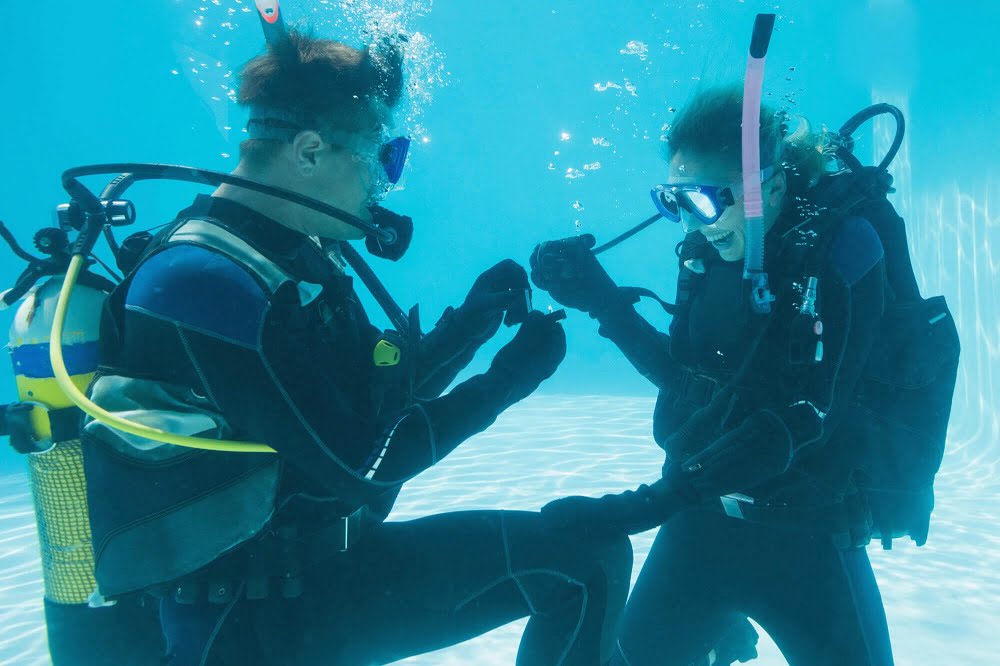 Bali has some of the most beautiful dive sites in the world. Its vibrant marine life and clear waters leave even the most seasoned divers mesmerized.
But whether you're diving for the first time or the hundredth, you can explore a sunken ship. Float along with the current, or just be amazed by the stunning views of the sea.
Bali has a strict dress code. At the beach though, bikinis and other swimsuits are acceptable. However, they require divers to wear a standard 3mm wetsuit.
Bali's deepest point is 98 feet below the surface, making it a great diving spot. Tourists divide their time hopping from one diving destination to another for a more exciting diving experience.
Bungee jumping in New Zealand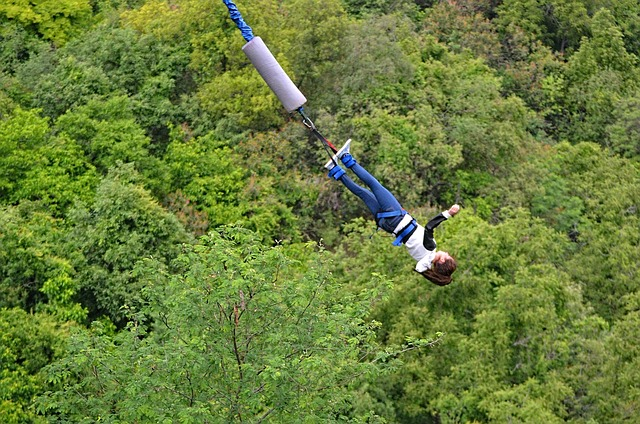 Nature at its finest. There's no other way to describe New Zealand's terrain. Because it's a breathtaking mix of rocky cliffs and mountains. Not to mention the lakes and sheltered bays, volcanoes, forests, rivers, fjords, and beautiful islands. Plus over 9000 miles of diverse coastline – making it one of the best destinations for outdoor adventures like hiking, horseback riding, swimming, and surfing.
New Zealand's natural landscapes are a favorite venue for extreme adventure sports like bungee jumping, skydiving, skiing, and white water rafting.
It's also known for its local tribe and unique Maori culture, fish and chips, pavlova, Kiwi burgers, lamb, seafood, and wine.
J.R.R. Tolkien's Lord of the Rings (the trilogy) was filmed in over 150 locations across New Zealand. Particularly shot on a family-owned farm in Waikato, which is now another tourist attraction.
Hot Air Ballooning in Whitsunday Islands, Australia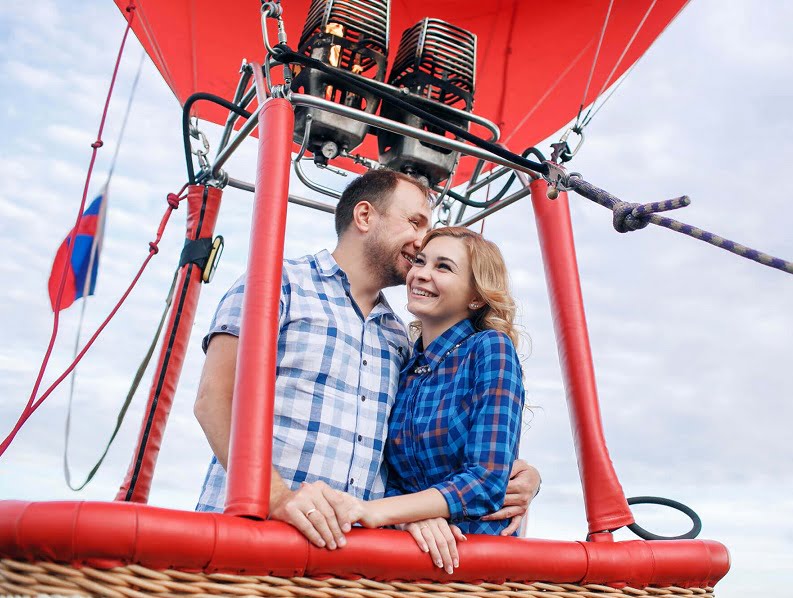 Whitsunday Islands (aka Pentecost) are a group of 74 islands off the coast of Queensland. The waters are crystal-clear, and the marine life is so diverse that tourists can snorkel, dive, or sail.
One of the most romantic activities in Whitsunday is a hot air balloon ride, over Australia's beautiful vineyards and the sweeping views of its breathtaking landscapes.
Exploring national parks can also be added to the list of adventurous activities offered on the islands.
Surfing in Northern California (aka NorCal)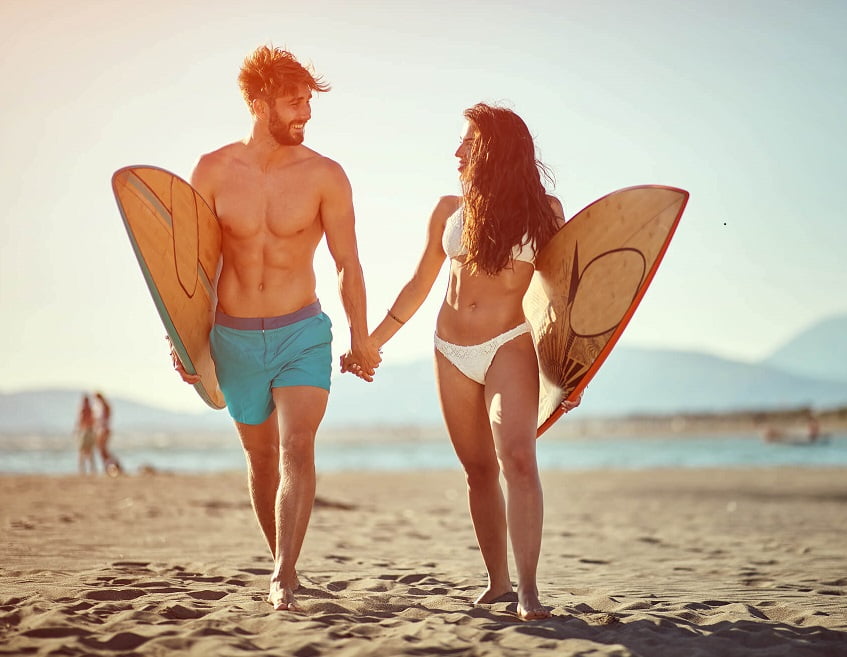 NorCal has around 40 mountains, towering redwood forests, extinct volcanoes, and scenic coastlines. It's home to the European fan palms, and the Pindo and Windmill palm trees.
It's known for some of America's best destinations including the iconic Golden Gate Bridge in San Francisco, the Big Basin Redwoods State Park, Alcatraz Island, and the Silicon Valley tech hub in San Jose.
It's also famous for its thriving wine and tech industries, vineyards, and cable cars. All these present endless opportunities for outdoor recreation such as skiing and surfing. For first time travelers looking for a romantic vacation or an adventurous getaway, NorCal is a smart choice.
Zipline adventures in Whistler Village, BC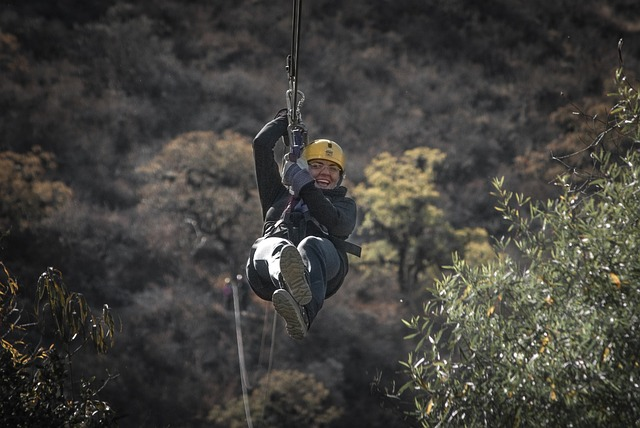 Whistler is a rustic mountain village in the Coast Mountains, British Columbia. This winter wonderland is a hub for winter sports such as snowboarding, skiing, snowshoeing, and tobogganing.
Theme parks in Whistler offer an exciting experience for kids. Whistler also offers numerous lodging and shopping options. Other tourists dine with the locals in the hope of finding romance. Most of them engage in outdoor activities such as zip lining pursuits in the mountains, gondola trips, and concerts in the Olympic Plaza during summer.
Overseas Adventure Travel 2023
Check out these other overseas adventure travel spots…
Kiteboarding in Outer Banks, NC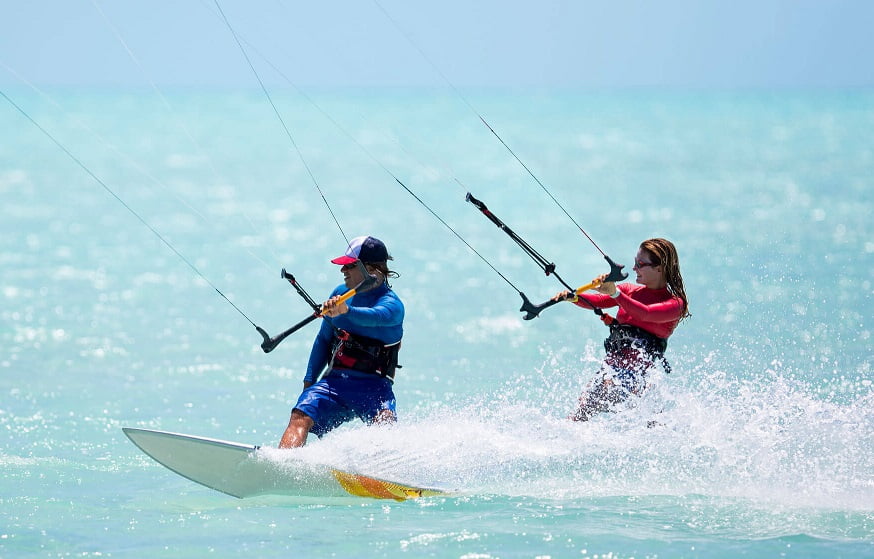 The Outer Banks (OBX) is a narrow strip of barrier islands (sand bars) that cover half of North Carolina's northern coastline.
The area is known for its historical shipwreck diving sites, state parks, beautiful open-sea beaches, and lighthouses.
Each town has retained the unspoiled beauty of nature, which makes it special. No blinding neon lights and skyscrapers blocking the sun and the ocean, and no noisy nightlife. Only small charming beach towns and peaceful fishing villages. It's a perfect place for adventurous couples who want to have fun and spend a romantic date night away from the city.
Most trips are for outdoor activities such as fishing, horseback riding, surfing, kayaking, and kiteboarding. Or learn the local maritime and pirate history of the place with your partner.
Paratriking in Cartagena, Colombia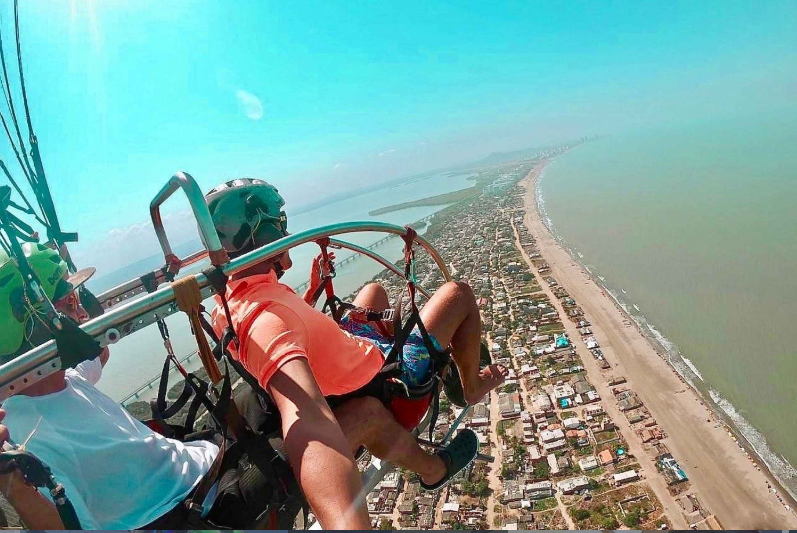 Cartagena (aka "The Walled City") is a beautiful port city off the Caribbean coast of Colombia. It has well-preserved 16th-century architecture, colorful buildings, historic landmarks, and raucous nightlife. It's also known for its delicious food and is home to some of Colombia's most beautiful beaches.
Lift off from the ground and fly like a bird over Cartagena's jagged skyline on an exciting para-triking adventure (with a licensed pilot guide, of course).
Which do you prefer, a 10 or a 15-minute flight? Upgrade to an all-inclusive package tour to get a complimentary hotel pickup and drop-off. And you get to choose your flight time.
So plan your next trip with a small group of friends. Other adventurous couples who have similar interests and itineraries as you will surely join. Learn new adventures with them, take salsa dancing lessons. Or book a daring beach buggy tour. Soak and enjoy the beach, and other fun activities.
Cruise Sailing in Amalfi Coast, Italy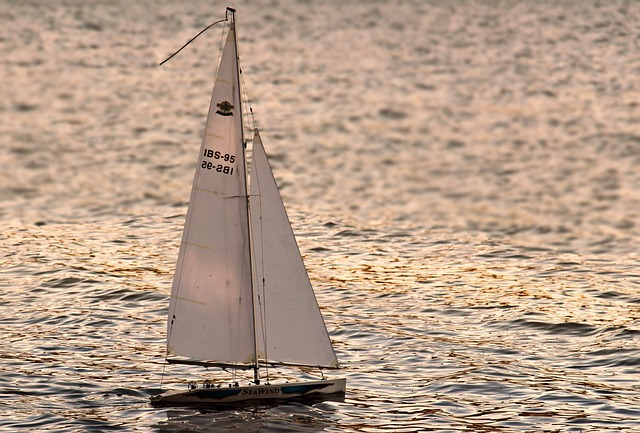 The Amalfi in southern Italy is a Unesco World Heritage site. It's famous for its picturesque seaside towns, steep hills, sandy beaches, hairpin bends, and colorful houses.
Hike and indulge in its delicious local cuisine. Enjoy the panoramic views of the turquoise waters of the Mediterranean Sea. Or visit historic domed churches, museums, vineyards, and lemon orchards.
Or would you rather spend a romantic night on the beach? Swim, sail, sunbathe, and rest. Or just watch the sun set. The Coast offers special adventure vacations to travelers who want to spend a night of romance in a private place.
Amalfi is also known to produce a locally hand-made thick paper called bambagina. The 50-kilometer road (Amalfi Drive) that leads to the Amalfi coastal towns took 47 years to build, and two hours to drive.
Snowboarding in Jackson Hole, Wyoming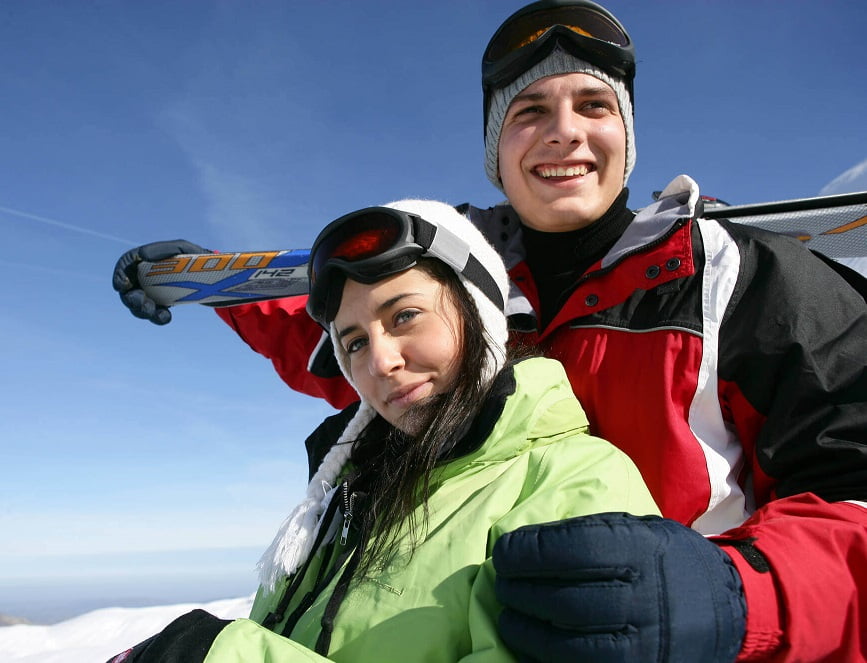 Jackson Hole is a small valley town between Teton and the Gros Ventre mountain ranges in Wyoming. It's near the spectacular Yellowstone National Park, which makes it a must-visit destination.
The town ranks first among the richest counties in the US. And is known for its highly-diversified national parks, aboriginal folklore, and cultural events. The town boasts a charming Western vibe with its unique shops and art galleries.
Tourists visit the place to ski or snowboard during winter. And to camp camping during summer. It's the best destination any adventurous couple would love to go to.
Jet skiing in Cannes, France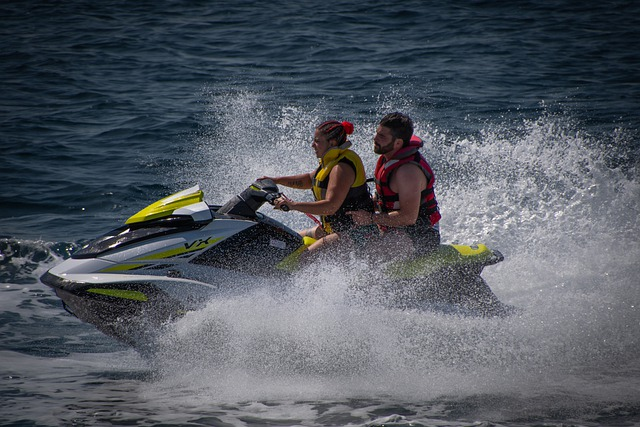 Cannes is a beautiful city located on the French Riviera. It's where the prestigious Cannes Film Festival is held annually. It's one of the greatest gatherings of some of the brightest stars, established filmmakers, movie enthusiasts, and other like-minded people in the film industry.
Cannes is known for its luxury hotels and high-end boutiques. Michelin-starred restaurants and jazz bars add character to its cobbled alleys. Its pristine beaches offer romantic private boat tours, and other water recreation sports including jet skiing, wakeboarding, and flyboarding.
Cannes has notable historical and iconic landmarks, including the Gothic style Notre-Dame de l'Espérance church, where you get a view of the stunning Bay of Cannes. And Allée des Étoiles, which is the French version of Hollywood's Walk of Fame.
Scenic Driving in Red Rock Canyon, Nevada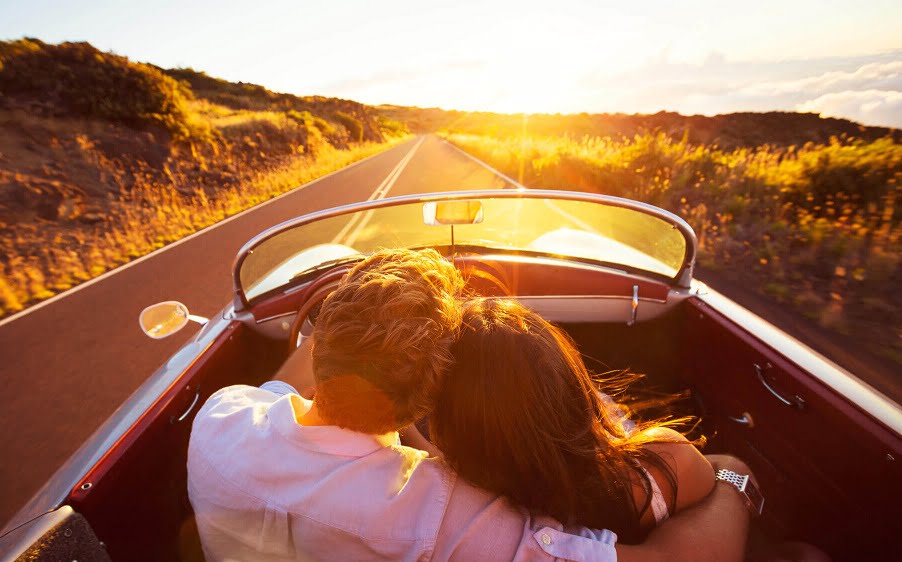 The Canyon has towering red rocks and cliffs that you won't see in other places. But it's not all rocks and cliffs. Some plants and animals thrive in the place.
The Canyon welcomes over 2 million visitors every year. It offers adventurous activities like rock scrambling, biking, scenic drives, and camping. The 13-mile drive attracts different motorcycle clubs around the city.
Book reservations before visiting the area. Shuttle service isn't allowed. Either you drive your own vehicle, or rent one. Or book a guided trip with pick-up and drop-off options.
Going alone and not letting others know about your plan to hike off-trail is discouraged due to the presence of poisonous rattlesnakes.
Rock climbing can be risky during summer, as temperatures in the Canyon may get extremely hot. It's advised to visit the area in spring.
Planning Your Adventure Trip
A planned vacation gives you time to evaluate your travel preferences, new activities you'd like to try, etc. The same holds true if you're organizing a solo trip in advance.
•Packing essentials. Your packing essentials depend mostly on where you're going. It'll help if you have a travel organizer that can be integrated with your handy notepad. You can add, edit, and delete your packing needs – from your travel documents down to your toiletries.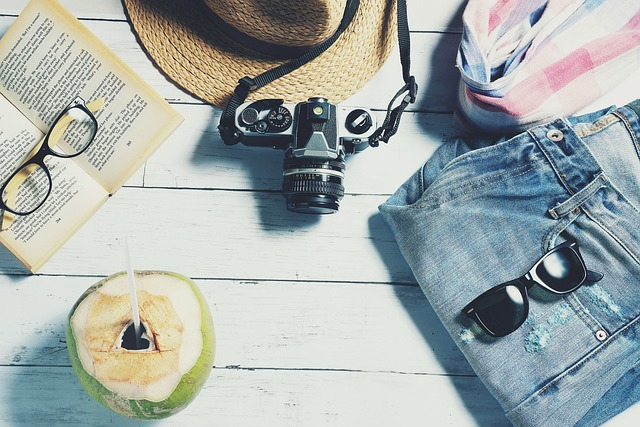 •Clothing and footwear. Clothing and footwear also depend on your destination and the time frame of your travel. Bring light, quick-drying clothing, sneakers, or flip-flops for countries with tropical climates. And thick winter clothing and boots if you're bound to a place with cold temperatures.
•First aid kit. It's hard to find medical treatment while traveling to a place you've never been to. So include a first aid kit in your packing essentials. You may have to self-medicate simple aches to keep you from buying potentially harmful prescriptions overseas.
Also, carry a health card that indicates your health condition (if you're diabetic or asthmatic, i.e.), if there's any.
•Electronic gadgets. Electronic gadgets (phones or laptops, universal chargers, power banks, etc) are a necessity when traveling. They make it simpler for you to go places while staying up to date with your family. Bring only the basic gadgets you need, unless you're a digital nomad or on a business visit.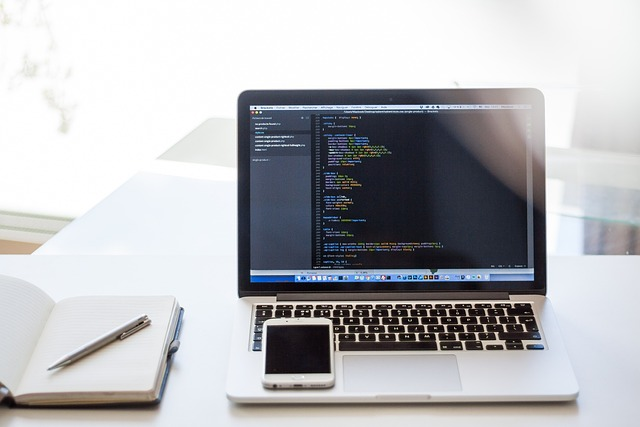 •Travel documents. Your identification and permission to see the world are in your travel documents. You can't enter or leave a country without them. Loss or damage to these documents while traveling may result in you visiting your embassy instead of enjoying a romantic vacation on a beach.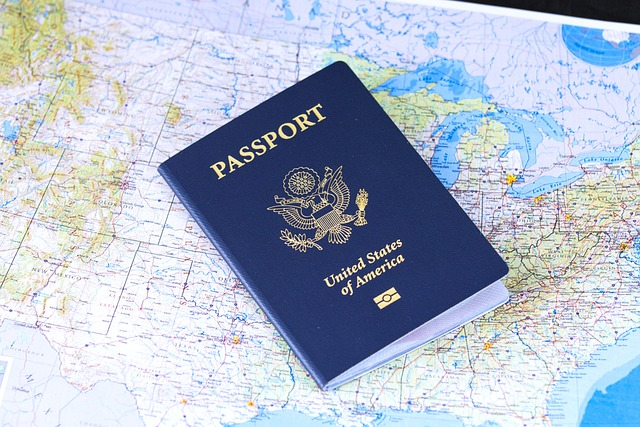 Choosing the Right Accommodations for adventurous couples
Your choice of accommodation may end up deflating your hopes for a romantic trip – if it lacks the comfort and conveniences you're used to. Your travel experience greatly depends on what booking services you avail, such as your choice of hotels, flights, etc. So book wisely.
•Finding the best travel agency. OTAs (online travel agencies) have extensive contacts with travel suppliers around the globe. They also have access to exclusive offers and discounted deals. They make your life easier by letting them negotiate on your behalf. For you to get the best deals in booking services, rides, accommodations, new adventure tours, and vacation packages.
•Checking reviews and ratings. Positive reviews boost customers' confidence about the decisions they make in choosing the most suitable OTA. Low ratings (bad reviews) serve as a warning to prospective clients. Bad reviews remind readers to avoid establishments that don't give value for your money.
•Looking for certifications and accreditations. A certification is a proof that a professional met the requirements for a given skillset as determined by a third-party evaluation.
Accreditation enables the DOT to monitor how travel-related industries are adhering to the guidelines established for the sector. It's given to industry professionals so that their company gets acknowledged. This enables a travel company staff member to arrange tours on a client's behalf, and with certain qualifications, issue tickets for flights.
•Asking for references and recommendations. Reference checks are done to confirm the legitimacy and capability of your chosen OTA to do the job for you. Whereas recommendations may be from word of mouth, or from positive reviews that satisfied customers post online.
Staying Safe on Your Adventure
It's human nature to want to stay safe. But accidents happen when you least expect them. So stay on the safe side and be cautious when traveling, especially in big cities.
Staying healthy and fit. Traveling can be physically and emotionally taxing. And being in shape will help you find other amazing adventures that you can excel in if you're healthy and physically fit. So even if the weather isn't ideal for rigorous exercise, do some stretching or yoga – regularly if you can. Because you can't go anywhere if you're not healthy and fit for travel.
Avoiding common dangers. According to experts, the greatest threat to your safety and well-being is when you're on the road with all the vehicles passing you by. Take caution when crossing city streets, observe traffic rules, and the people around you.
Knowing your limits. Traveling pushes you to your competitive edge. When you're exposed to people, to different situations and experiences, you learn to fight. And that's fine. Just know your limits. If you're aerophobic (fear of traveling by plane), then don't travel by plane. It's that simple. Unless you're ready to conquer the fear.
Understanding local customs and traditions. A deeper understanding of the local customs and traditions of the people you're traveling with or visiting will help you adapt easily. And connect more meaningfully with them. Showing respect to others never goes out of style.
Conclusion:
For young couples wanting to start a life of joy and romance, this adventurous young couples' guide to great getaways will help you decide where to catch up with each other.
Related blog: Best holiday destinations for young couples
The discussion starts with what adventure trips you two can embark on. How to find the best accommodations, what to pack, how to stay safe while traveling, and other valuable travel tips 0n your bucket list.
Whether you finally decide to scuba dive in Bali or paratrike in Cartagena, these fun and beautiful journeys together will help you create a lifetime of unforgettable moments and romance.
Convinced yet? Book now.