The Ultimate 14-Day Sicily Itinerary
Discover Sicily's hidden gems with this ultimate 14-day itinerary. Let's help you learn ancient history, discover breathtaking landscapes, and savor exquisite cuisine in this unforgettable Sicilian adventure!
Sicily is a land of stunning contrasts. This enchanting island in the Mediterranean is an interesting mix of rich history, culture, and natural beauty. Ancient ruins, extremely picturesque coastlines, historical sites, charming villages and medieval towns make up its unique landscape.
Sicily is a diverse destination that promises an unforgettable journey through time. We'll whisk you away on a whirlwind adventure that covers Sicily's best – its iconic landmarks and hidden gems.
Our 14-day Sicily itinerary includes the exploration of well-preserved ancient Roman and Greek ruins. You'll be amazed by its architectural marvels, the awe-inspiring landscapes of Mount Etna, the azure waters and idyllic beaches that fringe the island, the warmth of the Sicilian people, and the flavors of traditional Sicilian cuisine that are sure to tickle your taste buds. So let the journey begin!
Sicily: A Brief History
Strategically perched at the crossroads of the Mediterranean Sea, Sicily was a much-coveted territory. The Sicily that we know now is the result of numerous conquests that have left their indelible marks on the island.
The Greek colonization during the 8th and 7th centuries made it flourish. The Romans made Sicily a part of their agricultural and economic center. Sicily became known as the "granary of Rome" due to its fertile lands and abundant agricultural products, which brought prosperity in the region.
The Arab invasion in the 9th century infused Arab culture and architecture into the Sicilians. Palermo became a major cultural and economic center.
The Normans invaded Sicily in the 11th century. They assimilated with the local Arab and Greek populations, creating a rich cultural fusion that became known as Norman-Arab-Byzantine culture.
The Norman monarchs Roger II and Frederick II were known for their patronage of art, science, and culture. Sicily became a hub of knowledge and innovation, attracting scholars from Europe and the Middle East.
The Spanish and Bourbon also ruled Sicily, before becoming part of unified Italy in the 19th century. It faced economic and social challenges in the 20th century. But also experienced significant development and growth.
Today, Sicily continues to attract visitors with its rich historical and cultural heritage. Its breathtaking landscapes make it an interesting destination that seamlessly blends its storied past with the present.
Top 13 Must-See Attractions in a 2-Week Sicilian Trip
Please keep in mind that this two-week Sicily itinerary is basically for people who are up to the challenge of relocating every single day, those who are used to and are comfortable with a fast-paced travel style.
However, if a more relaxed Sicily itinerary suits you better, or if you have extra time for additional day trips in Sicily, then simply extend your stay at the places that pique your interest. Google Maps will help you find them. From there you can decide what activities to do for a specific day, based on weather conditions, traffic updates, etc. Taking day trips on public transportation can be exciting! 
Day 1: Arrival in Palermo
First stop on your two-week Sicily itinerary is Palermo, the capital city. It's one of the main cities in Sicily – a beautiful and historically rich destination with attractions no visitors shouldn't miss. 
• The Palermo Cathedral (Cattedrale di Palermo) is an architectural masterpiece. It's an impressive fusion of Norman, Arab, and Byzantine influences that has over the centuries undergone numerous reconstructions and renovations – which make it a unique and historically significant monument.
Baroque paintings on its ceilings, intricate mosaics depicting biblical scenes, and religious figures adorned the interior of the 838-year-old Palermo Cathedral, which creates a mesmerizing visual experience.
Along with several sacred relics, the royal tombs of King Roger II, Emperor Henry VI, and Constance of Aragon among others, are housed in Palermo Cathedral. These historical artifacts offer insights into the medieval nobles of Sicily.
Over time, Palermo Cathedral underwent Gothic renovations to preserve its beauty. Rounded arches, ribbed vaults, and large windows were added which further enriched its architectural diversity.
• The Norman Palace (Palazzo dei Normanni, aka the Royal Palace of Palermo) was built in 1130. It served as the main seat of the kings of Sicily and houses the Palatine Chapel. It was once the private chapel of Norman kings, which features exquisite mosaics and a beautiful wooden muqarnas ceiling.
• Teatro Massimo on the Piazza Verdi is the biggest in Italy and one of the largest opera houses in Europe. It's known for its stunning interiors and perfect acoustics. Visitors are given access to the backstage, or enjoy the breathtaking views of Palermo from its roof terrace.
• Quattro Canti (aka Piazza Vigliena) is a unique baroque square that means "Four Corners", where the 4 street corners of the city intersect. It features 4 facades created to form a harmonious ensemble of fountains, sculptures, symbols, and other decorative elements to represent the various aspects of Palermo's colorful history.
Palermo is a city where you can easily get around on foot. But if the necessity to have a car ever arises, Palermo offers competitive car rental fees, and has a huge fleet of rental vehicles to choose from. Easier to pick up and return, especially if it's at the Palermo airport.
As the entry point to western Sicily, heading out of Palermo in a rental car is a practical choice. Less hassle if you're to go on a day trip to explore other places of interest in Sicily.
Where to stay:
Mercure Palermo Centro is a 4-star, pet-friendly hotel situated right in the heart of Palermo. It's a short walk from Cattedrale di Palermo. It features on-site parking, concierge services, currency exchange, snack bar, a mini bar, a restaurant, and other amenities.
All rooms are modern and air-conditioned. Each room comes with a satellite TV, free wifi, a private bathroom with shower, towels, hairdryer, and free toiletries. They serve breakfast buffet (continental)daily. Food and drinks are available but with additional charges. It also has a 24/7 front desk for easy check-in and check-out. From here, drive along the Northern Coast to Cefalù.
Day 2 : Cefalù
Cefalù is a small seaside town in northern Sicily. It's a popular tourist destination known for its beautiful coastal setting, medieval streets, historical sites, and cultural attractions.
Twenty trains travel 59 km every day between Palermo and the old town Cefalù. It's a 40 to 50-minute train ride that'll cost you around $5.47 to $11.
Most attractions in Cefalu are close to one another. In just a half-day trip, you can relax on the beach and enjoy the sights over the dock. You can take a short walk along the Piazza del Duomo, and shop around the gift shops in Corso Ruggero. 
• Or stroll through the narrow streets of the small town and soak in their authentic vibe – see traditional Sicilian houses, and eat in local restaurants.
• The Cefalù Cathedral (Duomo di Cefalù) is a Unesco world heritage site. This iconic Norman cathedral boasts impressive architecture, stained glass windows, and intricate mosaics dating back to the 12th century.
• Mandralisca Museum houses a diverse collection of art and historical artifacts, including paintings, rare archaeological finds, and a notable portrait of an unknown man believed to be by Antonello da Messina.
• La Rocca is a 2.2 mile running and walking trail. It's a rocky hill where you can enjoy panoramic views of the town and its surrounding coastline. The climb can be steep and challenging but is rewarding with breathtaking vistas.
• Lavatoio Medievale is a medieval washhouse where locals used to wash their clothes in running water. The river used to flow under the open sky. It was modified in the 17th century to allow the river to flow straight into the sea through pipes.
Before this, the wash-house was demolished in 1514 and was rebuilt further out of the city walls. The place was restored in 1991, as it represents an example of how the ancient Sicilians lived.
• Porta Pescara is a picturesque arch or passage from the main street of the old town that leads you directly to the beach. It offers a lovely setting for a leisurely walk, watching the fishing boats, and enjoying some fresh seafood at the local restaurants. Cefalù's beautiful beaches are an excellent spot for swimming, sunbathing, and enjoying the Mediterranean climate.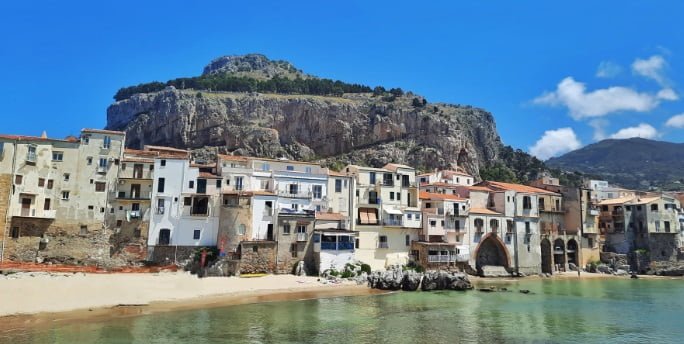 • Acqua Verde is a family-friendly water park that features water games, slides, a wave pool, whirlpool tubs, and other attractions. The park has a spa, snack bars, fast-food restaurants, and kiosks.
Where to stay?
Hotel Mediterraneo is only 50 m away from the train station in Cefalù. It's only a short walk from the town center and the Cathedral. It features free parking, free breakfast, air-conditioned rooms with mini-bar, TV, free Wifi, a private bathroom with hairdryer, complimentary slippers, and toiletries.
Day 3: Aeolian Islands
There's no direct connection from Cefalù to the islands. But you can take the train to Capo D'orlando-Naso and then travel by ferry to the Aeolian Islands. So on the third day of your Sicily itinerary, start your Sicily road trip on a rental car from Cefalù to the islands via Milazzo to Lipari in less than 4 hours.
Southern Italy holds a significant natural and cultural treasure in the Aeolian Islands, off the northern coast, as they're recognized by their unique volcanic formation, exciting hiking trails, and picturesque beaches.
•Lipari is one of the main sights and one of the 7 islands that make up the Aeolian region. It's the largest and most popular island, and is known for its charming old town, historic castle, and beautiful beaches. You can explore Lipari by taking day trips – boat tours, snorkeling, sailing, and other water activities.
•Salina is considered the most beautiful island in the Aeolian region. It's known for its scenic landscapes, including two dormant volcanoes, olive orchards, vineyards, and lush vegetation. It's perfect for hiking, biking, and exploring the natural beauty of the place. Salina's a favorite destination for nature lovers and those seeking a relaxing getaway.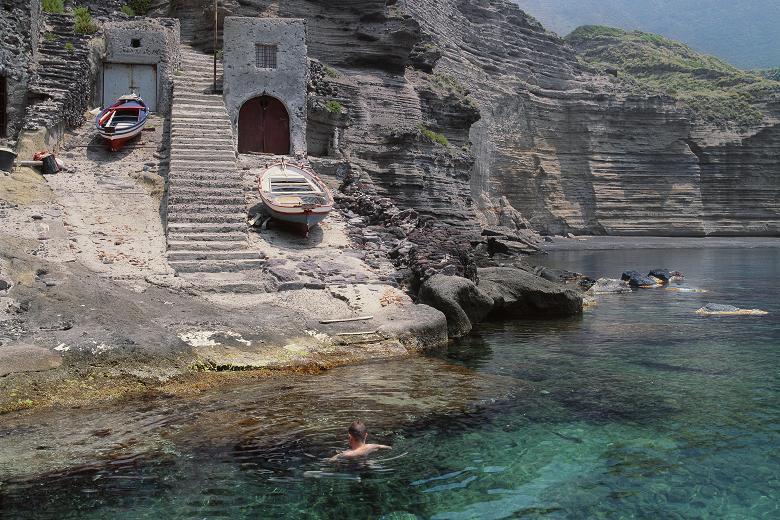 •Filicudi and Alicudi are the lesser-known, less-visited islands. It's the remoteness that adds charm to their rustic beauty. Each offers a more secluded and tranquil atmosphere, which is ideal for visitors wanting to stay off the grid.
Villages are interlinked by mule tracks and are just a short walk away from each other. You could spend a day in the sea, or simply watch the sun set. Or savor authentic Aeolian specialties like fresh seafood, caponata, and delicious desserts. Prepared and served by the locals.
If only there's enough time, you could spend your one-week Sicily itinerary in this place. Or extend for another two nights to explore an entire island.
Where to stay?
Poseidon Hotel is a family-run accommodation located in the center of Lipari. It's set in an old villa, which is a short walk away from the dock, and a 5-8 minute walk from the nearest beach.
Most air-conditioned rooms come with a balcony or a patio. And are equipped with a private bathroom, shower, dryer, and toiletries. Each also come with a fridge and a flat screen tv. Wifi is available in public areas. They also serve a buffet breakfast to guests.
The hotel also offers bike rental, off-site fishing, hiking, and diving. Plus other services and amenities for your comfort. There are restaurants, pubs, wine bars, and an archaeological park nearby.
Day 4: Taormina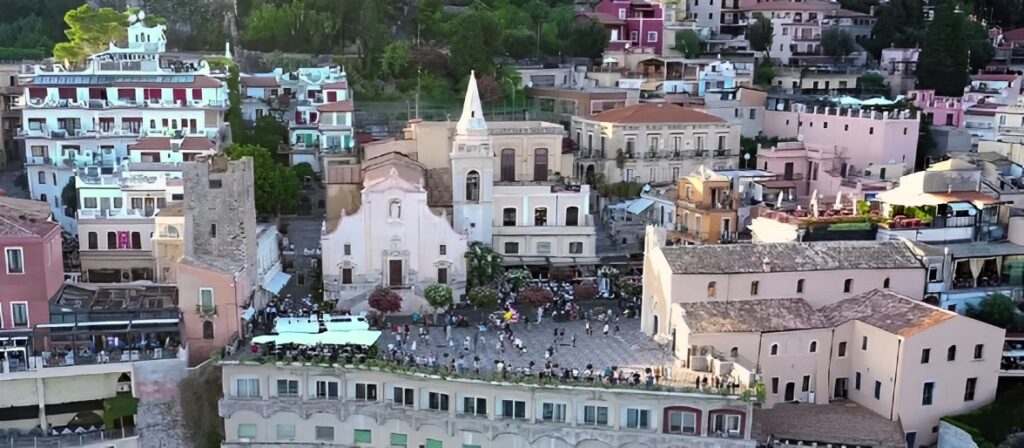 Taormina is 83 km away from the Aeolian Islands. There's no point-to-point trip from any of the 7 islands to Taormina. So your best option is to rely on public transportation on the 4th day of your Sicily itinerary. The fastest and most inexpensive way to travel from Lipari to Taormina is to take the 3h and 17m ferry and train ride, which costs $28 to $40.
Taormina is a hilltop town in eastern Sicily. It's known for its breathtaking views of the Mediterranean Sea and Mount Etna; the beautiful island of Isola Bella; and the ancient Greek theatre (Teatro Antico di Taormina). The ancient theatre is wide enough (107 meters) to hold up to 10 thousand spectators. It's still being used as a venue for an arts festival in Taormina.
The stunning Ionian Riviera stretches along the east coast of Sicily. It starts from the straits of Messina and extends through the coastal villages and beaches until it reaches Taormina,. Often referred to as the Pearl of the Riviera, the Ionian Riviera passes through the vibrant city of Catania, and onto Siracusa.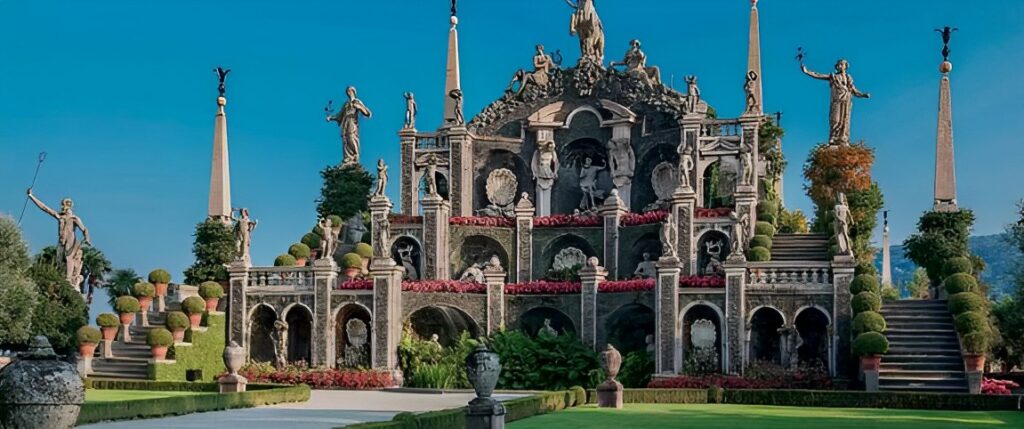 •Isola Bella (aka the Pearl of the Ionian Sea) on the other hand, is a small island located within a small bay. Previously owned by English wildlife conservationist Florence Trevelyan, the property was bought in 1990 by the Italian government.
Isola Bella was designated as a nature reserve in 1998. It's a haven for nature enthusiasts and birdwatchers. The environmental protection center of the University of Catania now oversees its operation.
Visitors can reach Isola Bella by walking across the sand during low tide or taking a short boat ride from Taormina's main beach. Isola Bella is home to some marine and bird species. Its natural beauty and historical significance take Taormina into almost everyone's Sicily itinerary. It's now open for public viewing except on Mondays for $4.37/person.
• Isola Bella Beach is known for its unique blend of pebbles and fine sand, making it a comfortable spot to relax and soak up the sun. Its turquoise waters make swimming and snorkeling a pleasure, which provides an excellent opportunity to explore the marine life beneath the surface. Isola Bella Beach is undoubtedly Taormina's most beautiful beach. Mount Etna is visible from here.
• Bam Bar is a cozy bar in Taormina that specializes in serving the best traditional granitas in town. It also offers great cocktails, food, wine, beer, etc., and has dine-in. takeout, and delivery options. It features outdoor seating and accessibility for the physically challenged.
• Santa Caterina Church dates back to the 16th century. It's a short walk from Porta Messina, the gateway to Taormina's historical center, which is entirely reserved for pedestrians. The church was closed for around four decades due to its deteriorating condition, and was reopened for worship on November 25, 1977 after renovation. One of the highlights of the church is its stunning panoramic view of Mount Etna nearby.
• The cable car station in Taormina is located on Via Luigi Pirandello. It facilitates a convenient connection between Taormina's historic center and the beach area of Mazzarò, where the beach of Isola Bella is approximately only 500 meters away.
The cable car operates on a regular 15-minute interval. It runs for 12h (8 am – 8 pm) during winter. In summer, however, the cable car runs until 1:30 am.
A lot of tourists get to maximize their Sicily itinerary by including taking guided day trips to Mount Etna while in Taormina. Local companies offer an opportunity to enjoy the majestic view of Mount Etna and learn about its captivating history.
Where to stay?
Taormina Garden Hotel. This cozy hotel with a countryside vibe is a short walk from the nearest beach and a 30-37 minutes walk from the train station. Rooms are equipped satellite TV with free Wi-Fi, and wrought iron beds. Upgraded rooms offer balconies for added comfort. Room service is available to guests. The hotel also offers complimentary breakfast buffet and parking. It also features a bar, terrace, and garden.
Day 5: Mount Etna
Taormina is 35km away from Etna, and the best option to get there is by car. Your Sicily itinerary won't be complete without seeing Mount Etna. It'd take only an hour's drive to get there coming from Taormina. $11- $18 if you have a car, and $154 – $198 on a taxi.
Mount Etna is a volcano in eastern Sicily, one of 3 active volcanoes on the island. Its northern side covers part of Messina, while the southern part is in Sicily's second-largest city, Catania. This Sicilian gem is just an hour's drive from Catania airport.
Some volcanoes feature a single summit crater, like Mount Fuji in Japan. Some have multiple craters. Mount Etna has five on its summit, four of which are active.
Eruptions can take place on the sides of the volcano, where there are over 300 other vents of different diameters (from small ground holes to large craters). But they're dormant now. So chill, dude.
Despite its active nature, Mount Etna is home to a diverse range of plant and animal life, including unique species that have adapted to the rather harsh volcanic environment. The lava deposited on the soil serves as a source of essential nutrients, including mineral salts, while submerged plants act as natural fertilizers.
There are around 180 Etna wineries that produce unique-tasting and mineral-rich Sicilian wine. Wine tasting day trips to Mount Etna promise a delightful experience. You'll have the opportunity to visit vineyards and local wineries, hike up the slopes, and explore the stunning volcanic landscape.
Where to stay?
Hotel Villa Dorata, Etna. Hotel Villa Dorata offers sophisticated accommodations. This charming hotel is a short walk from the main crater of Mount Etna.
The rooms provide picturesque views of the volcano and are equipped with a satellite TV with free wifi, antique furniture, and bathrobe for added comfort.
Guests can enjoy the amenities of an on-site bar and restaurant, and a library. The hotel serves a continental breakfast, their attentive staff is available 24/7 to assist guests and organize gastronomic and wine tours around Etna.
Day 6: Catania
Catania is one of the main cities located in eastern Sicily. It's an ancient port city and serves as a gateway for travelers who are on their own Sicily road trip.
Take a bus, hire a taxi, or rent a car to get to Catania from Mount Etna. Regular bus services connect the two locations, providing a convenient and affordable option for public transportation. If you prefer a more direct and flexible journey, hiring a taxi or renting a car will give you more control over your day trip. Etna is 34.3km away from Catania, and it's just a 52m ride.
Via Crociferi is a picturesque street known for its beautiful churches, royal residences, and other historical landmarks that showcases the beauty of Sicilian Baroque architecture. It offers a unique opportunity to admire the grandeur of Catania's historical heritage and immerse yourself in the city's rich cultural atmosphere.
The Catania fish market (aka La Pescheria) is a bustling fish market. Situated in the heart of the city, Catania fish market sits near the historical city center. The market is known for its freshly harvested seafood, including various types of fish, shellfish, and other marine delicacies.
Catania offers more dining options and better shopping opportunities. Pasta alla Norma is a classic pasta recipe from Catania. It's a delicious blend of flavors, textures, and colors that showcase the richness of Sicilian cuisine.
It's made with fried or roasted eggplant (aubergine). Sauteed fresh or canned tomatoes seasoned with salt and pepper. Pasta (macaroni, penne, or rigatoni) that's cooked al dente. Serve while the pasta is hot, sprinkle grated ricotta salata cheese, then garnish with fresh basil leaves.
Where to stay?
Plaza Hotel Catania is a laid-back accommodation on the Ionian seafront. It's a short walk from the train station in Picanello and a 3-minute drive or a 30-37 minutes walk from the historic baroque buildings surrounding Piazza del Duomo.
The modestly decorated air-conditioned rooms come with flat-screen TVs with complimentary Wi-Fi, safes, and minibars. Some rooms offer picturesque sea views, while suites feature balconies for a more enhanced experience.
Guests can start their day with a Continental breakfast. The hotel also features additional amenities, including a restaurant, a lobby lounge, and a rooftop terrace with stunning views of Catania and the sea.
Day 7: Siracusa
Siracusa is one of the major cities in eastern Sicily. It's an ancient city (2,700 years old) known for its architectural marvels, rich history and culture, and the birthplace of Archimedes, the famous Greek engineer and mathematician.
• The Archaeological Park of Neapolis is one of the UNESCO world heritage sites in Sicily. And the most visited site in Siracusa. The park has three sections: the Roman amphitheater of Syracuse, the ancient Greek Theatre, and the Paradise Quarry (Latomia).
• Despite its name, Latomia del Paradiso wasn't really a "paradise". The stone quarry was used as a prison for POWs and slaves during the Greek-Roman times. It's a tall (76 ft high), narrow (25 feet), and deep (214 feet) cavern where every word the prisoners said could be heard by the guards due to its peculiar shape. So it was eventually called the Ear of Dionysius.
• If you're a history buff and want to explore the ancient Greek ruins in Sicily, visit the Altar of Hieron. It's considered one of the largest Greek altars in the ancient world. Built during the rule of Hiero II in the 3rd century BCE, the altar was used for religious ceremonies and sacrificial offerings.
The exact location and historical significance of the Altar of Hieron make it an essential part of the archaeological heritage of Siracusa. Unfortunately, only the foundation of this massive structure endured the test of time.
• Ortigia Island is a charming historic district in Siracusa, on the east coast of Sicily. It offers numerous attractions and landmarks including the ancient Greek Temple of Apollo. The Fountain of Arethusa is a natural spring that can also be found on Ortigia Island. The Temple of Minerva, and the Piazza del Duomo (main square) of Ortigia, to name a few. The square is a lively gathering place with cafes and beautiful architecture.
Where to stay?
Apollo Suite, Syracuse is a newly refurbished hotel that offers complimentary Wi-Fi to guests, private parking, and a bar. Conveniently located near the city center and Tempio di Apollo, the property is only a 9-10 minute walk from Aretusa and Cala Rossa Beach.
The air-conditioned guest house is equipped with a balcony, minibar, private bathroom with towels, safe, flat-screen TV, desk, and coffee machine. Some units have sea views, and all units come with a kettle.
Guests are offered Irish/full English, or continental breakfast options that include fruits, pancakes, and local specialties. pancakes, and fresh fruits. For those planning day trips and tours, the hotel also offers bike rental and packed lunches as an added convenience.
How to make your 2-week Sicily itinerary more enjoyable?
A one week Sicily itinerary isn't enough. Sicily has a lot to offer, so prioritize the places you want to visit and create a well-structured 14-day Sicily itinerary.
If possible, visit Sicily during the shoulder seasons (spring or fall) when the weather is still pleasant. When there are fewer crowds, hotel accommodations are offered at discounted rates.
Sicily's weather is generally warm. So pack light, breathable, and wash-and-wear clothing that dries easy. Also, consider doing your laundry during the trip to reduce the amount of luggage.
Opt for accommodations that offer laundry services, and easy access to places of interest for you to minimize travel time and maximize your exploration opportunities in your Sicily itinerary.
It'd be nice to drive your own car, it gives you the leeway to travel at your own pace. But in major cities like Palermo or Catania, public transportation is more efficient and cost-effective than bringing your own car. Plus, most destinations are walkable and are better explored on foot.
To avoid long lines and potential delays or disappointment, book tickets ahead of time for events and exhibits you plan to attend, tours to join, museums and popular attractions you'd like to visit.
Have offline maps downloaded on your smartphone to help you navigate without wifi. Use travel apps to help you with language translation, where to dine or shop, and real-time weather and traffic updates.
Keep your travel documents, contact information, who to call in case of emergency, and personal belongings safe. Avoid carrying too much cash, or wearing flashy jewelry. Keep them in a separate place especially when going to crowded places.
Your Sicily itinerary isn't carved in stone. Flexibility spells the difference between having a good or a disappointing travel experience. Don't fret if your schedule for the day didn't go as planned. Unpredictability makes traveling more exciting.
Always have a "plan B" on standby in your Sicily itinerary and be open to try new things. Get the most out of your 14 days in Sicily. Engage with fellow travelers and the locals to get yourself immersed in Sicilian culture.
Day 8: Modica
A scenic train ride from Siracusa to Modica takes around 2h. A road trip on a rental car offers a faster, more direct alternative, and you get to see the views up close, but it's a bit expensive. A bus ride is cheaper but takes longer (3h) for you to reach your destination.
Modica (aka the city of a hundred churches) is a Unesco world heritage site. It's both a comune (the equivalent of a municipality or town in Italy) and a city in Val di Noto.
• Modica's historic center is a beautifully rebuilt area that emerged after the devastating 1693 earthquake. It's divided into two districts: the Modica Bassa and Modica Alta. The modern day Modica offers a historical journey through impressive artworks, baroque churches and palaces. Its countryside, on the other hand, features an intricate network of stone walls that embrace the plots of pears, olive and carob trees.
• Modica is best known for producing deliciously unique chocolate. The old town has a deep-rooted chocolate-making tradition that uses an ancient "cold processing" method. This technique preserves the natural flavors of the cocoa beans, giving the product a distinct taste and texture. Modica's chocolate comes in different flavors like lemon peel, cinnamon, chili, etc., making it a true paradise for chocolate lovers.
• The Cave Church of Saint Nicolò 'Inferiore' is a 12th-century church carved in rock. The cave church was lost during the 1693 earthquake. And over time, the cave got covered by newer structures.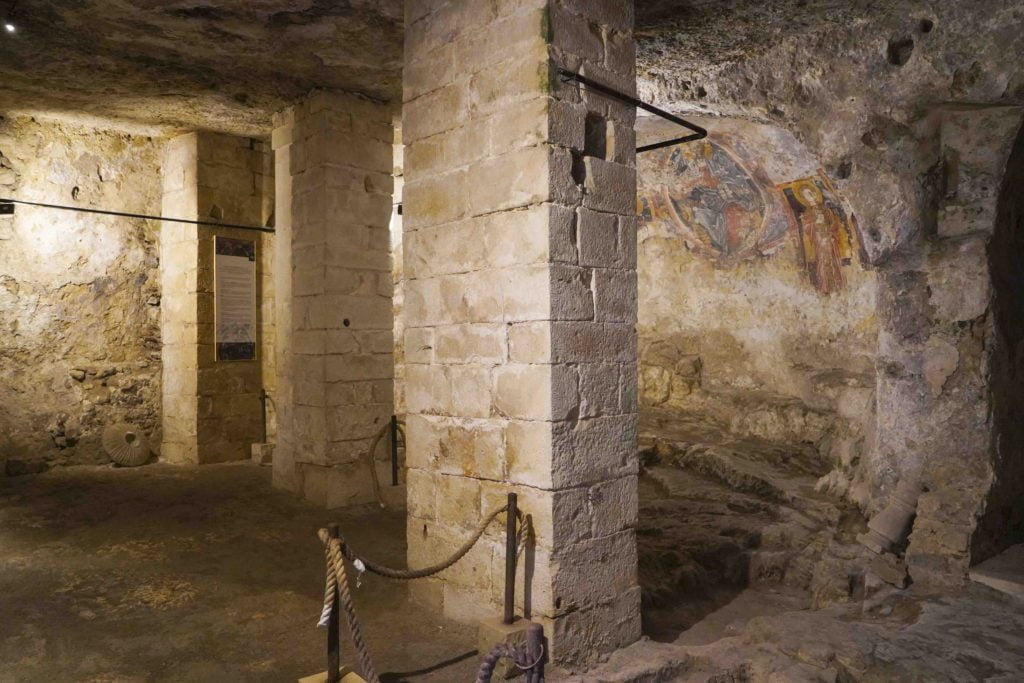 San Nicolella church was constructed above the ruins of the original cave church, and eventually became a private building in the early 20th century. It was only in 1987 that a boy playing football stumbled upon a broken section of the wall, leading to the discovery of the missing cave church and its frescoes.
Where to stay?
Le Magnolie Hotel, Modica is a boutique hotel located in the historic center of Modica. It's in an 18th-century building and offers easy access to notable landmarks like the Cathedral of Modica, San Pietro Cathedral, and Castello dei Conti. Le Magnolie has seven cozy rooms with city views. Each room has ceilings adorned with flower & local plants-themed frescoes created by local artists.
Le Magnolie Hotel houses a well-stocked wine cellar featuring the finest Sicilian wines, free Wi-Fi. The hotel also helps book city tours and excursions.
Day 9: Ragusa
Ragusa is only 8 km away from Modica. It's a 20 to 27m train ride. The train however, leaves every 4 hours. If you can't make it to that schedule, taking a rental car is a better, faster option. There's a lot to see and do in the two Ragusas.
• The Ragusa in southeastern Sicily is one of the eight towns (Scicli, Ragusa, Palazzolo, Noto, Modica, Catania, Militello Val di Catania, and Caltagirone) that were rebuilt after the 1693 earthquake. An afternoon drive to Ragusa will take you to this historic old town (Ragusa Superiore), which is a UNESCO world heritage site.
• Ragusa Ibla (aka Ragusa Inferiore) is a city perched on a hill. It's known for its winding cobblestone streets, churches, and stone-colored palaces that lead to sunlit squares. It's easy to lose your way in the labyrinthine passages. But you'll always find your path, eventually reaching Ragusa Ibla's magnificent central square, the Piazza Duomo.
• Donnafugata Castle is a picturesque castle known for its beautifully decorated rooms and luxurious furnishings. It houses valuable art collections and features gardens and courtyards, which add to its charm and appeal. It offers a glimpse into Sicily's noble past, and has also been featured in some Italian films.
• Marina di Ragusa is a coastal resort town in southern Sicily that's home to beautiful beaches. This seaside town serves as an excellent base for exploring other nearby attractions. It has bars, restaurants, accommodations, and other amenities that cater to tourists.
Where to stay?
Villa Boscarino, Ragusa is one of the affordable yet elegant boutique hotels in Ragusa. Located in a 19th-century villa, this kid-friendly accommodation is just a 20-minute drive from Comiso Airport. And around 20-24 minutes walk from St. John the Baptist Cathedral and the Hyblean Archaeological Museum.
The stylish rooms feature exposed stone and designer furniture, offering amenities like flat-screen TVs, free wifi, minibars, and en suite bathrooms. Upgraded rooms come with patios for added comfort and relaxation.
Guests can enjoy their breakfast in a beautifully adorned former chapel. The hotel also has a terrace with garden views, a bar, and a soothing whirlpool tub for a relaxing stay.
Day 10: Caltagirone
Ragusa is 39 km away from Caltagirone. Just a 57m drive that costs $86-$110. Or share a ride with others on their Sicily road trip for an hour and 19m day trip that costs only $3. Not bad, isn't it.
Caltagirone is part of the 8-town Val di Noto ensemble. It's a comune in southern Italy. A presidential act granted its cityhood in 1987. It's currently the second most populated city in Central Sicily. This charming inland city is best known for its street art, the Santa Maria del Monte staircase, pottery, and other treasures and traditions waiting to be discovered in your 14 days in Sicily.
The Scala di Santa Maria del Monte is the 142 steps staircase adorned with colorful ceramic tiles, which leads to the Santa Maria del Monte Church. The staircase offers a breathtaking view of the city from the top. It's a significant part of Caltagirone's cultural heritage and showcases the city's famous ceramics tradition.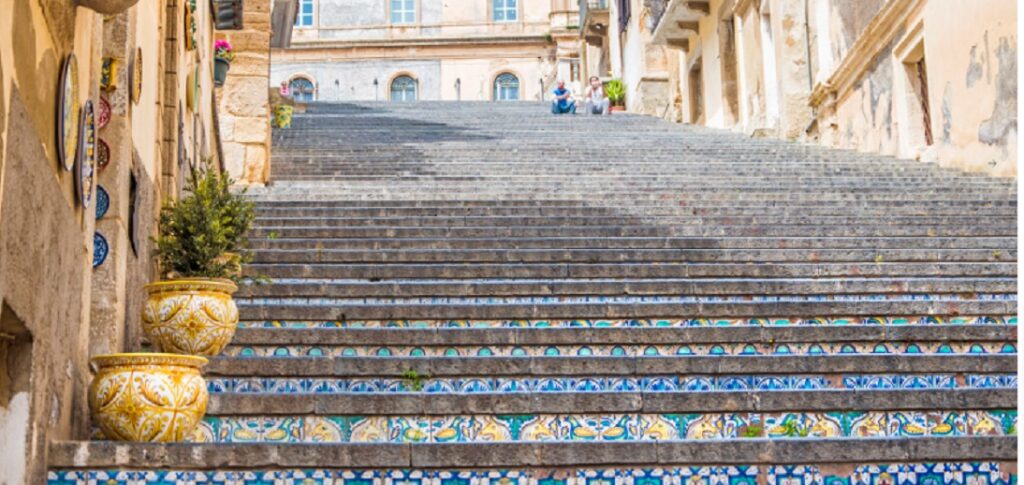 The Regional Museum of Ceramics in Caltagirone holds a collection of ceramic artifacts, including home ornaments, jugs, vases, plates and serving dishes, etc.
The displayed pieces are mostly from skilled ceramists and local artists. It also offers ceramic workshops, where you get to learn the art of creating objects from ceramics.
Cathedral of St Julian is an 11th-century cathedral known for its impressive baroque facade, azure dome adorned with ceramic art, and the 157 ft tall bell tower. Its breathtaking interior is made with stained glass windows, coffered ceilings, and Vaccaro frescoes.
The cathedral also showcases the beauty of ceramic art in Sicily. Its ceramic floor, which consists of over 2,000 unique Caltagirone tiles, is designed by master ceramists in the city.
Where to stay?
Mini Hotel Wf2 Caltagirone offers amenities including a shared lounge, non-smoking rooms, concierge services, and an on-site restaurant. It also offers concierge services, car rentals, and airport transfers.
Air-conditioned rooms are equipped with a private bathroom and bidet, a balcony, desk, safe, and flat-screen TV with wifi. Guests are served with a gluten-free or Italian breakfast.
Day 11: Agrigento
Agrigento is 83 km away from Caltagirone, which is an hour and 44m drive. Taking a bus is cheaper ($9 to $13) but takes 3 hours and 55m, including transfers. Train is the cheapest ride (5-6 hrs) but shouldn't be an option if you're on a one-day trip to Agrigento. Or you'll end up spending half of your day sightseeing on a train.
• The Valley of the Temples (Valle dei Templi) for sure, is in your Sicily itinerary. It's one of the must-see main sights in Agrigento. It's a vast archaeological park that showcases eight of the best-preserved ancient Greek temples in the world. It includes the Temple of Concordia and the Temple of Heracles, among others. The Valley of the Temples is a certified Unesco world heritage site and the most visited attraction in Agrigento.
• The Luigi Pirandello House is the former residence of the Agrigento-born playwright and Nobel laureate Luigi Pirandello. The house offers a glimpse into the life and works of this influential literary figure.
• The Temple of Juno (aka the Temple of Hera Lacinia) is dedicated to the Roman goddess Juno. It's particularly impressive during sunset when the golden light bathes its ancient columns. The Temple of Hera Lacinia is one of the temples in the archaeological park.
• The Archaeological Museum of Agrigento (Pietro Griffo) houses an impressive collection of Greek artifacts found in the 1300-hectare Valley of the Temples. Sculptures, ceramics, and historical relics from ancient Greek and Roman times.
Where to stay?
Hotel della Valle, Agrigento is only 5 km away from the sea. It's a short drive to the Agrigento Cathedral (Cattedrale di San Gerlando) and 2 km away from the Valle dei Templi archaeological site.
Rooms are equipped with flat-screen TVs, minibars, and complimentary Wi-Fi. Upgraded rooms offer additional features such as room service, sofa beds, separate living areas, whirlpool tubs, and balconies.
The hotel boasts a spa, a bar, an outdoor pool, a restaurant, and a sophisticated outdoor dining area. It serves breakfast. Parking is also available.
Day 12: Trapani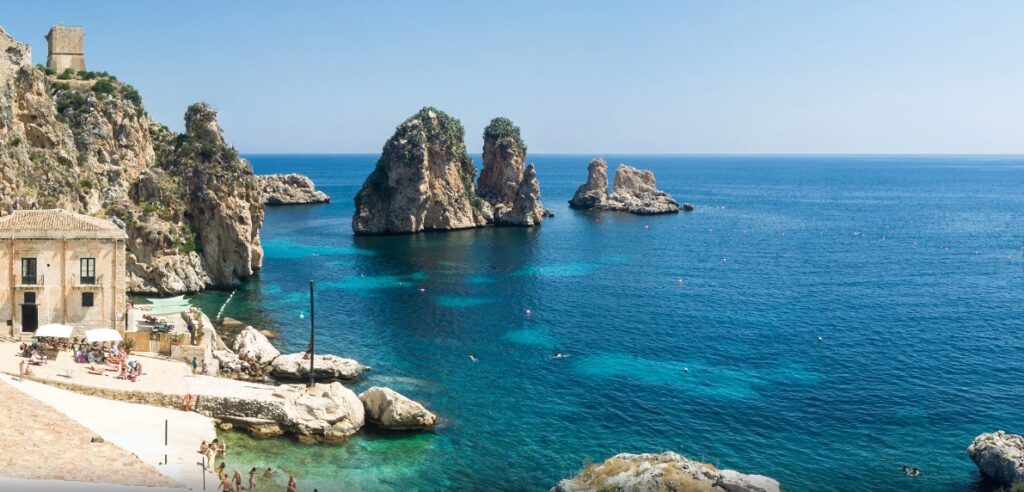 Agrigento is 120 km away from Trapani, which is two hours and 10m drive ($30-$46). A bus ride takes 3h 15m. and costs $13. Trapani is a town (comune) and city in western Sicily. It's the capital city of Trapani province. It's a fishing port known for tuna fishing, it also produces salt.
The Trapani saltpans provide a haven for numerous migratory birds, making it one of the most important coastal wetlands in the region. The history of the salt pans dates back to Frederick II when salt played a crucial role in food preservation.
Recognizing its economic potential, the king established a state monopoly on salt production. The salt pans, however, were privatized during the Norman period, making Trapani the hub of salt production.
Trapani serves as a gateway to the Egadi Islands and other places nearby. San Vito Lo Capo is an hour bus ride. Join guided tours or embark on a day trip to get you to any point of interest in town.
It's easy to get around Trapani. It offers more dining options. The central area is a designated pedestrian zone. So if your hotel is anywhere close to here, you'd have to walk. Trapani's restored old town center exudes charm and is easier to explore on foot.
Spiaggia San Giuliano Trapani is a fine sand, 2 km long beach in this part of western Sicily. The beach offers easy access because it's near the city. It's suitable for most travelers – seniors, kids, and families. For this, the beach can get crowded during the peak season.
Erice is a 700-year-old town in Trapani province that offers a relaxed and genuine travel experience. Nestled in the slopes of Mount Erice, it can be reached from Trapani via car, or through a 10m scenic cable car ride. This medieval town is part of Sicily's wine-growing region. It's surrounded by vineyards, where some of the best wines in Sicily are made.
Where to stay?
B&B Il Tipico Trapani is a bed and breakfast (B&B) accommodation based in Erice Mare, which is a 10m walk to the Spiaggia San Giuliano beach. B&B Il Tipico is just a 3m walk from the nearest bus stop in Trapani. The town center of Erice is a 20m car ride.
The tiled, modern rooms are air-conditioned, with a private bathroom, hairdryer, and toiletries. Each room is provided with a flat-screen TV, free WiFi, and a safe. It also offers free parking.
Day 13: San Vito Lo Capo
San Vito Lo Capo is 38 km away from Trapani. It's a 45m car drive. Without a car, taking a bus from Trapani to get here is more cost-effective ($5-$7), which is an hour and 25m trip. Taxi costs $55-$72 for a 38m trip.
San Vito Lo Capo is a beautiful seaside town in Trapani province. It's so small it's hardly visible on Google Maps if you check what's between Trapani and Palermo. It's this very location that gives the town stunning beaches and delicious seafood that tourists enjoy. It's a favorite go-to-destination, especially during the summer months.
Its 15th-century church (Santuario di San Vito) is known for its massive stone structure that looks more like a fortress or prison than a sacred place of worship. It features arrow slits and thick walls. Built on where a 4th-century chapel used to be, Santuario di San Vito was dedicated to the town's patron saint.
• San Vito Lo Capo Beach is a gorgeous beach that offers spectacular views of the sea and mountain behind it. Spacious even when fully booked. Fine sand, the water's so clear that fish could be spotted here and there.
You can walk barefoot, or rent a chair so you can lay back and bathe in the sun. There are locals around who could help you with what food, drinks, or dessert to order. From any of the shops, bars, and restaurants nearby.
• Monte Monaco, which is over 1738 feet high, offers multi-pitch climbing and hiking opportunities for adventurous travelers. The breathtaking views of San Vito Lo Capo from the top and its surrounding landscape can be seen from its rocky summit through the Via Fratelli Titt and Pizzo Monaco rocks.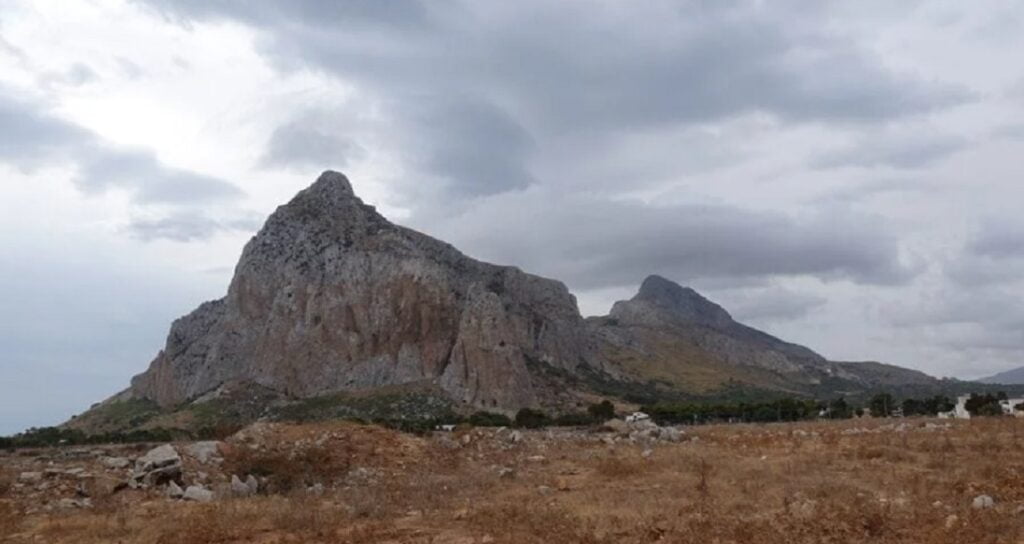 • Tonnara del Secco. Sicily was once a leading producer of tuna. Numerous tuna fish factories (tonnara) could be seen lined along its coastline. But with industrialization, the local fishing sector faced a decline, leading to the gradual closure of these tonnara.
Some of these factories were either abandoned or turned into lavish properties. There's one in San Vito Lo Capo, the Tonnara del Secco – a historic but abandoned remnant of Sicily's once dynamic tuna fishing industry. Tourists can still visit the place by taking a boat tour.
Where to stay?
Hotel Mira Spiaggia, San Vito Lo Capo is just a stone's throw away from Santuario di San Vito Lo Capo. This 3-star accommodation features a spa that offers a steam room, sauna, hot tub, and massage services. The hotel also has a hair salon, a bar, and restaurants – one of which has a terrace with panoramic views of the sea.
Rooms are provided with minibars, TVs, private bathrooms, and free Wi-Fi. Upgraded rooms have a fridge, coffee makers, balconies, or terraces. Guests can enjoy room service, a complimentary breakfast buffet, valet parking, airport shuttle, on-site car rental services, etc.
Day 14: Back to Palermo
• San Vito Lo Capo is 53 km away from Palermo. A bus ride (2h 47m) from San Vito to Palermo costs $10-$12.
• Buses from Via Piersanti Mattarella depart from San Vito Lo Capo 3x a day every day that will directly take you (back) to Palermo in 2h 47m.
• However, if you want to go back to Palermo in 1h and 22m, drive or hire a taxi for $20-$30.
How would you like to spend the last day on your Sicily itinerary?
Here are your options.
Visit the place/s you missed in Palermo during your first visit.
On the 14th day of your Sicily itinerary, you may want to take the opportunity to explore the sights or attractions you may have missed. Or…
Buy souvenirs at a local market.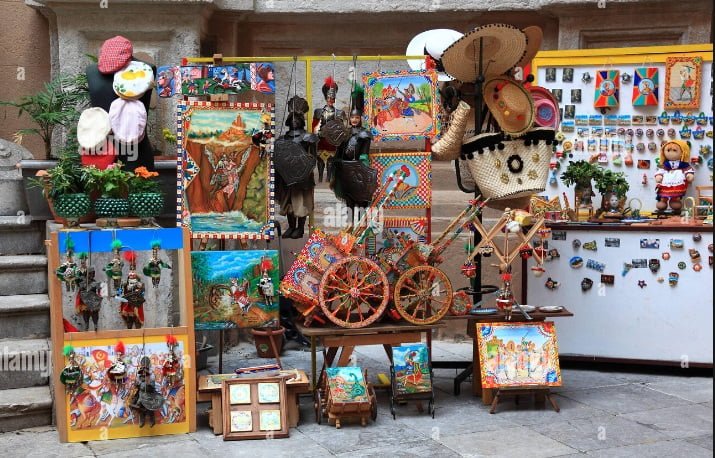 Vucciria is an old, bustling market in Castellammare, central Palermo. It's filled with shops that sell different products, produce, and food. It's a crowded area that consists of too many pedestrian alleys, narrow streets, and piazzas.
Typical of most Sicilian street markets, Vucciria is like the Arab souqs. They're known for their sensory indulgence – the delightful smell of fresh fruits, vegetables, fish and meat, and the noise of the crowds and vendors. Despite Vucciria's rundown buildings, tourists get attracted to the jolly vibe of vendors selling their goods, and the numerous eateries that stay open late into the night.
Get a haircut and a relaxing whole-body massage.
Irene Forte Spa, Palermo. Visit this Sicilian spa for a rejuvenating experience that blends the powers of nature and science. Enjoy the lovely scent of orange blossom as you indulge in their exclusive skincare products, enriched with nourishing Sicilian botanicals from Verdura Resort's Organic Farm.
Advanced facials and body treatments offered here use innovative technology. There's a team of specialists and expert therapists who guarantee that you'll have a relaxing time during your visit!
Spa Facilities:
A state-of-the-art gym, with a fitness studio
A relaxation room that comes with an outdoor terrace for your ultimate relaxation
A beauty salon that offers haircut and nail services
4 treatment rooms
A treatment suite that comes with a private terrace
Get a beauty rest before boarding a flight back home.
Admit it or not, 14 days in Sicily is both a rewarding and a daunting experience. That you wish you could get a two nights' worth of sleep. But since you can't, take this time as a chance to go over your Sicily itinerary again and reflect on your two-week journey.
The fact that you visited Sicily checks it off your bucket list and can be considered a personal achievement. So the next time you visit Sicily, you know better! Now it's time to do the final packing and checking of your luggage!
Where to stay on the last day of your Sicily itinerary?
Bio Hotel Palermo is located in the district of Ruggero Settimo, the hotel is a 10-12m walk away from Palermo Cathedral. Palazzo dei Normanni is a 15-20 minutes walk. Teatro Massimo is only a 3m walk.
Every room in the hotel is air-conditioned and comes with a flat-screen TV, free wifi, a private bathroom with complimentary toiletries, and a hairdryer. Guests are served an Italian breakfast. They can also have a drink or two at the hotel's bar. Bio Hotel Palermo also offers bike and car rental services. Falcone-Borsellino Airport (aka Palermo Airport) is a 20m drive from the hotel.
Takeaway:
This Sicily itinerary is basically just a recommendation. Whether you follow what's in your Sicily itinerary or not, depends on your personal preferences.
Included in this Sicily itinerary are suggestions for places you can (choose or choose not to) visit for the day, a little information about the destinations, activities you can do or try, where to stay, transportation options, approximate travel time, costs of travel from one destination to the next, etc.
What's not included in this Sicily itinerary is the "where to dine" guide. Because hotels where you're checked in usually offer breakfast so you could start your day "fueled" to keep up with the pace of a rigorous day trip.
Some accommodations even offer packed lunches to guests. Not to mention the restaurants and eateries near places of interest, where you could easily grab something to eat while on the go.
Itineraries are simply planned schedules for a specific day. You can always make adjustments based on your needs and circumstances. Flexibility allows for a more enjoyable and personalized experience during your trip. Make your 14 days in Sicily count!