15 Best Places to go in Asia for Business and Leisure 2023
Ready to go places this year? Make your mark with today's top picks. And discover the best places to go in Asia for business and leisure this 2023!
People had a chance to take a breather during the pandemic (however imposed it was). But extended isolation can be suffocating, to say the least. So when the world reopened, people just couldn't wait to get out and discover what this "new life" means to them.
This year is going to be a promising one for business and leisure. All work and no play don't help in improving one's productivity. Keeping the work-life balance in check does. A visit in Asia may just be the best one yet. So together let's explore the 15 best places to go in 2023! The Asian Edition.
Best places in Asia to visit for business and leisure in 2023
Remember, this is a "bleisure" trip – a combination of business and leisure travel. It doesn't cost a thing to be responsible. So roll up your sleeves for some online reading – just to get an overview of what awaits you in Asia, the largest continent on earth. Who knows what a visit in Asia brings.
1. South Korea: Rich Culture, Modern Wonders, and Natural Beauty of the "Land of the Morning Calm"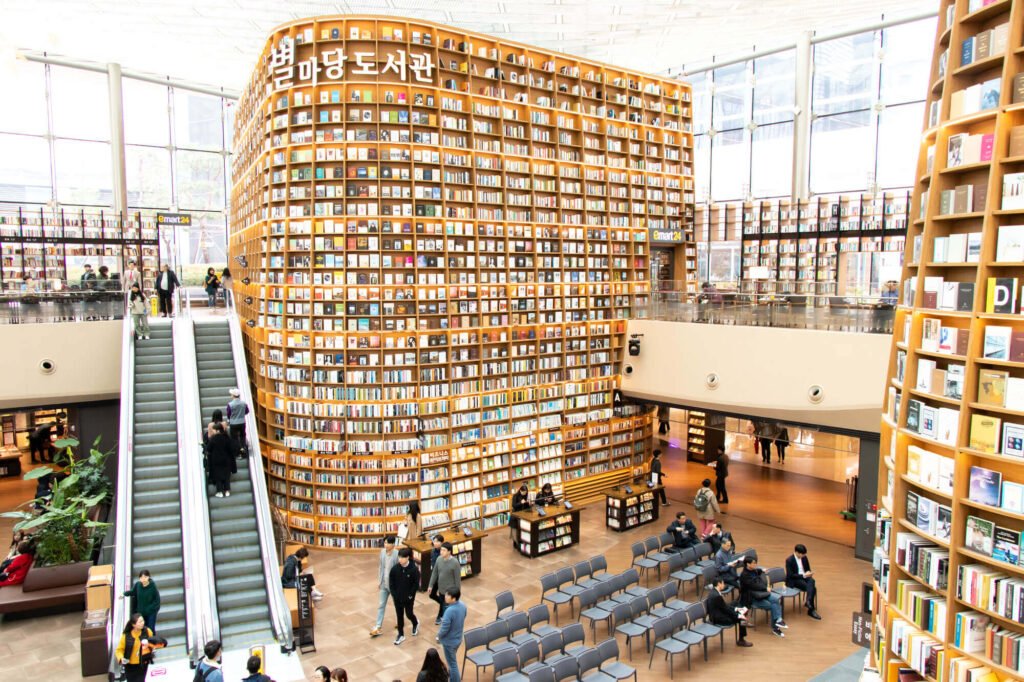 A visit to Asia wouldn't be complete without South Korea. Over the years it has undergone fast economic expansion and has transformed into a highly industrial and progressive economy worth $1.73 trillion.
The nation is now acknowledged for its high-tech sectors such as electronics, telecommunications (Samsung and LG) car manufacturing (Kia and Hyundai) chemicals, and shipbuilding.
Why is it called the "land of the morning calm"? Because when dawn breaks on the mainland, you'd see the stunning natural beauty of its forests, and temple-filled mountains.
South Korea has a long stretch of rugged coastline; shallow, white sand beaches; and turquoise waters. It's also known for its scenic coastal towns, vibrant nightlife, K-pop, new wave, and K-drama.
•South Korea is recognized as one of the top travel destinations for medical tourism, particularly cosmetic surgery. International tourists go there for aesthetic surgery.
•Its exciting mix of ancient and futuristic ambiance, skyscrapers, and pop culture makes the country an ideal place for filming, such as "The Avengers: Age of Ultron".
•South Korea is known as a top convention destination worldwide, offering excellent MICE (Meetings, Incentives, Conferences, and Exhibitions) infrastructure and a secure and sustainable setting for meetings, and business conferences.
2. Singapore the "Lion City": A Business Hub with a Vibrant Culture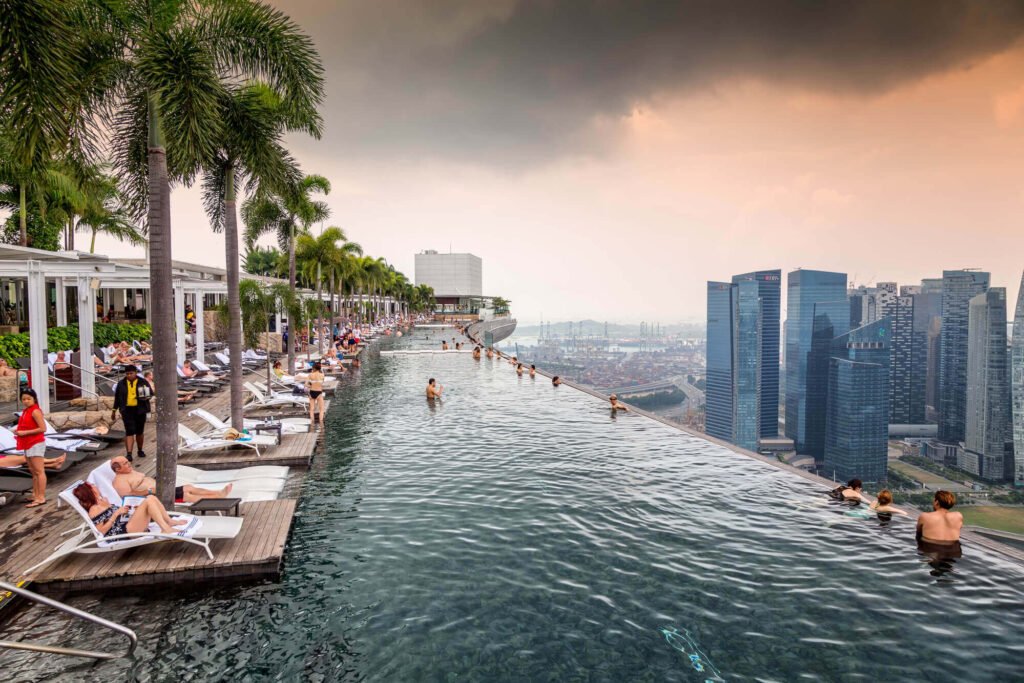 Singapore is a small city-state and the richest in Asia. Fifteen times smaller than Jamaica, the country is one of the smallest in the world. Known for the Singapore Botanic Gardens (a 164-year-old Unesco world heritage site), man-made waterfalls. and its sprawling "art deco" architecture.
•Visit Merlion Park in Marina Bay. The iconic merlion is a fabled fish with a lion's head. The fish part is a reminder that Singapore was once a fishing village. The lion head symbolizes the country's original name Singapura, which literally means "lion city".
•The Jewel Changi Airport has the tallest (40 meters) man-made indoor waterfall. It's been consistently voted 8 times as the "world's best airport".
•One of the most vibrant cities to visit in Southeast Asia, Singapore features high-end late-night venues and nightclubs for partygoers. Its well-maintained roads and efficiently-managed city traffic makes it a popular choice of venue for business conventions and trade conferences around the world.
•Petty crimes happen mostly on public transport. Other than that, Singapore is a safe, clean, and green country.
3. Tokyo and its sakura-lined streets: A Blend of Tradition and Modernity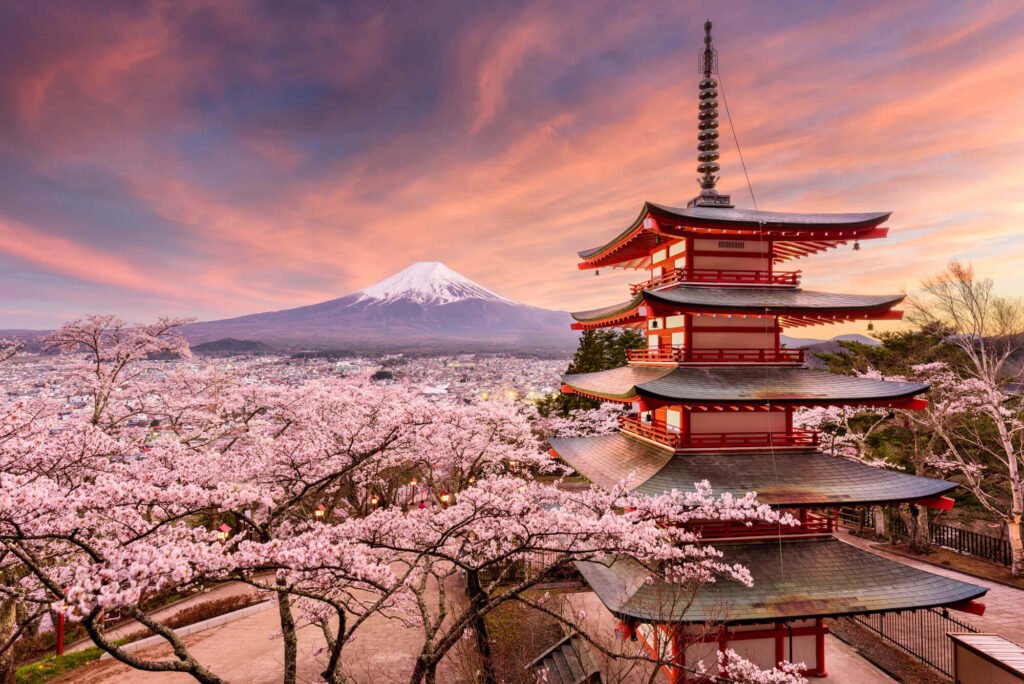 Tokyo is a recognized metropolitan area with over 37 million residents. It's a city of paradoxes – a powerfully evocative past, and fast-paced modernity on the other side. Exactly what makes this vibrant city one of the trending travel spots in 2023.
Despite its metropolitan status, Japan Tokyo is known for its rolling hills and islands, stunning cityscape, and Michelin-starred diners. The Sensoji Temple is also a must-visit place in Tokyo.
•A trip to Tokyo is an experience you'll never forget. It has the weirdest vending machines. The Japanese invented the "automatic vending machine" in 1888. You can buy anything from postcards to freshly-squeezed orange juice, fresh bananas, edible insects, etc.
•One of the best cities in Asia, Tokyo is considered a "future-ready" city. It's an ideal place to visit for conducting international business because it's open to innovation and new fashion trends.
•Tokyo ranks 5th in the safest cities list. You could even take a late-night walk without getting concerned about being mugged in the dark.
4. Dubai the "City of Gold": A Modern Oasis in the Desert
What makes Dubai a popular choice to visit for international tourists? Because it's substantially bigger than Abu Dhabi. It offers more entertainment options, family-friendly activities, a lively nightlife, and beautiful beaches.
•Burj Khalifa. This world's tallest building has the highest outdoor observation deck. It comprises over 200 storeys, 160 of which are occupied. Guests and residents have free access to a 4-storey health club, cigar club, valet parking, residents' library, recreational area for social gatherings, etc.
Related Article: Free Things To Do In Dubai And Save Money
•Dubai Mall is home to the largest indoor aquarium, 22 cinemas, a 5-star hotel, a top-of-the-line game center, and an ice rink.
•Dubai Police drives some of the most expensive cars such as Lamborghini Aventadors, Mercedes-Benzs, and McLarens.
•Dubai doesn't impose taxes. The government uses its tax-free policy to entice highly qualified foreign workers and multinational corporations to invest and help diversify the country's economy.
Best time to visit Dubai? From November to April.
5. Bangkok: A City of Contrasts and Exciting Nightlife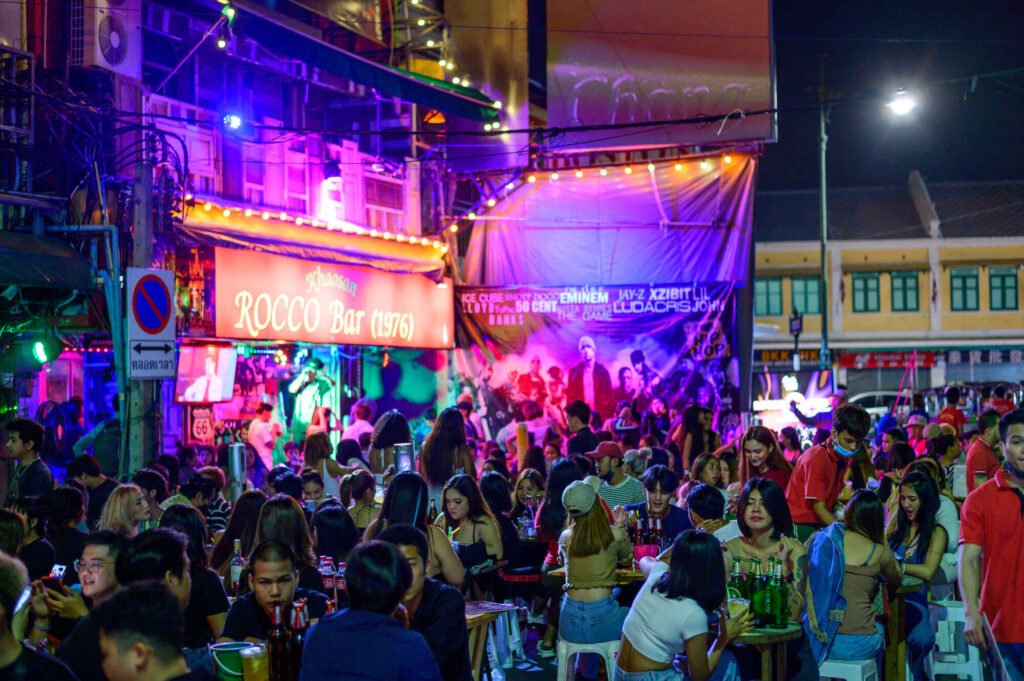 Bangkok is a fantastic city. It's one of the most vibrant cities in Asia.
Millions of tourists flock to Bangkok every year. They come to shop, walk its bustling city streets, enjoy its exciting nightlife, go wild in its red-light districts, or visit its historic temples, museums, and royal palaces.
Related article: Cities With The Most Epic Parties Ever
•The ancient temples, Buddha statues, and images in Chiang Mai are a sight to behold. The food in Chiang Mai is also worth trying. Have a taste of the incredible Thai cuisine.
•Wat Pho (aka the Temple of the Reclining Buddha) is a group of Buddhist temples in the Phra Nakhon District of Bangkok, Thailand.
•Chiang Rai is also a must-visit place. It's known for its historic temples and ethnic villages. Or go for a swim in the Andaman Sea, if a change in scenery is what you want.
•Bangkok is a vibrant city in Asia. The cultural capital of Thailand, locals and tourists alike are advised to respect the Thai's veneration of the Thai Royal family.
•Bangkok is a shopper's dream destination. The Chatuchak weekend market, night markets, and floating markets offer a variety of budget-friendly goods such as Thai silk, local produce, etc.
•A lively city, Bangkok's red-light district is a popular location for sex entertainment. Its sex shows, brothels, and bars draw thousands of tourists. Bangkok has three known red districts.
•Bangkok is relatively safe for tourists. However, caution when traveling throughout Thailand is advised.
Discover The Top Trending Places to Visit this 2023
6. Bali the "Land of the Gods": A Relaxing Getaway with a Hint of Adventure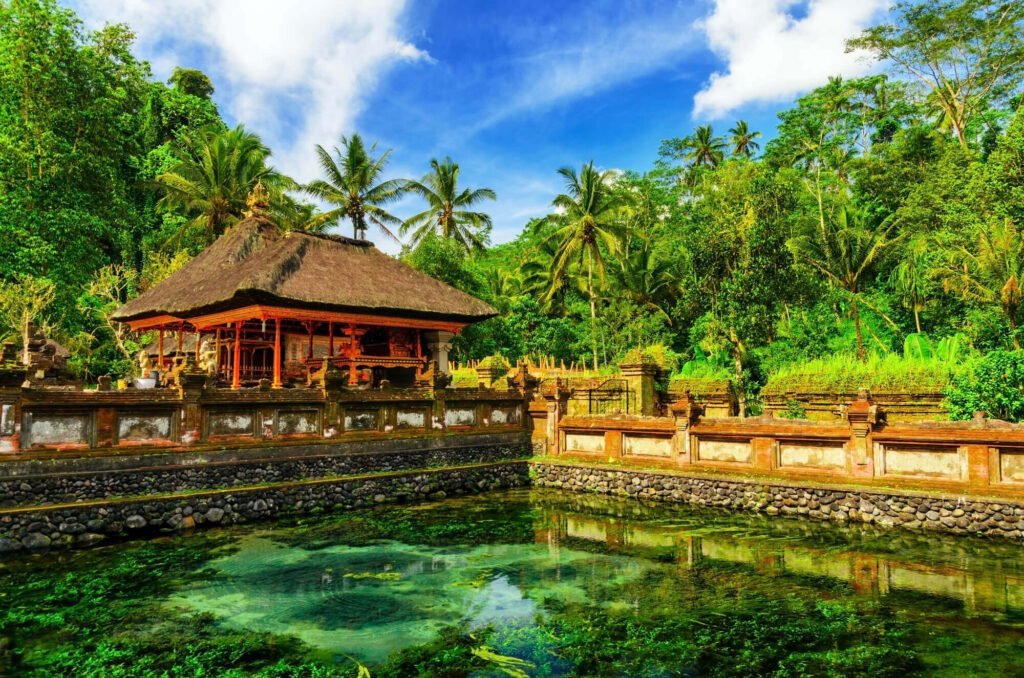 Bali's stunning scenery hinges on its magnificent volcanoes, tropical forests, lush rice terraces, and crater lakes.
This Indonesian island is also known for its white sandy beaches, diving spots, live music, and nightlife to stay awake for. Bali is a renowned scuba diving and surfing spot. Explore its temples and refreshing environment and make your trip to Bali worthwhile.
Related article: Beaches For Ultimate Vacation Experience
•The Tegallalang Rice Terraces are a long stretch of carved valleys that are dedicated to rice plantations. According to legend, a famous holy figure named Rsi Markandeya taught the "subak" in the 8th century. It's an ingenious Balinese way of irrigating the hills to grow rice.
•Ubud is a small town known as a hub for folk dancing, contemporary art, traditional art statues, and other Balinese handicraft.
•You can do rock climbing while in Ubud. From the mountains, you'll get a view of Bali's breathtaking landscape. Such as Hindu shrines and temples; Hanging Gardens and the intricately sculpted Elephant Cave (Goa Gajah).
•Connectivity isn't a problem in Bali. Most areas are a stone's throw away from beach clubs and cafés that are wifi-accessible.
7. Philippines: Discover the "Pearl of the Orient Seas" and its Beautiful Beaches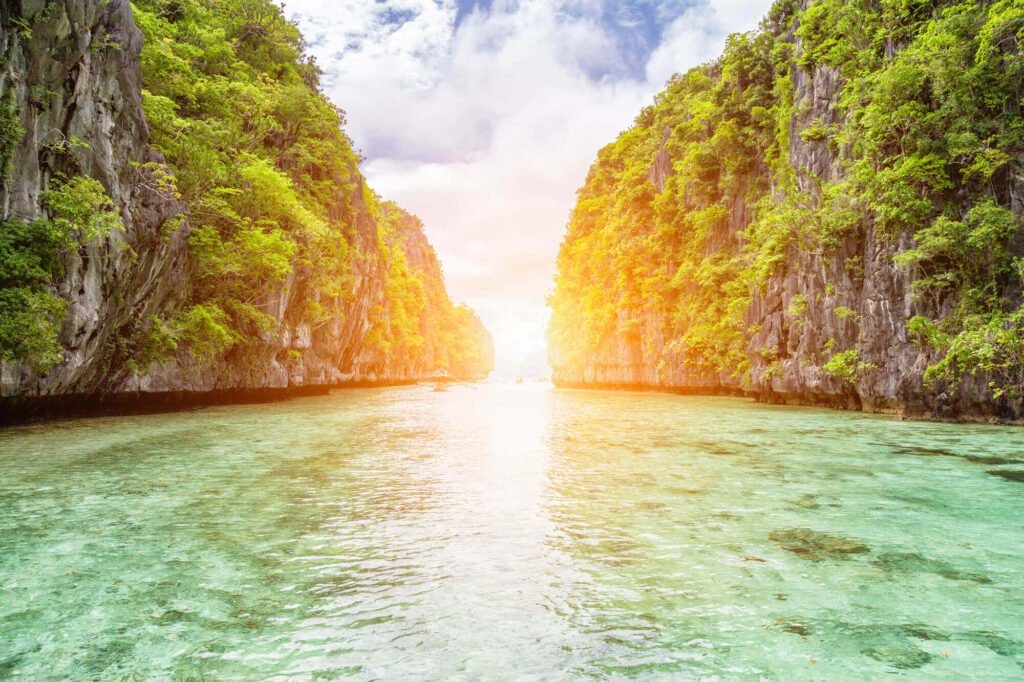 One of the best places to visit in Southeast Asia is the Philippines (aka the Pearl of the Orient). This Asian archipelago is home to 6 Unesco World Heritage (UWH) sites.
The country is also known for its tourist attractions: the Banaue Rice Terraces in Ifugao; Corregidor Island in Cavite; Aguinaldo Shrine in Kawit; and the lively festivals in the ancient city of Cebu. The Philippines is also known for its delicious local cuisine, local markets, and its friendly people.
•The Baroque Churches of the Philippines are a collection of four 16th-century baroque-inspired churches in 4 different locations in the country. Considered cultural treasures, these were inscribed as (UWH) sites in 1993.
•The Tubbataha Reefs Natural Park is a protected area that serves as a habitat for a wide range of diverse wildlife.
It was established as a marine park in 1988 and was later designated a UNESCO World Heritage site in 1993.
•The Puerto Princesa Subterranean River National Park is the longest navigable underground river that flows directly to the sea. Its unique karst environment paved the way for an underground limestone cave. This highly diversified area hosts numerous endangered plant and animal species endemic to the region.
•The Philippines is a "business-friendly" country. It allows foreign investors to own 100% of businesses in most major industries such as telecommunications, energy, banking, and shipping.
•The US State Department issued a level two travel advisory to the Philippines. As it is with Germany and the U.K. It's not a travel ban. Just a gentle reminder for tourists to be cautious when visiting these places.
8. Egypt: "The Land of Civilizations": Home of Pharaohs and Pyramids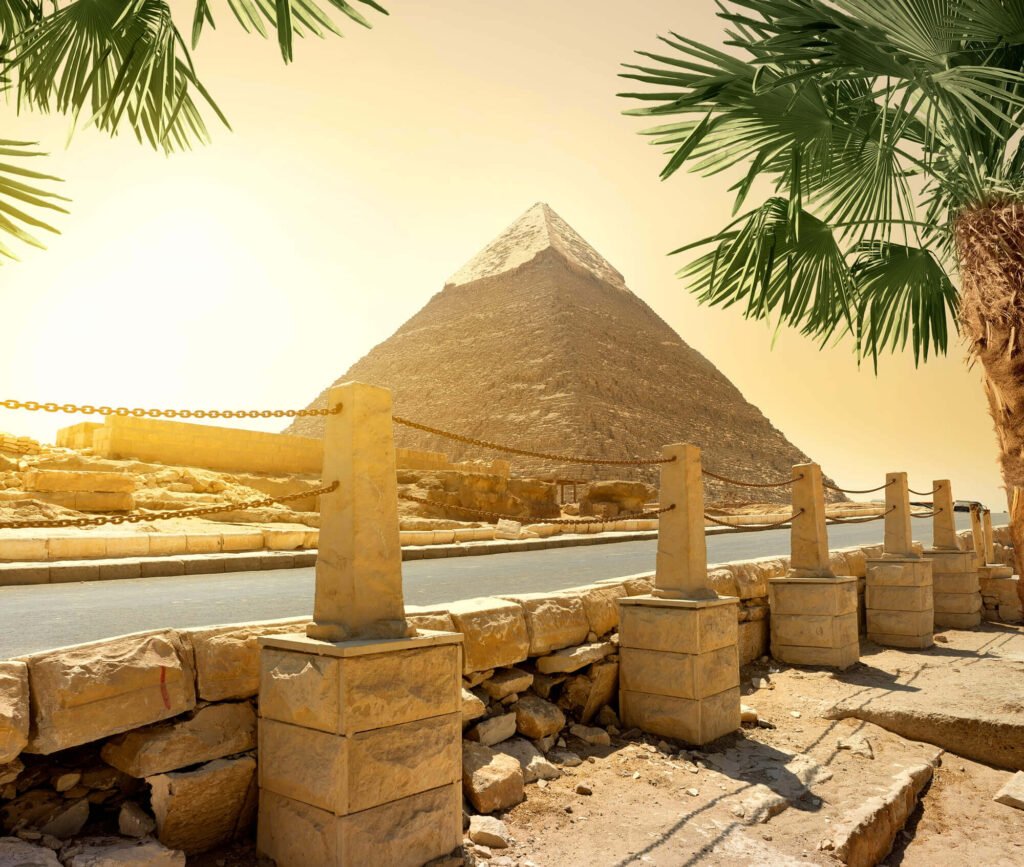 Egypt is 96% desert and only 4% of it is suitable for farming. Most of its people reside along the Nile Delta that spreads north of its capital city Cairo, Alexandria, the Suez Canal, and the Nile riverbanks.
So you ask… what's there to see in Egypt aside from deserts and pyramids?
•One of the 7 wonders of the old world, the Great Pyramid of Giza is the oldest among all Egyptian pyramids. It's the tomb of Pharaoh Khufu. Other lesser pyramids were built throughout the Nile Valley.
•The Valley of the Kings is also a burial site for royal rulers and the privileged nobles of one of the oldest civilizations in the world. The tombs are decorated with symbols of Egyptian mythology providing insight into the burial traditions and practices of those times.
•The Great Sphinx of Giza is an archaeological wonder carved in limestone. It depicts a reclining sphinx, which is a fabled creature with a lion's body and a human head.
•The Karnak Ruins in the ancient city of Luxor served as the capital of Egypt during the olden days. Originally built as a complex that comprised temples, gardens, and palaces for the gods, the Karnak Temple Complex of today is nothing but the ruins of what it was before. Yet still as spectacular and impressive.
•The GEM (Grand Egyptian Museum) is a national museum of ancient history that cost $550 million and took two decades to complete. It'll be the home of the greatest collection of Egyptian artifacts and relics found in the tomb of King Tutankhamun when it opens this 2023.
9. Maldives: Picture-Perfect Islands in the Indian Ocean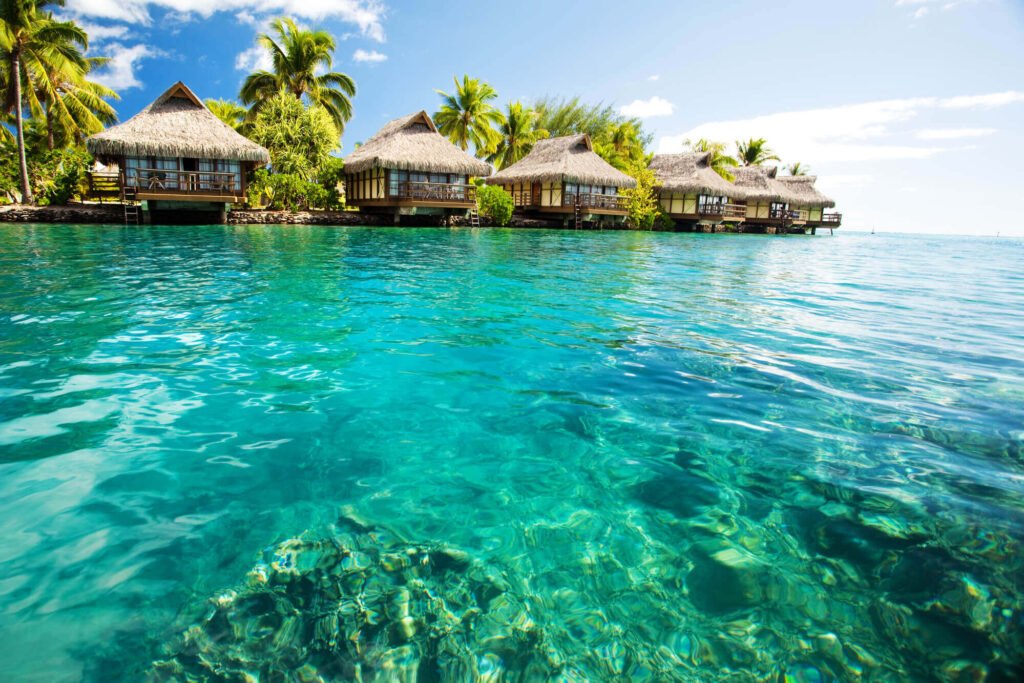 Maldives is a fantastic place. It's one of the most exciting Asian destinations in 2023. This tropical paradise is known for outdoor activities and extreme water sports. Best for surfing and diving, this place is also a quiet getaway for those who seek to get "disconnected" from the pressures of business.
It's also famous for its lively culture, sprawling greenery, and fascinating landmarks. Its beautiful beaches and multicolored coral reefs are a playground for exciting water activities.
•It shouldn't be a secret that Maldives is a pricey vacation spot. Consider this: it offers a lot of services and experiences that are hard to come by. The spas are designed for your ultimate relaxation and tranquility. So choose one that offers a range of hair, facial, nail, and full body massage services.
•Plan your way to Maldives. And make your visit in Asia take you here.
To fully enjoy this once-in-a-lifetime holiday without having to worry about your budget, opt for an all-inclusive meal plan. It's practical and provides a lot of dining options at no extra cost.
•How do you get here?
Male International Airport caters to direct flights from Europe, the northern coast, the Middle East, Singapore, Sri Lanka, and other regions.
To reach your resort from Male International Airport, you may have to take either a seaplane or a speed boat, which can take up to 45 minutes depending on where your resort is located.
•Is Maldives a safe country?
Yes. Maldives is one of the safest places in Asia. Upon arrival, tourists won't be asked for too many entry requirements. They'll be allowed to enter without undergoing quarantine.
However, if you test positive for COVID-19, regardless of your vaccination status, even without symptoms, you'll be mandated to self-quarantine for 7 days at your own cost.
10. China beyond the great wall: The Home of 50 Unesco World Heritage Sites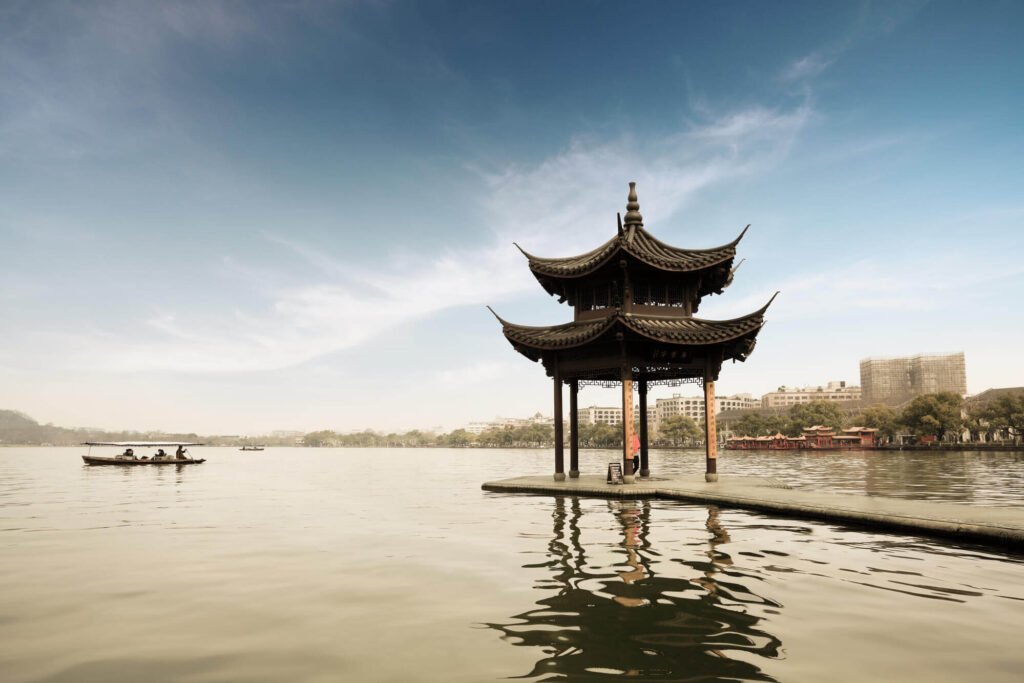 China is known for its complex history, rapidly growing economy, and incredible wildlife. Subtropical forests, the Yangtze River, and Mount Everest in the Himalayas mountain range account for China's scenic and diverse landscape.
•China has 50 Unesco World Heritage sites, the 2nd highest any country in the globe has. These sites are considered important and valuable tourism assets of China.
•The Forbidden City in Beijing was an imperial palace for 500 years. Today, it's home to one of the country's biggest national museums: the Palace Museum, which keeps an extensive collection of imperial artifacts.
•Your visit to Asia itinerary must include the Forbidden City and Zhengzhou Haichang Ocean Park in Henan Province.
•Also called the "land of the panda", China owns all living pandas, except for two that live in a zoo in Mexico City. The giant pandas you see elsewhere other than the two are either borrowed from or rented out by China.
•The highest and fastest outdoor elevator (the Bailong Elevator), was a 326 meters tall glass elevator built on the edge of a cliff in Zhangjiajie. It has 3 double-decker lifts. Each lift can carry up to 46 tourists high up the mountain in less than a couple of minutes.
•Authentic Chinese food is a well-loved Oriental cuisine – congee, noodles, tofu, Peking duck, Chinese fried rice, dumplings, and even street food is worth mentioning.
Related Post: Most delicious food in the world.
•The Chinese are taught to save money early on in life and are known for their frugality. Ironically though, the Chinese are a well-traveled people. They love to splurge on traveling – $260 billion per year on travel expenses.
Best Places to Visit in Asia this 2023
11. Saudi Arabia Beyond the Deserts: Culture, Heritage, and Natural Wonders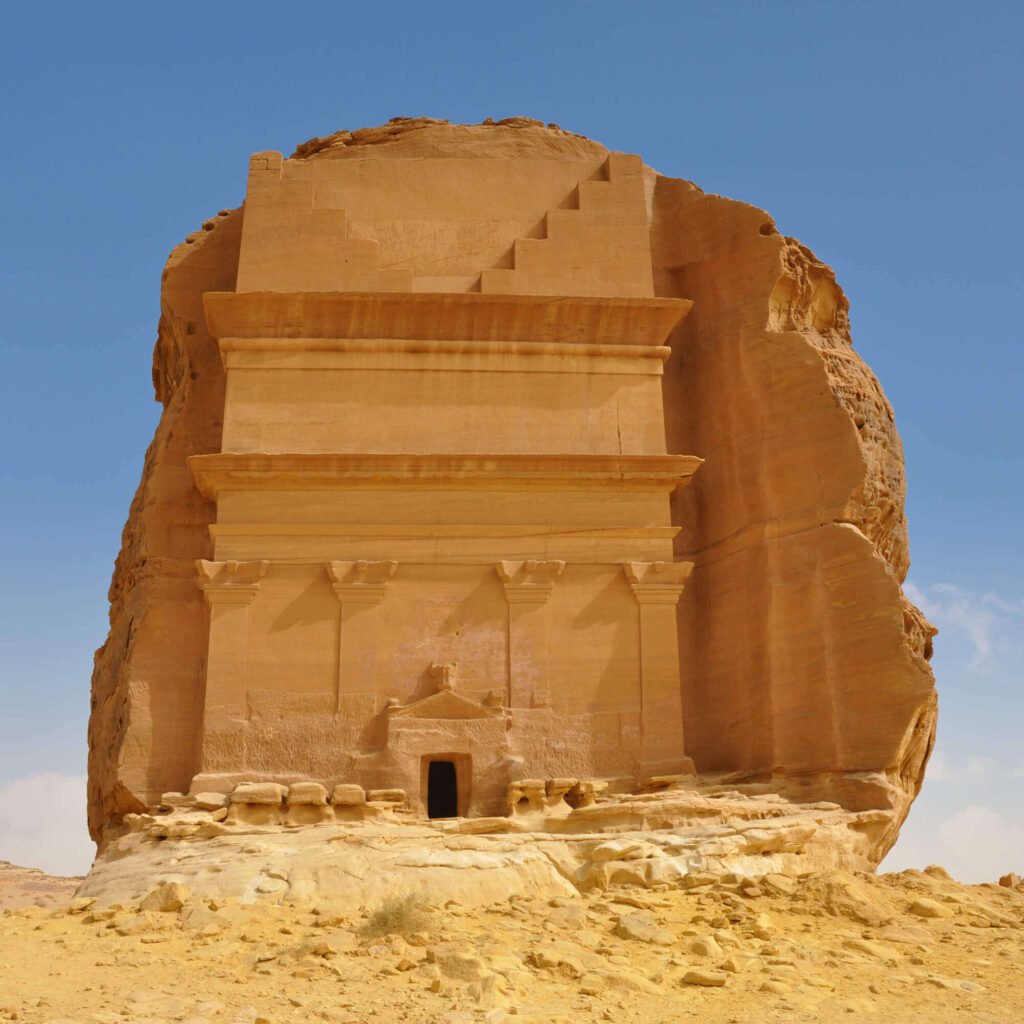 Saudi Arabia isn't all about camels and oil rigs. A trip to this predominantly Muslim country will take you to the Kaaba and other mosques and palaces. See hijab-covered women and Bedouins, have a taste of the Arabian coffee and Ajwa dates. Or ride the Arabian horses and Arabian one-humped camels.
•It's a great place for outdoor adventures like camel-riding, hiking, wildlife hunting, etc.
Spoiler alert!
If you're expecting to see scantily-clad women strolling along the cities, or women in bikinis frolicking on the beach, you'll be disappointed.
•Saudi culture is to a great extent, patriarchal and conservative. They don't allow their women to be seen in revealing clothes. Most of the decision-making, both privately and in government, is carried out by the men in the family.
•It's a country where pornographic materials and alcohol aren't allowed. And because it's primarily Islamic, anything with pork is also banned. Even tourists aren't exempted from that policy.
•People are advised to observe the country's public decency laws. Profanity and public display of affection are strictly prohibited.
•Explore the western and mountainous part of Saudi Arabia. It has oases and receives enough rainfall making land cultivation possible. It also has a long stretch of coastline courtesy of the Red Sea on its western border, and the Arabian Gulf in the East – where swimming, scuba diving, deep diving, and exotic fishing are allowed.
•Despite its massive size, Saudi Arabia is a riverless country. 70% of its potable water comes from the seas and is treated in desalination plants.
12. Qatar: Exploring the Riches and Wonders of the Arabian Peninsula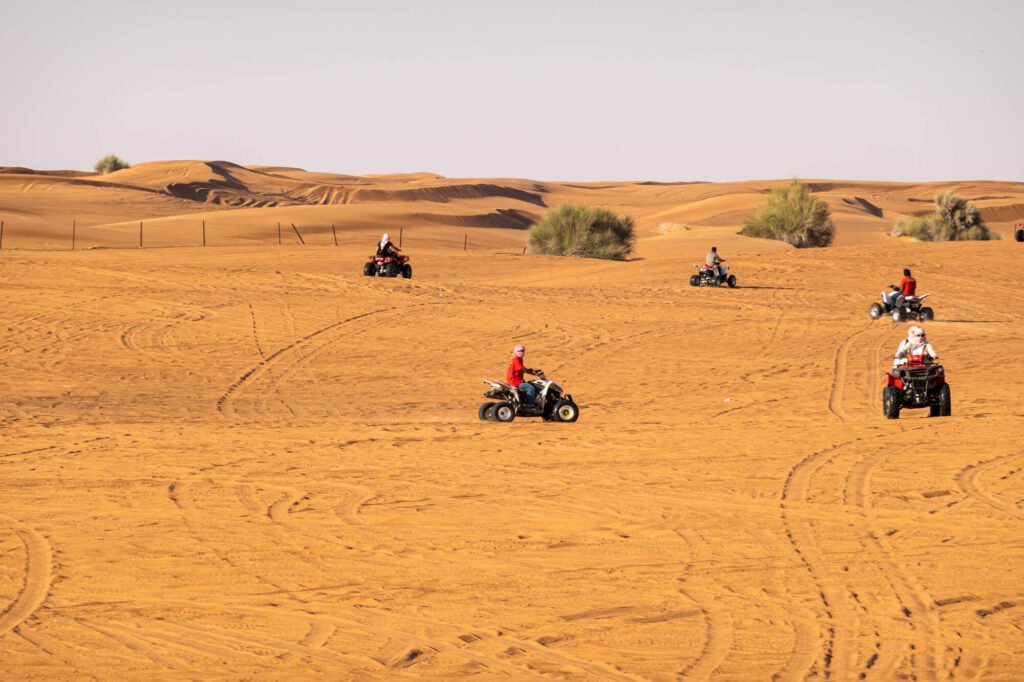 Qatar may not have the "bulk" of some of its Arab neighbors in Asia. But its greatest saving grace? Luxury and adventure. Qatar is known for its captivating museums and opulent shopping centers. The nation is a melting pot of cultures due to the presence of several expat communities.
•Qatar was the first Middle Eastern nation to host this prestigious tournament. Preparations for the 2022 World Cup resulted in the construction of an international airport and new hotels to accommodate the influx of visitors; seven newly opened state-of-the-art stadiums plus the top-to-bottom renovation of an existing one.
They're all intended to serve as exhibition space and cultural center not only for the prestigious tournament but for many visitors to future sporting events.
•For years, Qatar wasn't as rich as it is. Now it's the wealthiest and safest nation on the planet. Explore its breathtaking desert scenery. It's an endless stretch of immaculate and velvety-smooth sand.
•The Qatari National Convention Centre is a leading venue in the Middle East. It offers new nonstop flights, state-of-the-art facilities, and a highly skilled team that provides exceptional service for corporate affairs.
•Qatar is a must-visit country in Asia. It's safe. The incidence of theft and other crimes is low. It's important to know cultural norms to avoid potential imprisonment or getting fined.
13. Vietnam: "The Land of the Blue Dragon and Tropical paradise"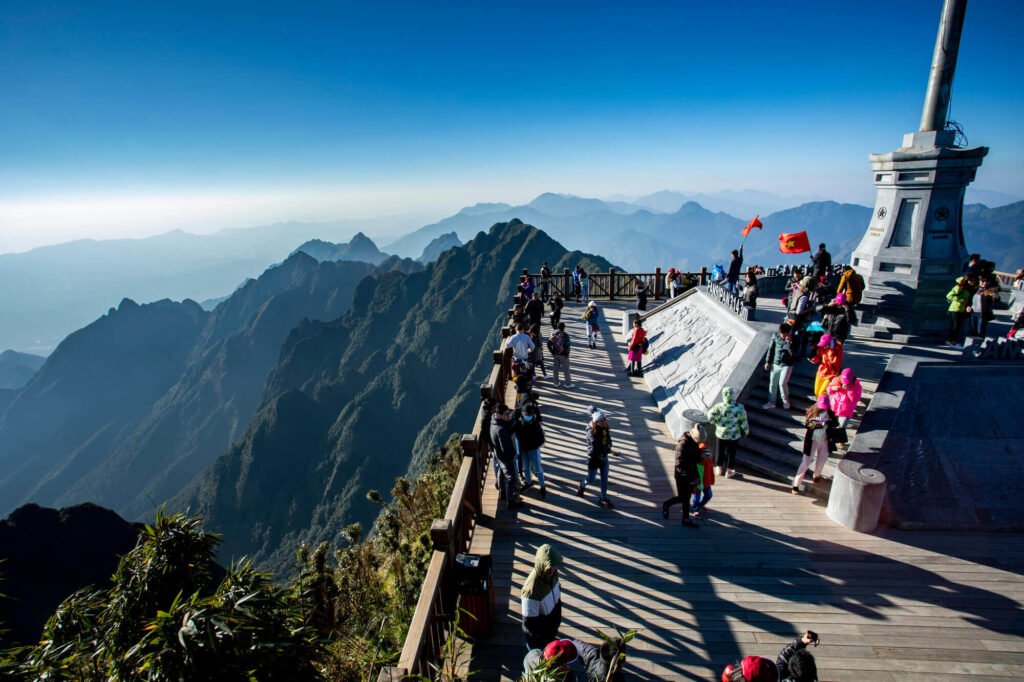 Vietnam is an amazing destination that caters to a lot of travelers. Whether your visit is for business or leisure, you'll enjoy its picturesque scenery, lively urban centers, a wealth of cultural and historical sites, delectable cuisine, and the warmth of its people. It's an ideal place for anyone to visit, especially those who are looking for a differently thrilling experience.
•As Vietnam's largest city, Ho Chi Minh City (aka Saigon) is one of the busiest cities in Vietnam. It serves as its business and financial hub. With a rich history dating back centuries, the city boasts numerous museums that showcase the country's wartime past and classic colonial architecture built during the French colonization.
•Vietnam is the leader when it comes to exporting cashews. It remains the world's top producer of cashew nuts. Over 50% of processed cashew nuts in the global market come from Vietnam.
•It's also known for its coffee, which is grown in the Central Highlands region. Vietnamese coffee stands out from other types of coffee. The country's climate and its unique brewing (Phin filter) give Vietnamese coffee its rich, deeply flavored taste – strong, and earthy.
•Take a trip to Ha Long Bay. It's a recognized as a UNESCO World Heritage Site, and is known for its breathtaking limestone karsts. Halong bay is home to many caves and grottoes, it offers a range of activities, including kayaking, swimming, and boat tours.
Visitors can also explore the local fishing villages and sample the delicious seafood that the region is known for. Ha Long Bay is a must-visit destination for anyone traveling to Vietnam.
14. Hong Kong: "The Pearl of the Orient" and its "Fragrant Harbor"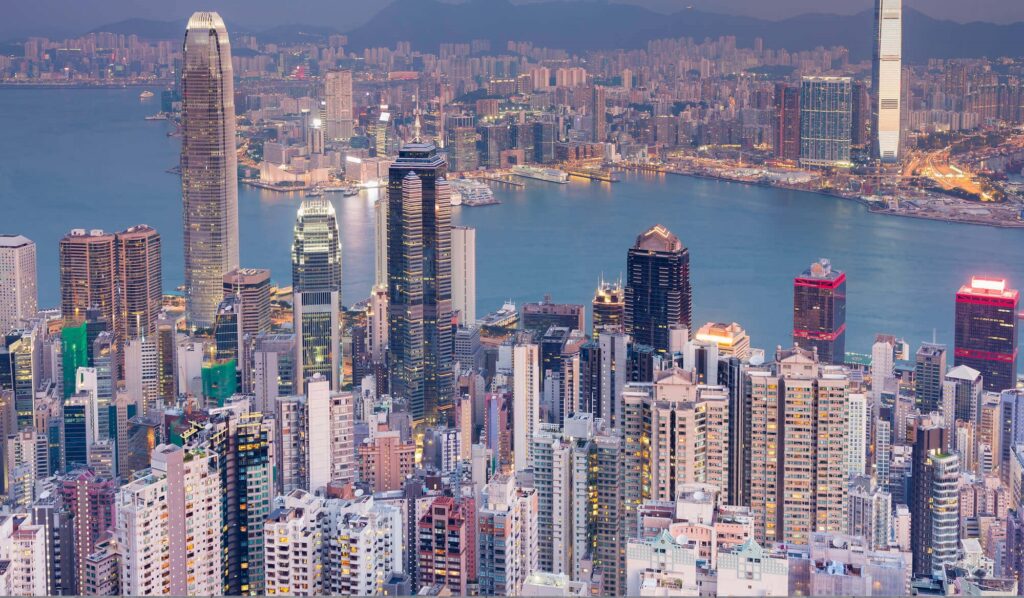 Hong Kong is a bustling metropolis in East Asia. It's known for its unique blend of Eastern and Western cultures. It is a major financial hub and is home to some of the tallest skyscrapers.
Hong Kong is a vibrant and exciting place in Asia. Its unique blend of cultures, a stunning skyline, delicious cuisine, and rich history make it a must-visit destination for any traveler to explore.
Hong Kong is also famous for its shopping and dining scene. It is home to numerous shopping malls, street markets, and luxury boutiques. Visitors can sample a wide variety of cuisines, from traditional Cantonese dishes to international cuisine.
•The iconic International Commerce Centre (ICC) was built in 2010 specifically for tourists and visitors. It has 108 floors. It is home to the Ritz Carlton Hotel, an observatory where you'll see the amazing panoramic view of Hong Kong, and several restaurants that offer delicious dining treats.
•Victoria Peak (or Mount Austin) is the highest hill on the island. It offers a panoramic view of Hong Kong's impressive skyline from all angles.
•The Big Buddha is a 34-meter-tall bronze statue built in 1993 on Lantau Island. The statue is surrounded by beautiful gardens and offers a peaceful retreat from the hustle and bustle of the world.
•The biggest temple in Hong Kong, Man Mo Temple is a historical site built in 1862. It's a beautiful example of traditional Chinese architecture and is dedicated to the gods of literature and war.
15. Malaysia: "Land of Indigenous Malay"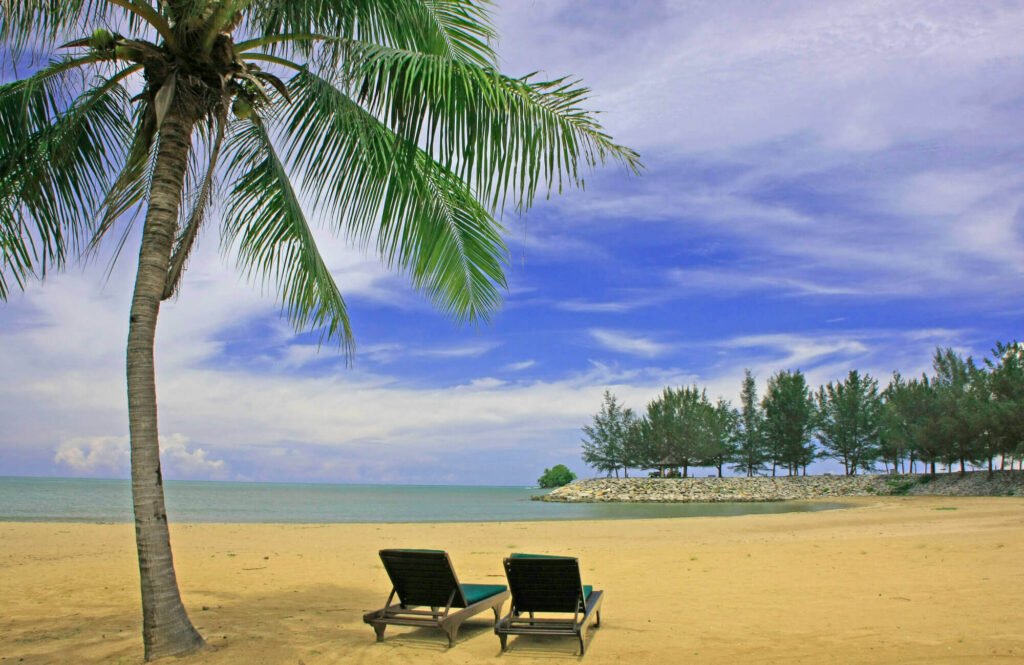 Malaysia is a diverse and multicultural country. Known for its stunning natural beauty, rich history, and delicious cuisine, Malaysia is a popular tourist destination. Its capital Kuala Lumpur is a bustling metropolis that's home to several iconic landmarks.
•Petronas Towers (aka the Twin Towers) is 1,483 feet tall, 88-storey building. It's a major landmark of Kuala Lumpur – recognized as the tallest building in the globe until Taipei 101 was completed in 2004. These towers are also the tallest twin skyscrapers ever built.
•Batu Caves ("batu" means rock in Malay) are located in Gombak. This collection of limestone caves and temples is considered a holy site for Tamil Hindus who come here on pilgrimage.
•National Museum of Malaysia. The museum is the repository of Malaysia's cultural and historical heritage. The building is a blend of traditional and modern architecture that houses four main galleries, which feature ethnology and geology exhibits, cultural events, ceramics, arts and crafts, traditional weapons, and musical instruments.
•Penang National Park is a world-class eco-park with 417 plants and 143 animal species. It's a habitat for 46 bird species and a popular destination for scientists, researchers, and nature lovers.
•One of the best places in Asia, Malaysia is also known for its national parks and nature reserves that offer opportunities for hiking, wildlife spotting, and adventure activities.
Conclusion:
To sum it all up, this article presents a decent appraisal of each of the featured best places in Asia. A century ago, international travel wasn't as much a demand as it has become nowadays. But the people are keen on ushering in a new era of travel in 2023 – one that supports spiritual journeys and relaxation.
Hence, the top 15 best places in Asia to visit this year – holiday destinations that are likely to be chosen as your business and leisure getaway, based on the latest tourism trends.
A trip to any of the countries in a diverse continent like Asia is a game changer. There's always a hidden gem somewhere waiting for you to explore.
However, travel restrictions and protocols still apply to most visitors in some countries. So expect more updates from the must-visit Asian countries. Do you want to see what a visit in Asia looks like?
Contact us today.